Ikan Bernama Pembangunan
JENEWA – Tujuan Pembangunan Berkelanjutan atau Sustainable Development Goals (SDGs) yang baru saja diadopsi diperkirakan akan menandakan dimulainya era baru dalam pembangunan global, suatu era yang menjanjikan perubahan dunia atas nama manusia, bumi, kemakmuran, perdamaian, dan kemitraan. Tetapi terdapat perbedaan besar antara menjanjikan dan melakukan. Meskipun beberapa deklarasi global ini penting – untuk memprioritaskan pembiayaan dan menyalurkan kemauan politik – banyak janji hari ini sama dengan janji-janji sebelumnya.
Bahkan, keberhasilan SDGs tergantung pada seberapa besar pengaruhnya terhadap perundingan internasional lainnya, terutama yang paling kompleks dan kontroversial. Hal ini merupakan tes awal menyangkut tujuan yang dikampanyekan secara aktif oleh Global Ocean Commission: "untuk melindungi dan melestarikan pemanfaatan lautan, samudera, dan sumber daya laut demi pembangunan berkelanjutan".
Ketika pemimpin politik bertemu di Konferensi Tingkat Menteri WTO ke-10 di Nairobi pada bulan Desember, mereka memiliki kesempatan menuju pemenuhan salah satu target tujuan yang terpenting, yakni pelarangan subsidi yang berkontribusi terhadap penangkapan ikan yang berlebihan dan tidak sah, tidak dilaporkan, dan tidak sesuai aturan (overfishing and illegal, unreported, and unregulated fishing) selambatnya pada tahun 2020.
Hal ini bukan ambisi baru; kehendak ini telah menjadi agenda WTO selama bertahun-tahun dan telah termuat dalam deklarasi pembangunan berkelanjutan internasional lainnya. Tetapi bahkan sekarang banyak negara mengeluarkan $30 miliar per tahun untuk subsidi perikanan, 60% diantaranya langsung memicu praktik yang tidak berkelanjutan, merusak, atau bahkan ilegal. Distorsi pasar yang dihasilkan merupakan faktor utama terjadinya pengelolaan perikanan dunia yang buruk, dimana menurut perkiraan Bank Dunia telah mengakibatkan kerugian ekonomi global sebesar $83 miliar pada tahun 2012.
Selain kekhawatiran akan keuangan dan keberlanjutan, isu ini mengangkat persoalan mendesak tentang kesetaraan dan keadilan. Negara-negara maju (khususnya Jepang, Amerika Serikat, Perancis, dan Spanyol), serta Tiongkok dan Korea Selatan, bertanggung jawab atas 70% subsidi perikanan global. Subsidi ini menjadikan ribuan masyarakat yang penghidupannya bergantung pada perikanan berjuang untuk berkompetisi dengan pesaing-pesaing yang menerima subsidi dan mengancam ketahanan pangan jutaan orang seiring dengan armada industri dari negara lain yang menguras habis cadangan laut mereka.
Afrika Barat, tempat dimana perikanan adalah persoalan hidup dan mati, khususnya sangat menderita. Sejak tahun 1990-an, ketika kapal-kapal asing, terutama dari Uni Eropa dan Tiongkok, memulai perikanan pada skala industri di luar wilayah pantainya, banyak nelayan lokal tidak lagi mampu mencari mencari nafkah atau menghidupi keluarganya.
Introductory Offer: Save 30% on PS Digital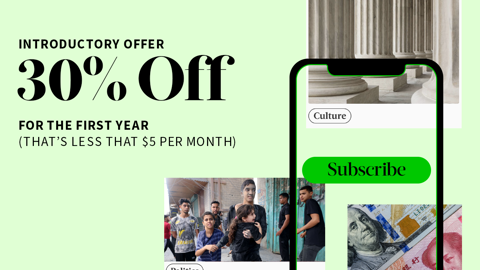 Introductory Offer: Save 30% on PS Digital
Subscribe now to gain greater access to Project Syndicate – including every commentary and our entire On Point suite of subscriber-exclusive content – starting at less than $5 per month.
Sejak tahun 1994 hingga 2005, menurut perkiraan pemerintah hasil tangkapan ikan Senegal berkurang dari 95.000 menjadi 45.000 ton dan Senegal kehilangan setengah dari armada kapal kayu tradisional/kano jenis pirogue. Seiring dengan merosotnya cadangan ikan pada tahun 2005, 5.000 orang memutuskan untuk menggunakan kapal-kapal nelayan mereka yang sudah mubazir untuk kegunaan lain, dengan melarikan diri ke Kepulauan Canary di Spanyol. Setahun kemudian, lebih dari 30.000 orang lainnya menempuh perjalanan berbahaya yang sama, dan diperkirakan 6.000 orang tenggelam. Nelayan-nelayan yang berasal dari Senegal dan Mauritius dan keluarga mereka termasuk dalam ribuan orang yang kini mempertaruhkan hidup mereka demi menuju Eropa.
Di laut lepas, distorsinya bahkan lebih besar. Menurut ekonom perikanan, subsidi yang dikeluarkan beberapa negara terkaya di dunia adalah satu-satunya alasan mengapa industri penangkapan ikan berskala besar di wilayah perairan di luar 200 mil zona ekonomi eksklusif negara pantai dianggap menguntungkan. Tetapi ikan tidak tunduk pada batas-batas internasional, dan diperkirakan bahwa 42% dari ikan komersial yang ditangkap hidup dan berpindah dari zona ekonomi eksklusif dan laut lepas. Akibatnya, industri penangkapan ikan yang jauh dari pantai merusak penangkapan ikan di negara-negara berkembang yang sebagian besarnya berskala kecil.
Penghapusan subsidi perikanan berbahaya pada tahun 2020 tidak hanya penting untuk melestarikan laut, namun ini juga akan mempengaruhi kemampuan kita untuk memenuhi tujuan-tujuan lain, seperti janji-janji kita untuk mengakhiri kelaparan dan mewujudkan ketahanan pangan serta mengurangi ketimpangan domestik dan antar negara.
Kredibilitas WTO dan SDGs yang baru diadopsi ini akan diuji di Nairobi. Global Ocean Commission telah menetapkan program yang berisi tiga langkah yang jelas untuk menghapuskan subsidi perikanan berbahaya. Yang dibutuhkan disini adalah pemerintah sepakat untuk mengakhiri ketidakadilan dan limbah yang dihasilkan.
Kita patut bersyukur terdapat tanda-tanda yang menggembirakan. Hampir 60% anggota WTO mendukung pengendalian subsidi perikanan, dengan dukungan dari Kelompok negara-negara berkembang di Afrika, Karibia, dan Pasifik – bersama dengan kontribusi Uni Eropa untuk meningkatkan transparansi dan pelaporan – menciptakan momentum baru dalam upaya ini. Diantara inisiatif yang diajukan sebelum pertemuan Nairobi adalah yang disebut "Usulan NZ+5." Disponsori oleh Selandia Baru, Argentina, Islandia, Norwegia, Peru, dan Uruguay, rencana ini akan menghapuskan subsidi perikanan yang mempengaruhi cadangan ikan yang ditangkap secara berlebihan dan berdampak pada penangkapan ikan yang tidak sah, tidak dilaporkan, dan tidak sesuai aturan.
Global Ocean Commission mendesak 40% anggota WTO lainnya – terutama pelaku terbesar yang saat ini menghalangi proses – untuk menerima proposal yang relatif sederhana. Masa depan yang berkelanjutan untuk planet kita dan lautan akan bergantung padanya.