Wat COVID-19 heeft duidelijk gemaakt over de honger
JOHANNESBURG – In Zuid-Afrika hebben veel mensen moeite om toegang te krijgen tot voldoende hoeveelheden gezond voedsel. Omdat hun voeding veel verwerkt voedsel, geraffineerd zetmeel, suiker en vet bevat, hebben zij te maken met de dubbele last van ondervoeding en zwaarlijvigheid, of wat bekend staat als ʻverborgen honger.' Het is verborgen omdat het niet past in het stereotype beeld van honger dat de media van hongersnoden geven. Maar het is overal aanwezig.
Voor alle duidelijkheid, het probleem is niet een tekort aan voedsel. In Zuid-Afrika is honger het gevolg van een gebrek aan toegang. Genoeg calorieën en voldoende voedingsstoffen binnenkrijgen is grotendeels afhankelijk van het inkomen. Naast de hoge kosten van gezond voedsel weerspiegelt de verborgen honger in het land de beperkte beschikbaarheid van voedzame producten in gebieden met lage inkomens, de hoge kosten van energie om te koken en voedsel op te slaan, en het gebrek aan toegang tot land voor de voedselproductie van huishoudens.
De COVID-19-pandemie en de strenge maatregelen om de verspreiding ervan tegen te gaan, hebben de verborgen honger uit het zicht doen verdwijnen, aangezien veel mensen die zich net genoeg voedsel konden veroorloven om te overleven, het plotseling zonder voedsel moesten stellen. Volgens een onderzoek had 47 procent van de huishoudens geen geld meer om voedsel te kopen tijdens de eerste fasen van de lockdown in april 2020. Het verlies van banen, de harde aanpak van informele verkopers en de prijsstijgingen als gevolg van de ontwrichtingen in de wereldwijde voedsel- en landbouwtoeleveringsketens hebben allemaal bijgedragen tot een sterke toename van de voedselonzekerheid. Beelden van lange rijen voor noodvoedselhulp brachten het probleem in de publieke belangstelling. Vooral de toename van honger onder kinderen was zorgwekkend, maar niet verrassend, gezien de abrupte sluiting van scholen en schoolvoedselprogramma's.
De pandemie maakte ook de gevolgen van de verborgen honger duidelijker. Omdat adequate voeding noodzakelijk is voor een gezond immuunsysteem, lopen mensen met voedselonzekerheid meer kans om ziek te worden. Bovendien bestaat er een correlatie tussen de ernst van COVID-19 en diabetes, een ziekte die in verband wordt gebracht met slechte eetgewoonten. Uit gegevens van Kaapstad blijkt dat COVID-19-patiënten met diabetes bijna vier keer meer kans hadden om in het ziekenhuis te worden opgenomen en meer dan drie keer meer kans hadden om aan COVID-19 te overlijden dan patiënten zonder diabetes.
Maar terwijl COVID-19 de voedselonzekerheid deed toenemen en de gevolgen van honger aan het licht bracht, leverde het ook mogelijke oplossingen op om de toegang tot betaalbaar, gezond voedsel te verbeteren. In het licht van de ontwrichtingen van de mondiale toeleveringsketens begonnen meer lokale voedselsystemen op te komen. Waar de regering er  niet in slaagde adequate maatregelen te nemen om de economische gevolgen van de lockdowns of de stopzetting van de schoolvoedselprogramma's op te vangen, probeerden maatschappelijke groeperingen de leegte op te vullen. Overal in Zuid-Afrika ontstonden gemeenschapsnetwerken om de honger aan te pakken, waarbij vrijwilligers maaltijden en andere hulp aan medemensen verstrekten.
Rond Johannesburg bijvoorbeeld probeerde de C19 People's Coalition kleinschalige boeren die geen toegang meer hadden tot hun gebruikelijke markten, te koppelen aan gemeenschappen die voedselhulp nodig hadden. In tegenstelling tot de meeste voedselpakketten van de overheid, die werden aangekocht bij grote bedrijven en niet-bederfelijke producten bevatten met bijna geen voedingswaarde, trachtten deze groentepakketten de broodwinning van kleinschalige boeren te ondersteunen en tevens de gezondheid van kwetsbare gezinnen te bevorderen.
Subscribe to PS Digital Now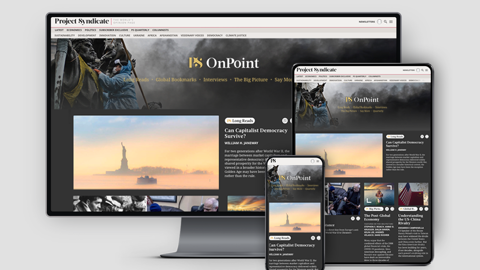 Subscribe to PS Digital Now
Access every new PS commentary, our entire On Point suite of subscriber-exclusive content – including Longer Reads, Insider Interviews, Big Picture/Big Question, and Say More – and the full PS archive.
Toch draagt de staat een belangrijke verantwoordelijkheid voor de aanpak van de verborgen honger, met name in Zuid-Afrika, waar het recht op voedsel in de grondwet is verankerd. Voorbeelden uit de hele wereld laten zien wat er mogelijk is wanneer een toegewijde overheid samenwerkt met het maatschappelijk middenveld om voedselonzekerheid aan te pakken.
In Belo Horizonte, Brazilië, ook wel ʻde stad die een eind maakte aan de honger' genoemd, bestaan enkele van de opmerkelijke programma's uit ʻvolksrestaurants' die iedere dag duizenden gesubsidieerde gezonde maaltijden serveren; gesubsidieerde groente- en fruitwinkels; een voedselbank die voedselafval ʻredt' en kant-en-klare maaltijden distribueert aan sociale organisaties; en boerenkraampjes om kleinschalige producenten rechtstreeks te leveren aan stedelijke consumenten. Deze en andere programma's ondersteunen het levensonderhoud van boeren en de gezondheid van consumenten, terwijl ze ook economische voordelen opleveren en de gemeenschappen versterken.
De aanstaande United Nations Food Systems Summit zegt verschillende belanghebbenden te zullen samenbrengen om duurzamere en rechtvaardigere voedselsystemen te creëren, maar basisbewegingen, wetenschappers en maatschappelijke groeperingen hebben kritiek geuitop de top, omdat deze het bestaande UN Committee on World Food Security omzeilt en een nieuw forum creëert dat wordt bezoedeld door ongepaste invloed van bedrijven, een gebrek aan transparantie en een besluitvormingsproces zonder verantwoordingsplicht. Deze groepen hebben opgeroepen tot een boycot en organiseren een wereldwijde tegenmobilisatie.
De grote bedrijven die de VN-top zullen domineren – zaadbedrijven, agrochemische producenten, voedselverwerkende bedrijven en detailhandelaren – hebben geen echte oplossingen voor de honger. Het behandelen van voedsel als handelswaar die met winst moet worden verkocht, in plaats van als een fundamenteel mensenrecht, is precies wat heeft geleid tot de crisis van de verborgen honger. Het is schokkend dat de grootste supermarktketens van Zuid-Afrika er in 2020 in slaagden winst te maken, zelfs toen de helft van de huishoudens in het land zich geen voedsel kon veroorloven. De detailhandelaren schepten op over hun voedseldonaties, terwijl ze hun werknemers – die als ʻessentieel' werden bestempeld – zo ongeveer de laagste lonen van het land betaalden.
De echte oplossingen voor de crisis van de verborgen honger moeten komen van degenen die er het meest door worden getroffen – de kleinschalige boeren die gezond voedsel produceren voor hun gemeenschappen en de consumenten met lage inkomens die worstelen om toegang te krijgen tot adequate voeding. Deze stemmen zijn buiten de VN-top gehouden, maar de op solidariteit gebaseerde initiatieven die zij tijdens de pandemie hebben opgezet, vormen de meest zekere basis waarop een rechtvaardiger en veerkrachtiger voedselsysteem kan worden gebouwd.
Vertaling: Menno Grootveld