Wat het Amerikaanse leiderschap kan doen voor de natuur
MIDDLETON, WISCONSIN – In zijn commentaar bij de Netflix-serie Our Great National Parksbeschrijft de voormalige Amerikaanse president Barack Obama een luiaard die ʻeen heel microkoninkrijk' in zijn vacht herbergt. ʻOnderzoek naar hem zal helpen om kanker, malaria en antibiotica-resistente superbacteriën te bestrijden,' merkt hij op, voordat hij concludeert dat ʻdeze slaperige luiaard ons misschien allemaal kan redden.'
Deze treffende regels geven aan hoe afhankelijk we zijn van de natuur voor onze overleving en ons welzijn. En wat de slaperige luiaard en talloze andere dier- en plantensoorten ons vertellen is dat de onderling verbonden crises van biodiversiteitsverlies en klimaatverandering een existentiële bedreiging zijn geworden.
Een existentiële bedreiging betekent dat we niet de luxe hebben van de tijd. Sinds 1970 zijn de populaties van wilde dieren wereldwijd met gemiddeld 69 procent afgenomen. Alleen al in Noord-Amerika zijn de populaties van wilde diersoorten tussen 1970 en 2018 met twintig procent afgenomen. Deze trend zal zich voortzetten als we nu niet handelen. Wat we vandaag doen zal bepalen of toekomstige generaties veilig kunnen zijn in de wetenschap dat hun levensonderhoud, klimaat, gezondheid, welvaart en habitat niet op het spel staan.
De Verenigde Staten zijn op hun beurt de thuisbasis van een enorme reeks ecosystemen en een verbazingwekkende verscheidenheid aan wilde planten en dieren. Er zijn naar schatting  tweehonderdduizend inheemse soorten op het grondgebied van de VS, wat neerkomt op dertien procent van de soorten wereldwijd. De adembenemende landschappen strekken zich uit van weelderige bossen tot bevroren toendra's en subtropische regenwouden, onder meer in 63 beschermde nationale parken.
De VS zijn ook een mondiale politieke en economische zwaargewicht. En als 's werelds grootste donorland is internationale ontwikkeling een belangrijk onderdeel van hun invloed in wereldzaken.
Deze maand zullen de ogen van de wereld gericht zijn op de cruciale COP15-conferentie van het Verdrag inzake Biologische Diversiteit (VBD) in Montreal. De hoop is dat deze besprekingen een ambitieus definitief akkoord zullen opleveren over het ʻpost-2020-raamwerk,' dat tot doel heeft tegen 2030 minstens dertig procent van de planeet te beschermen (30x30). COP15 is ook een ideaal moment voor de VS om hun aanzienlijke soft power in te zetten voor wereldwijde inspanningen om een ʻnatuurpositieve' toekomst op te bouwen, waarin we het verlies aan natuur niet alleen hebben gestopt maar ook hebben omgebogen. Hoewel de VS zelf geen partij zijn bij het VBD – als gevolg van verdeeldheid tussen de twee partijen en verzet van diverse belangengroepen – biedt hun status van zwaargewicht ruime mogelijkheden om een bijdrage te leveren, onder meer door invloed uit te oefenen op het debat over de definitieve formulering van het raamwerk.
Subscribe to PS Digital Now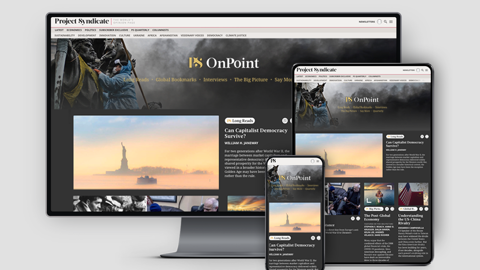 Subscribe to PS Digital Now
Access every new PS commentary, our entire On Point suite of subscriber-exclusive content – including Longer Reads, Insider Interviews, Big Picture/Big Question, and Say More – and the full PS archive.
Bovendien kunnen de VS helpen partnerschappen op te bouwen, belangrijke besluitvormers te beïnvloeden en nieuwe prikkels te creëren voor instandhoudingsinspanningen overal ter wereld. Zij kunnen pleiten voor sterkere stimulansen voor landenspecifieke verbintenissen om de meest urgente instandhoudingsdoelstellingen te verwezenlijken. Zij kunnen helpen de financiering en financiële toezeggingen veilig te stellen die nodig zijn ter ondersteuning van de inspanningen van landen met een laag en gemiddeld inkomen om wereldwijde instandhoudingsdoelstellingen te bereiken en hun lokale ecosystemen te beschermen. En zij kunnen natuurbehoud integreren in hun beleid voor internationale ontwikkeling en zo de kosten van het behoud van de biodiversiteit in deze landen helpen compenseren.
Ondanks het feit dat de VS drie decennia lang het VBD niet hebben geratificeerd, hebben zij onlangs aangetoond dat zij nog steeds in staat zijn een doortastend, baanbrekend beleid te voeren. Het ʻAmerica the Beautiful'-initiatief van de regering-Biden beoogt de instandhouding van dertig procent van de Amerikaanse grond en wateren tegen 2030, overeenkomstig de wereldwijde 30x30-doelstelling waarover tijdens COP15 zal worden onderhandeld. Dit initiatief beoogt niet alleen een versnelde verschuiving naar behoud van biodiversiteit, maar ook het centraal stellen van de rechten van lokale gemeenschappen en inheemse volkeren bij maatregelen voor beschermde gebieden.
In dezelfde geest heeft de regering Biden onlangs Monica Medina benoemd als de allereerste speciale gezant voor biodiversiteit en watervoorraden – een stap die aangeeft dat Amerika zich inzet om het verlies aan biodiversiteit en de klimaatcrisis aan te pakken. Onder leiding van Medina zijn de VS eerder dit jaar toegetreden tot de High Ambition Coalition for Nature and People.
In 1964 publiceerde het Amerikaanse ministerie van Binnenlandse Zaken The Race for Inner Space, een speciaal rapport waarin werd gewaarschuwd dat de ʻnatuurbehoudsklok te snel tikt om te worden teruggedraaid.' Bijna zestig jaar later tikt de natuurbeschermingsklok nog steeds door. Maar de waardering van de Amerikanen voor de schoonheid van ons natuurlijk erfgoed is tenminste nog levend.
De recente initiatieven van de regering Biden kunnen de Amerikaanse natuurbeschermingsbeweging opnieuw definiëren, waardoor de VS het goede voorbeeld kunnen geven en de norm kunnen bepalen voor natuurbehoud op het continent. Het is een land dat zijn enorme macht en mondiale invloed – economisch, cultureel of politiek – kan aanwenden om de wereld te helpen een nieuw en broodnodig mondiaal raamwerk voor biodiversiteit vorm te geven. Ondanks verdeeldheid over andere kwesties kunnen de VS een interne consensus bereiken over de noodzaak om hun grote natuurlijke erfgoed te beschermen en de wereldwijde natuurbeschermingsagenda te ondersteunen door middel van financieringstoezeggingen en initiatieven voor capaciteitsopbouw.
Die consensus kan niet snel genoeg komen. Nu de klok verder tikt, moet COP15 worden gezien als een dringende oproep om wakker te worden.
Vertaling: Menno Grootveld