Wat de COP15-biodiversiteitsconferentie moet doen
MONTREAL – De recente conferentie van de Verenigde Naties over klimaatverandering (COP27) in Sharm El-Sheikh bood bemoedigende maar onvoldoende tekenen van een ontluikende politieke consensus over de noodzaak van wereldwijde solidariteit in het licht van de opwarming van de aarde. Nu moeten de wereldleiders aandacht besteden aan een ander existentieel risico voor mens en planeet: het alarmerende en toenemende verlies aan biodiversiteit.
Deze maand komen regeringen in Montreal bijeen op de COP15-top van het Verdrag inzake Biologische Diversiteit, om overeenstemming te bereiken over een wereldwijde overeenkomst om de biodiversiteit van de wereld tegen 2030 te herstellen. We kunnen het ons niet veroorloven dat deze conferentie wordt behandeld als een bijwagen van COP27. De biodiversiteitscrisis is niet minder belangrijk dan de klimaatcrisis en escaleert snel. Het moet voor alle landen een politieke topprioriteit zijn.
Gezien het huidige tempo van het biodiversiteitsverlies schatten sommige wetenschappers in dat we op weg zijn om binnen enkele eeuwen driekwart van de soorten in de wereld te verliezen. Dit massale uitsterven en de voortdurende bedreiging van ecosystemen en habitats is onlosmakelijk verbonden met de klimaatverandering. Daarom moeten de wereldleiders naar COP15 komen met hoge ambities en een mandaat vaststellen voor succesvolle onderhandelingen.
Om te slagen moet COP15 niet alleen een overeenkomst over de algemene missie opleveren. De conferentie moet ook duidelijk omschreven doelstellingen en concrete plannen vaststellen om tegen 2030 dertig procent van alle land- en oceaangebieden te beschermen. De leiders moeten naar Montreal komen met zowel de nationale plannen als de financiering die nodig is om deze doelstellingen te verwezenlijken.
Toen ik in 2010 voor het eerst tot president van Colombia werd gekozen, leidde ik een land dat achttien maanden lang bijna volledig onder water stond. Het klimaatpatroon La Niña, verergerd door de opwarming van de aarde, zorgde voor bijna bijbelse regenval. Bij gebrek aan middelen en kennis om de situatie aan te pakken, zagen we in dat we vrede moesten sluiten met de natuur. Deskundigen adviseerden ons dat we ons moesten concentreren op de bescherming van de biodiversiteit, dus dat deden we. Colombia, een van de landen met de grootste biodiversiteit ter wereld, heeft nu een beschermd gebied dat groter is dan Japan of het Verenigd Koninkrijk.
We begrijpen zowel de waarde van de natuur als wat we kunnen verliezen als die wordt uitgehold. We zijn ook gaan waarderen wat we kunnen leren van degenen die het dichtst bij het land staan. Veel inheemse gemeenschappen waarschuwden al tientallen jaren voor een ecologische crisis, maar hun stem en rechten werden genegeerd.
Subscribe to PS Digital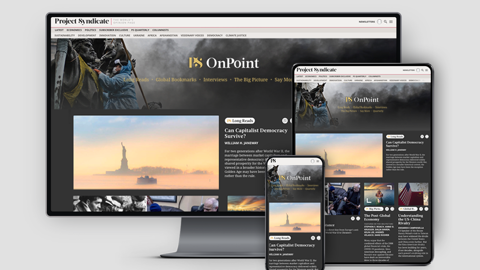 Subscribe to PS Digital
Access every new PS commentary, our entire On Point suite of subscriber-exclusive content – including Longer Reads, Insider Interviews, Big Picture/Big Question, and Say More – and the full PS archive.
Natuurverlies doet mensen overal pijn. Het schaadt reeds de menselijke gezondheid, vermindert de luchtkwaliteit, ondermijnt ons vermogen om voedsel te verbouwen of water te verkrijgen, verergert extreme weersomstandigheden en verzwakt ons vermogen om de klimaatverandering te verzachten of ons daaraan aan te passen. Deze problemen maken het verlies aan biodiversiteit tot een veiligheidsprobleem. Blijvende schade aan onze ecosystemen is een van de grootste langetermijnrisico's voor onze samenlevingen.
Economisch gezien is de ineenstorting van bepaalde essentiële ecosystemen voldoende om landen als het mijne failliet te laten gaan. Bedenk bijvoorbeeld dat ongeveer vijfenzeventig procent van de voedselgewassen afhankelijk is van dierlijke bestuivers zoals bijen, vogels en vlinders. Het verlies van alle dierlijke bestuivers lijkt ondenkbaar, maar is toch een reële bedreiging. En als voedsel schaarser wordt, zullen de armsten er het eerst onder lijden.
Bovendien vormt de vernietiging van habitats een ernstige bedreiging voor de volksgezondheid, niet in de laatste plaats omdat mens en dier hierdoor steeds dichter bij elkaar in de buurt komen. De Wereldgezondheidsorganisatie waarschuwt dat bestaande besmettelijke ziekten zich hierdoor sneller kunnen verspreiden en nieuwe zoönotische ziekteverwekkers sneller de kop kunnen opsteken.
Ten slotte is de klimaatverandering niet alleen een van de belangrijkste oorzaken van het verlies aan biodiversiteit; de vernietiging van ecosystemen ondermijnt het vermogen van de planeet om de effecten van de uitstoot van broeikasgassen te neutraliseren. De bossen in de Andes van Zuid-Amerika, bijvoorbeeld, fungeren als cruciale koolstofputten en absorberen kooldioxide uit de atmosfeer die anders het tempo van de opwarming van de aarde zou versnellen.
Bossen, wetlands, onderzeese kelpwouden, mangroves en andere natuurlijke systemen bieden ook bescherming tegen extreme weersomstandigheden zoals overstromingen, droogtes, hittegolven en stormen, door te fungeren als natuurlijke buffers of reservoirs. Het verlies aan biodiversiteit maakt de klimaatverandering niet alleen erger, maar schakelt ook onze beste verdedigingslinie ertegen uit.
COP15 biedt regeringen een belangrijke kans om een doorbraak te bereiken – gelijk aan het klimaatverdrag van Parijs uit 2015 – die de wereld verenigt achter één missie: het verlies aan biodiversiteit tegen het einde van dit decennium een halt toeroepen en idealiter omkeren.
Zeker, de huidige inspanningen lijden onder een gebrek aan politieke betrokkenheid op hoog niveau, waardoor velen zich afvragen waarom we twee afzonderlijke conventies hebben voor kwesties die hand in hand gaan. Dat vragen zij zich terecht af. In de toekomst zou ik graag zien dat we beide verdragen samenvoegen, in het besef dat klimaatverandering en biodiversiteitsverlies samen moeten worden aangepakt.
Ondertussen kunnen we ons echter geen verder uitstel veroorloven bij het vaststellen van ambitieuze doelstellingen om de biodiversiteit dit decennium te beschermen en te herstellen. De recente ʻloss and damage' (verlies en schade)-overeenkomst tijdens COP27 heeft aangetoond dat landen, als ze voldoende vastberaden zijn, kunnen samenwerken aan schijnbaar onoplosbare problemen. Nu de tijd dringt, moeten de wereldleiders deze geest van samenwerking in Montreal koesteren.
Vertaling: Menno Grootveld