Un modelo chino para la ayuda extranjera
,
SINGAPUR – El mes pasado, la Fundación Bill & Melinda Gates dio a conocer un informe de situación que rastrea el progreso de los Objetivos de Desarrollo Sustentable de las Naciones Unidas (ODS). Los datos, que estaban destinados a destacar los esfuerzos para erradicar la pobreza extrema y reducir las muertes prematuras, también estaban destinados a engañar. Los países pueden y deben hacer más para abordar los desafíos para el desarrollo global que enfrenta el planeta en su conjunto, concluyó el informe.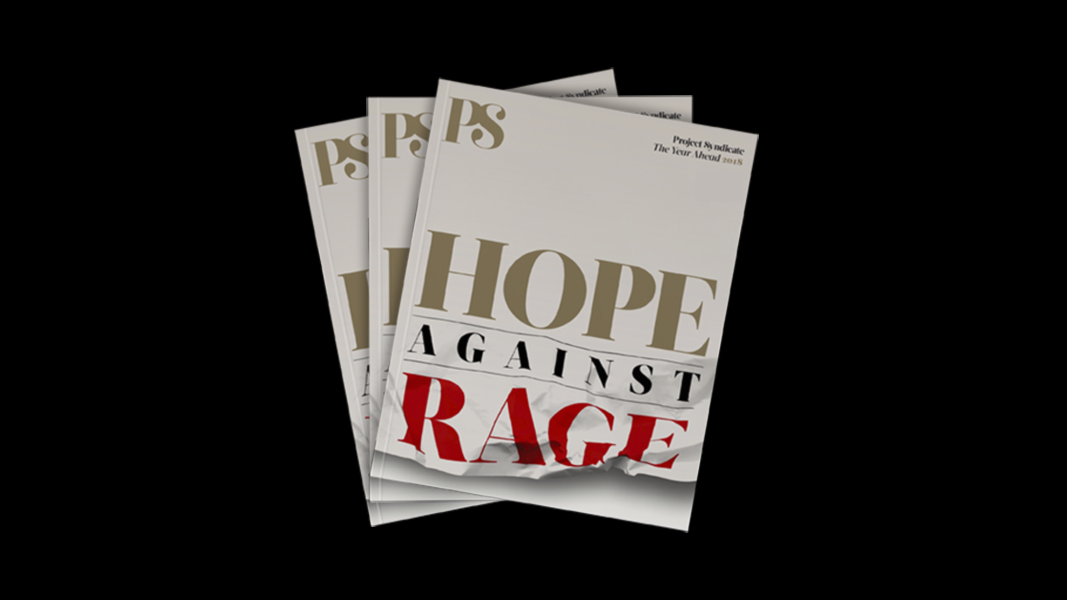 The Year Ahead 2018
The world's leading thinkers and policymakers examine what's come apart in the past year, and anticipate what will define the year ahead.
El informe de la Fundación Gates no señala ningún país en particular por su potencial para restablecer el "compromiso del mundo con el desarrollo". Más bien, "los líderes en todas partes" son responsables de garantizar que los ODS se cumplan en 2030. Pero creemos que sí existe un país que puede hacer más que los demás para construir el mundo imaginado por los ODS: China.
A dos años de iniciado el programa de los ODS, el desarrollo internacional está en una encrucijada. Estados Unidos, durante mucho tiempo el abanderado de la ayuda extranjera, está retrocediendo; lo mismo está haciendo Europa (aunque en menor medida). Pero China, con sus ambiciones globales recientemente articuladas, tiene la oportunidad de revitalizar la concepción y suministro de la asistencia humanitaria.
Adoptados por la Asamblea General de las Naciones Unidas en 2015, los ODS esbozan una visión para el desarrollo global que apunta a la pobreza, la educación, la salud pública, la desigualdad, la sustentabilidad y la acción climática en los próximos 15 años. Presentan una visión amplia para el desarrollo, en la que las cuestiones que alguna vez se consideraban específicas de cada país son tratadas como desafíos que el mundo debe combatir de manera colectiva. Por el contrario, los Objeticos de Desarrollo del Milenio, que culminaron en 2015, tenían un foco más acotado y apuntaban, principalmente, a cuestiones que afectaban a los países pobres.
Pero el estudio de Gates sugiere que algunas de las metas de los ODS ya están en peligro. Por ejemplo, es poco probable que el objetivo de la salud (ODS 3), que incluye una meta para eliminar muertes previsibles entre recién nacidos y niños, se alcance en el tiempo estipulado. Al ritmo actual, la reducción de la mortalidad en el sur de Asia y África no se concretará antes de mediados de siglo.
Claramente, se necesita más inversión a nivel global en los tipos de intervenciones que han demostrado ser efectivas a nivel local. El programa de Agentes de Divulgación Sanitaria de Etiopía y el programa de Asistentes de Vigilancia Sanitaria de Malawi han demostrado reducir la mortalidad infantil. Los dólares de la ayuda deberían estar destinados a ayudar a que este tipo de programas se expandan a otras regiones.
En cambio, está sucediendo todo lo contrario. El creciente aislacionismo asociado con el espíritu populista en todo el mundo está teniendo serias consecuencias para la asistencia extranjera. Según la OCDE, la ayuda bilateral a los países menos desarrollados del mundo cayó casi 4% en 2016. Se trata de una caída alarmante para estos países, considerando que la ayuda oficial al desarrollo (AOD) representa más de las dos terceras partes de la ayuda que reciben.
Estados Unidos, que sigue siendo el mayor donante del mundo para programas de nutrición y para iniciativas de salud materna e infantil, lidera la reducción del financiamiento. La propuesta de presupuesto para 2017 del presidente Donald Trump incluye un recorte sorprendente del 45% del financiamiento por parte de la Agencia de los Estados Unidos para el Desarrollo Internacional para proyectos de agua y saneamiento, un recorte del 26% del financiamiento para la salud global y la eliminación de los fondos para la planificación familiar. Si bien no está claro si el Congreso respaldará el pedido de presupuesto de Trump, que representaría miles de millones de dólares en ayuda perdida, inclusive una reducción menor en el gasto en ayuda por parte de Estados Unidos afectaría a muchas de las personas más pobres del mundo.
Estados Unidos no es el único que está recortando la ayuda extranjera. El borrador de presupuesto de la Unión Europea para 2018 propone un recorte de 90 millones de euros (106 millones de dólares) del gasto destinado al desarrollo, mientras que Austria, Alemania e Italia han desviado los presupuestos de ayuda para el desarrollo hacia las crisis inmigratorias, consideradas como amenazas inminentes para la seguridad nacional. Estas son tendencias preocupantes, ya que la filantropía privada no puede sustituir el retiro de ayuda por parte de los gobiernos.
El mundo necesita un nuevo paladín del desarrollo internacional y China debería asumir ese papel. En un momento en que se debilitan los compromisos con la AOD por parte de los donantes tradicionales, China tiene la posibilidad de liderar en materia de desarrollo humano, alivio de la pobreza y gasto en salud pública.
Es verdad que el modelo de ayuda de China difiere del de Occidente. Europa y Estados Unidos históricamente se han centrado en financiar iniciativas de atención médica y educación, alentando al mismo tiempo el crecimiento y la participación de la sociedad civil. China, en cambio, otorga ayuda sobre una base bilateral, y por lo general ha destinado su financiamiento a proyectos de infraestructura. Pero, recientemente, los líderes chinos también han mostrado interés en la ayuda para fortalecer a la sociedad civil y mejorar la calidad de vida.
Si bien la AOD china todavía es una fracción de lo que gastan los países de la OCDE, China ha señalado su interés en convertirse en un líder del desarrollo, especialmente en el sector de la salud. En una Cumbre de Desarrollo Sustentable de las Naciones Unidas de 2015 en Nueva York, China prometió 2.000 millones de dólares para ayudar a implementar la agenda de los ODS, mientras que la iniciativa insignia "Un Cinturón, Un Camino" de China incluye cooperación en materia de salud como parte de la estrategia propuesta. En 2014, China también comprometió 47 millones de dólares para ayudar a contener el brote del Ébola en África Occidental. Si bien esa cifra fue significativamente más baja que la promesa de Estados Unidos de 1.800 millones de dólares, China está entre los países que más rápido cumplieron con su compromiso.
La influencia geopolítica y económica de China está creciendo, y también lo está haciendo su papel a la hora de promover la paz y el desarrollo internacional. Sin duda se generará escepticismo sobre las intenciones de desarrollo de China, teniendo en cuenta las diferencias políticas e ideológicas entre China y Occidente. Pero el escepticismo debería arrojar resultados positivos, especialmente si insta a las potencias occidentales a reconsiderar su reducción de la ayuda extranjera.
Aunque no fuera así, China tiene las herramientas para convertirse en un líder en el desarrollo internacional. Y, habiendo sacado a unos 470 millones de sus propios ciudadanos de la pobreza extrema entre 1990 y 2005, también tiene la experiencia. Pero, más que cualquier cosa, China ahora tiene la oportunidad política. En la medida que Estados Unidos y Europa se vuelquen hacia adentro, garantizar el éxito de los ODS dependerá cada vez más de fomentar el liderazgo chino, y de empezar a acostumbrarse a él.