Čínský model pro zahraniční pomoc
,
SINGAPUR – Nadace Billa a Melindy Gatesových zveřejnila v září situační zprávu, která mapuje pokrok v oblasti Cílů trvale udržitelného rozvoje (SDG) Organizace spojených národů. Údaje, jejichž záměrem bylo vyzdvihnout úsilí o vymýcení extrémní chudoby a snížení počtu předčasných úmrtí, měly současně i chválit. Zpráva však zároveň dospěla k závěru, že jednotlivé země mohou a musí udělat více pro řešení globálních rozvojových problémů, před nimiž naše planeta jako celek stojí.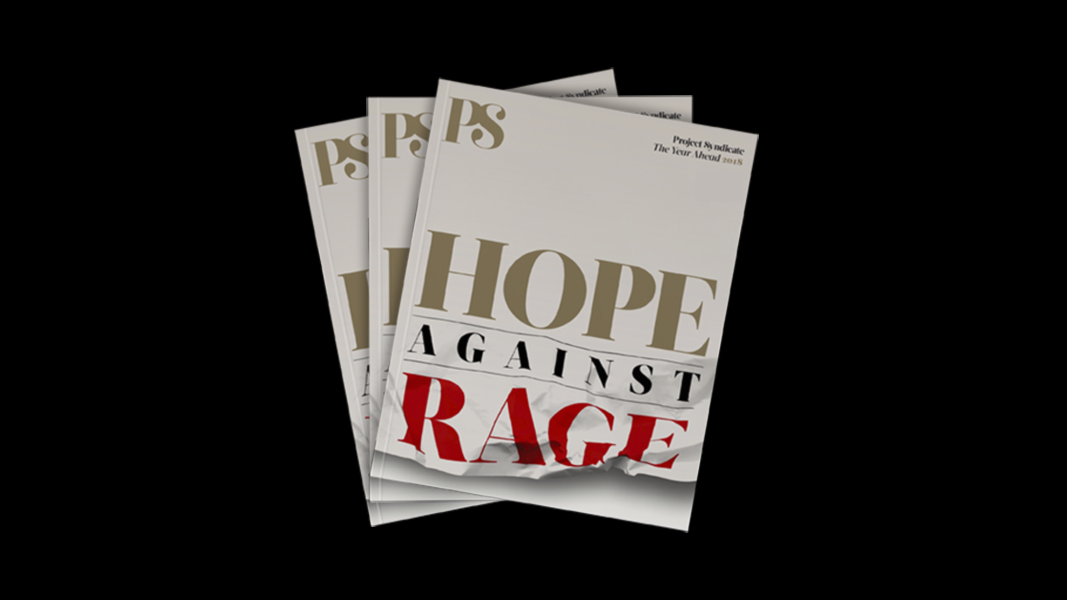 The Year Ahead 2018
The world's leading thinkers and policymakers examine what's come apart in the past year, and anticipate what will define the year ahead.
Zpráva Gatesových nevypíchla žádnou konkrétní zemi, která by měla potenciál obnovit "závazek světa k rozvoji". Spíš je to tak, že zodpovědnost za splnění cílů SDG do roku 2030 nesou "lídři všude na světě". My se ovšem domníváme, že existuje jedna země, která může učinit více než ostatní, aby se zasadila o svět podle SDG: Čína.
Dva roky po začátku programu SDG stojí mezinárodní rozvoj na křižovatce. Spojené státy, které dlouho tvořily předvoj zahraniční pomoci, ustupují ze scény a totéž (byť v menší míře) platí pro Evropu. Naopak Čína se svými nově formulovanými globálními ambicemi má příležitost posílit koncepci a zajišťování humanitární pomoci.
Cíle trvale udržitelného rozvoje, které v roce 2015 schválilo Valné shromáždění OSN, nastiňují vizi globálního rozvoje, jež se zaměřuje na chudobu, vzdělávání, veřejné zdraví, nerovnost, trvalou udržitelnost a klimatickou akci v příštích 15 letech. Jde o široce pojatou vizi rozvoje, kde jsou problémy, které se dříve považovaly za záležitosti konkrétních zemí, vnímány jako výzvy ke kolektivnímu řešení celým světem. Rozvojové cíle tisíciletí, které skončily v roce 2015, byly koncipovány úžeji a zaměřovaly se především na problémy týkající se chudých zemí.
Gatesova studie ovšem naznačuje, že některé cíle SDG jsou už nyní v ohrožení. Například zdravotnický cíl (SDG 3), který zahrnuje i úkol eliminovat preventabilní onemocnění novorozenců a dětí, se pravděpodobně nepodaří ve vymezeném časovém rámci splnit. Při současném tempu dojde ke snížení úmrtnosti v jižní Asii a Africe až v polovině století.
Je zjevné, že u těch typů intervencí, které se osvědčily jako lokálně účinné, jsou celosvětově zapotřebí vyšší investice. Etiopský program Nadstavbový zdravotník a malawský program Zdravotnický dohledový asistent prokazatelně snížily dětskou úmrtnost. Z rozpočtu na pomoc by se měly vyčlenit peníze, které napomohou k rozšíření podobných programů do dalších regionů.
Místo toho se děje pravý opak. Rostoucí izolacionismus spojený s celosvětovou vlnou populismu má vážné dopady na zahraniční pomoc. Podle OECD klesla bilaterální pomoc nejméně rozvinutým státům světa v roce 2016 téměř o 4%. To je pro tyto země alarmující úbytek vzhledem k faktu, že oficiální rozvojová pomoc (ODA) představuje více než dvě třetiny celkové pomoci, již tyto země dostávají.
V čele tohoto útlumu financování stojí USA, přestože jsou i nadále největším světovým dárcem u nutričních programů a iniciativ zaměřených na zdraví matky a dítěte. Návrh rozpočtu prezidenta Donalda Trumpa z roku 2017 obsahuje ohromující škrt ve výši 45% v případě financování vodohospodářských a kanalizačních projektů americké Agentury pro mezinárodní rozvoj, škrt o 26% u financování globálního zdraví a úplnou eliminaci prostředků určených na plánování rodičovství. Není sice zřejmé, zda Trumpovy rozpočtové požadavky, které by znamenaly několik miliard dolarů ztracené pomoci, podpoří Kongres, ale i drobné omezení amerických výdajů na pomoc by ublížilo mnoha nejchudším lidem světa.
USA nejsou v utlumování zahraniční pomoci jediné. Návrh rozpočtu Evropské unie pro rok 2018 počítá s omezením výdajů na rozvoj o 90 milionů eur, přičemž Rakousko, Německo a Itáliepřeorientovaly své rozpočty určené na rozvojovou pomoc směrem k řešení migračních krizí, které pokládají za bezprostřední ohrožení své národní bezpečnosti. Jsou to znepokojivé trendy, poněvadž dobročinnost soukromých osob nemůže nahradit pomoc utlumenou vládami.
Svět potřebuje nového tahouna mezinárodní pomoci a Čína by měla tuto roli přijmout. V situaci, kdy závazky ODA od tradičních dárců slábnou, má Čína příležitost postavit se do čela lidského rozvoje, zmírňování chudoby a výdajů do veřejného zdraví.
Je pravda, že se čínský model pomoci od západního liší. Evropa a USA se historicky zaměřují na financování zdravotnických a vzdělávacích iniciativ a současně podporují růst a participaci občanské společnosti. Naopak Čína posílá pomoc na bilaterální bázi a své finance obvykle směřuje k infrastrukturálním projektům. Také vedoucí čínští představitelé ovšem nedávno projevili zájem o pomoc při posilování občanské společnosti a zlepšování životů lidí.
Ačkoliv je čínská ODA stále jen zlomkem toho, co vynakládají země OECD, Čína už dala najevo zájem stát se lídrem rozvoje, zejména v sektoru zdravotnictví. Na summitu OSN o trvale udržitelném rozvoji, který se konal v roce 2015 v New Yorku, se Čína zavázala věnovat dvě miliardy dolarů na pomoc s implementací agendy SDG a čínská vlajková loď, totiž "Iniciativa Pás a stezka", obsahuje v navrhované strategii také spolupráci v oblasti zdravotnictví. V roce 2014 vyčlenila Čína rovněž 47 milionů dolarů na pomoc v boji proti šíření viru ebola v západní Africe. Bylo to sice podstatně méně než americký příspěvek 1,8 miliardy dolarů, avšak Čína patřila mezi země, které svůj závazek splnily nejrychleji.
Geopolitický a ekonomický vliv Číny roste, a proto musí růst i její role při podpoře mezinárodního míru a rozvoje. Vzhledem k politickým a ideologickým odlišnostem mezi Čínou a Západem se bezpochyby vynoří také skeptické názory na čínské rozvojové záměry. I skepse však může přinést pozitivní výsledky, zvláště když pobídne západní mocnosti k přehodnocení ústupu od zahraniční pomoci.
A i kdyby k tomu nedošlo, má Čína potřebné nástroje k tomu, aby se stala lídrem mezinárodního rozvoje. A poté, co v letech 1990 až 2005 vytáhla přibližně 470 milionů svých občanů z extrémní chudoby, má také zkušenosti. Především se jí však dnes naskýtá politická příležitost. V době, kdy se USA a Evropa obracejí do sebe, bude zajištění úspěchu SDG stále více záviset na tom, zda podpoříme čínské vedení – a zda si na něj zvykneme.
Z angličtiny přeložil Jiří Kobělka.