La urgencia de poner precio al carbono
PARÍS – La asunción de mando del Presidente estadounidense electo Joe Biden se realizará justo pasado un mes del quinto aniversario del acuerdo climático de París, lo que augura un avance largamente atrasado en la lucha global contra el cambio climático. A pesar de los compromisos recientes hechos por importantes emisores para alcanzar la neutralidad de carbono para mediados de siglo, el mundo todavía no está en camino de impedir que el calentamiento global supere los 2º Celsius, objetivo que es necesario lograr para evitar trastornos masivos en las sociedades humanas.
Por fortuna, al menos podemos cuantificar el desafío por delante. Según la Agencia Energética Internacional, las emisiones energéticas globales de dióxido de carbono en 2019 ascendieron a cerca de 33 mil millones de toneladas, cifra que debemos reducir a cero neto.
La captura y almacenamiento de carbono (CCS, por sus siglas en inglés) puede eliminar el carbono del aire, pero sus costes son muy cambiantes. Suponiendo que esta tecnología se pueda instalar a escala a un coste de $100 por tonelada, se puede calcular que eliminar el CO2 emitido en 2019 costaría $3,3 billones. Y si se considera razonablemente que el coste de mitigación ($100 por tonelada) coincide con los costes sociales causados por el calentamiento global, podemos comparar esa cifra con la riqueza creada por una economía como Alemania, cuyo PIB en 2019 ascendió a $3.861 billones. Ese es el formidable precio que debemos pagar por año para evitar el empeoramiento del cambio climático.
Para los economistas, la solución obvia sería el principio de "que pague el que contamina". Cada país debiera fijar un impuesto o poner un precio de $100 por cada tonelada de CO2 emitido en su territorio, ingresos que se destinarían a adquirir el carbón eliminado por las empresas participantes del CCS. El problema con esta opción es que carece de la más mínima posibilidad de ponerse en práctica. Muchos electorados y comunidades objetarían que este enfoque asigna un coste desproporcionadamente alto a las personas económicamente más vulnerables. Pero además pensemos en que esas mismas gentes son las más afectadas por el cambio climático.
La tarea más inmediata tendría que ser movilizar fondos para desplegar CCS a escala global. Una de las grandes debilidades del acuerdo de París, además de que sus "contribuciones determinadas a nivel nacional" no son vinculantes, es que se centra en el volumen de emisiones, casi sin darle ningún papel al precio del carbono. Con un precio del carbono más explícito y de aplicación universal, podríamos al mismo tiempo desalentar las emisiones, fomentar la innovación y el desarrollo en tecnologías de descarbonización como el CCS, y comenzar a usarlas para sacar el carbono del aire.
Veamos ahora a la Unión Europea, que se ha comprometido con alcanzar la neutralidad de carbono para 2050 y a una reducción del 55% para 2030. Varios estados miembros ya han adoptado objetivos legalmente vinculantes (como Dinamarca, Francia, Alemania, Hungría y Suecia). Para hacer avanzar las cosas, la UE puede hacer uso del mercado de emisiones que creó hace 15 años. Este potente recurso ya cubre un 45% de las emisiones del bloque, pero se podría mejorar.
Subscribe to PS Digital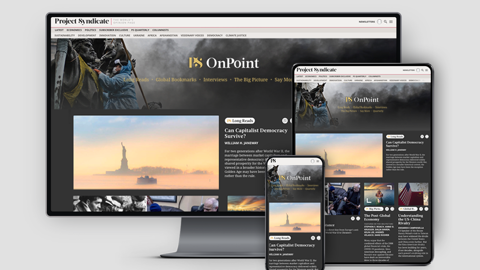 Subscribe to PS Digital
Access every new PS commentary, our entire On Point suite of subscriber-exclusive content – including Longer Reads, Insider Interviews, Big Picture/Big Question, and Say More – and the full PS archive.
Puesto que el mercado de carbono de Europa inicialmente se puso como objetivo el volumen de las emisiones de carbono –basándose en una estructura de "tope y canje"-, el precio del carbono era muy volátil. En consecuencia, después de la crisis financiera global perdió un 80% de su valor, quedando moribundo por muchos años. Solo hace poco la Comisión Europea se dio cuenta de que necesitaba centrarse más en el precio del carbono, que hoy supera los €30 ($37) la tonelada.
Fijar el precio del carbono es, con mucho, la forma más eficiente de reducir las emisiones, porque altera persistentemente la toma de decisiones de los emisores a lo largo del tiempo. Mientras más alto sea el precio, mayor será el incentivo a cambiar a energía de bajas o cero emisiones, y a impulsar proyectos de largo plazo con energías limpias. Las ventajas comparativas potenciales de estos proyectos merecen una mayor atención.
Pero no se puede imponer un alto precio al carbono de la noche a la mañana, sino elevarlo gradualmente con el tiempo, siguiendo una trayectoria compatible con un objetivo de neutralidad de carbono determinado, La Comisión Europea está en lo correcto al tomar en cuenta un precio en aumento, pero mejoraría grandemente la eficacia de su estrategia al anunciar una meta de precio del carbono por adelantado. Para promover esta idea, he creado un Grupo de Tareas sobre la Determinación de Precios del Carbono en Europa, que convoca no solo a economistas y académicos sino también a líderes empresariales que comprenden que necesitan una señal clara del mercado para hacer las inversiones correctas a su debido tiempo.
En todo el planeta un creciente número de gobiernos (entre ellos, Japón, Corea del Sur, Nueva Zelanda y el Reino Unido) anuncian objetivos de cero emisiones netas. El reciente compromiso de China de alcanzar la neutralidad de carbono reviste una importancia especial dado el tamaño de su población y economía, que representa más emisiones agregadas (aunque no per cápita) que Estados Unidos y la Unión Europea combinados. Es más, China ya ha creado su propio mercado para el carbono, pero, como en el caso de Europa, este mecanismo se podría usar de modo más eficiente si hubiera un precio del carbono más explícito.
Puesto que el cambio climático es un problema global que requiere de cooperación entre países, el Grupo de Tareas sobre la Determinación de Precios del Carbono en Europa ha iniciado una iniciativa conjunta con el Foro Financiero Internacional, un centro de investigación chino, para promover la convergencia en el precio del carbono. Estados Unidos, país en el que pronto habrá radicales cambios en el enfoque del gobierno federal a la política climática, podría desempeñar un papel crucial en este respecto. Además de reafirmar el compromiso estadounidense con el acuerdo de París, Biden está nombrando en cargos clave a autoridades con vasta experiencia en temas climáticos, como el ex Secretario de Estado John Kerry y la ex Presidenta de la Reserva federal Janet Yellen, que ha encabezado el G30 o Grupo de Trabajo de 30 sobre Cambio Climático y Finanzas. Al presentar a los medios las conclusiones del grupo, Yellen dejó en claro que entiende el desafío, observando que "los precios del carbono deberían aumentar gradualmente con el tiempo para incentivar a las empresas y acelerar el paso a un nivel cero neto de emisiones".
De más está decir que una iniciativa conjunta sobre el precio del carbono entre los tres principales emisores –Europa, Estados Unidos y China- podría fortalecer muchísimo el esfuerzo global para combatir el cambio climático. Ya sabemos que la determinación del precio del carbono es necesaria para mantener todos los compromisos recientes sobre neutralidad de carbono. Si llegamos a un marco general creíble para llenar este vacío del acuerdo de París, finalmente contaríamos con todas las piezas para enfrentar el reto más abrumador que ha experimentado la humanidad.
Traducido del inglés por David Meléndez Tormen