La tarification du carbone aujourd'hui
PARIS – L'investiture du président américain élu Joe Biden aura lieu un mois après le cinquième anniversaire de l'Accord de Paris sur le climat, ce qui laisse présager des progrès tant attendus dans le domaine de la lutte mondiale contre le changement climatique. Malgré les récents engagements politiques des principaux pays émetteurs de carbone pour parvenir à la neutralité carbone d'ici le milieu du siècle, le monde n'est pas encore sur la bonne voie pour empêcher le réchauffement planétaire de dépasser les 2° Celsius – un objectif que nous devons atteindre si nous voulons éviter des bouleversements majeurs au sein des sociétés humaines.
Heureusement, nous sommes au moins à même de quantifier le défi que nous avons à relever. Selon l'Agence internationale de l'énergie, les émissions mondiales de dioxyde de carbone liées à l'énergie en 2019 ont représenté environ 33 milliards de tonnes – un chiffre qui doit finalement être réduit à zéro.
Le captage et le stockage du carbone (CSC) peut permettre d'éliminer le carbone de l'air, mais son coût varie considérablement. En supposant que cette technologie soit déployée à grande échelle pour un coût moyen de 100 dollars la tonne, nous pouvons calculer que la suppression du CO2 émis en 2019 coûterait 3,3 billions de dollars. Et si l'on tient compte, non sans raison, que le coût de la réduction (100 dollars la tonne) coïncide avec le coût social engagé par le réchauffement climatique, nous pouvons alors comparer ce chiffre à la richesse créée par une économie comme l'Allemagne, où le PIB de 2019 s'élevait à 3,861 billions de dollars. Cela nous met face à un prix impressionnant dont nous devrons nous acquitter chaque année pour éviter toute nouvelle aggravation du changement climatique.
Pour les économistes, la solution évidente consiste à suivre le principe du « pollueur-payeur ». Chaque pays doit imposer ou fixer un prix de 100 dollars par tonne de CO2 émise sur son territoire, dont les bénéfices doivent être versés pour acheter le carbone qui a été retiré par les entreprises ayant adopté des mesures de CSC. Le problème avec cette option, c'est qu'elle n'a pas la moindre chance d'être adoptée de sitôt. De nombreuses circonscriptions s'opposent à ce que cette approche impose un coût disproportionné aux personnes les plus vulnérables sur le plan économique. Mais rappelons-nous que ces personnes sont celles qui souffrent le plus du changement climatique.
La tâche la plus immédiate doit consister à mobiliser les fonds nécessaires au déploiement de la technologie CSC à l'échelle mondiale. L'une des principales faiblesses de l'Accord de Paris, en plus de ses « contributions déterminées au niveau national » dépourvues de toute valeur contraignante, est qu'il considère le volume des émissions, en ne donnant quasiment aucun rôle au prix du carbone. Avec un prix du carbone plus explicite et universellement appliqué, nous pourrions simultanément décourager les émissions, encourager l'innovation et les investissements dans les technologies de décarbonisation comme la technologie CSC et commencer à nous en servir pour purger le carbone de l'air.
Considérons à présent le cas de l'Union européenne, qui s'est engagée à parvenir à la neutralité carbone d'ici 2050 et à une réduction de 55 % de ses émissions d'ici 2030. De nombreux États membres ont déjà adopté des objectifs juridiquement contraignants (dont le Danemark, la France, l'Allemagne, la Hongrie et la Suède). Pour faire avancer les choses, l'UE peut utiliser le marché des émissions qu'elle a créé il y a 15 ans. Ce puissant dispositif couvre déjà 45 % des émissions du bloc, mais il pourrait être amélioré.
Subscribe to PS Digital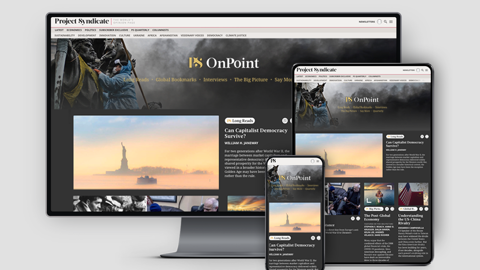 Subscribe to PS Digital
Access every new PS commentary, our entire On Point suite of subscriber-exclusive content – including Longer Reads, Insider Interviews, Big Picture/Big Question, and Say More – and the full PS archive.
Parce que le marché européen du carbone ne visait initialement que le volume des émissions de carbone – reposant sur une structure de plafonnement et d'échange – le prix du carbone était très instable. Par conséquent, après la crise financière mondiale, il a perdu plus de 80 % de sa valeur et est resté moribond pendant de nombreuses années. Ce n'est que récemment que la Commission européenne a compris qu'elle devait se concentrer davantage sur le prix du carbone, qui est aujourd'hui supérieur à 30 € (37 dollars) par tonne.
La tarification du carbone est de loin le moyen le plus efficace de réduire les émissions, car elle modifie constamment le processus décisionnel des émetteurs au fil du temps. Plus le prix du carbone est élevé, plus l'incitation à passer à une énergie à faible en carbone ou sans carbone et à réaliser des projets d'énergie propre à long terme. Les avantages comparatifs potentiels de ces projets méritent que l'on s'y intéresse davantage.
Mais un prix élevé du carbone ne peut pas être imposé du jour au lendemain. Au contraire, le prix doit être progressivement augmenté au fil du temps, suivant une trajectoire compatible avec un objectif donné de neutralité carbone. La Commission européenne a raison de prendre en compte la hausse des prix. Mais elle pourrait grandement améliorer l'efficacité de sa stratégie en annonçant un objectif de prix du carbone à l'avance. Pour faire avancer cette idée, j'ai créé un groupe de travail sur la tarification du carbone en Europe, qui réunit non seulement des économistes et des spécialistes des questions politiques, mais également des chefs d'entreprise qui comprennent leur besoin d'un signal de marché clair pour faire les bons investissements en temps voulu.
Partout dans le monde, de plus en plus de gouvernements – comme le Japon et la Corée du Sud, la Nouvelle-Zélande et le Royaume-Uni – ont annoncé des objectifs de neutralité carbone. La récente promesse de la Chine de parvenir à la neutralité carbone d'ici 2060 est particulièrement importante, compte tenu de la taille de sa population et de son économie, qui représentent davantage d'émissions globales (mais pas par habitant) que les États-Unis et l'Europe réunis. En outre, la Chine a déjà créé un marché du carbone : mais, comme dans le cas de l'Europe, ce mécanisme pourrait être utilisé plus efficacement s'il existait un prix du carbone plus explicite.
Parce que le changement climatique est un problème mondial qui nécessite une coopération entre les pays, le Groupe de travail sur la tarification du carbone en Europe a lancé une initiative conjointe avec International Finance Forum, un groupe de réflexion chinois, en vue de promouvoir un prix du carbone convergent. Les États-Unis, où l'approche du gouvernement fédéral en matière de politique climatique fera bientôt l'objet d'un changement radical, pourraient jouer un rôle majeur à cet égard. En plus de réaffirmer l'engagement des États-Unis dans l'Accord de Paris, Biden dote certains postes clés de responsables politiques chevronnés en matière climatique, tels que l'ancien secrétaire d'État John Kerry et l'ancienne présidente de la Réserve fédérale américaine Janet Yellen, qui a dirigé le Groupe de travail des 30 sur le changement climatique et les finances. En présentant les conclusions du groupe à la presse, Yellen a clairement indiqué qu'elle comprenait le défi, en remarquant  que « les prix du carbone devraient augmenter progressivement au fil du temps pour encourager les entreprises et accélérer le passage à la neutralité carbone ».
Il va sans dire qu'une initiative conjointe sur la tarification du carbone entre les trois principaux émetteurs mondiaux – l'Europe, les États-Unis et la Chine – pourrait considérablement renforcer l'effort mondial de lutte contre le changement climatique. Nous savons déjà que la tarification du carbone est nécessaire pour respecter toutes les récentes promesses de neutralité carbone. Avec un cadre mondial crédible pour parer à cette lacune de l'Accord de Paris, tous les éléments seraient enfin en place pour relever le plus grand défi de l'humanité.