Obecne Ceny Emisji Dwutlenku Węgla
PARYŻ – Inauguracja prezydenta-elekta USA Joe Bidena przypada zaledwie miesiąc po piątejrocznicy porozumienia klimatycznego z Paryża, zwiastując od dawna oczekiwany postęp w globalnej walce ze zmianami klimatycznymi. Pomimo niedawnych zobowiązań politycznych głównych emitentów do osiągnięcia neutralności węglowej do połowy obecnego stulecia, świat nadal niejestnadobrejdrodze, aby zapobiec przekroczeniu 2° Celsjusza przez globalne ocieplenie - cel, który należy osiągnąć, aby zapobiec masowym zakłóceniom w życiu człowieka.
Na szczęście możemy przynajmniej określić ilościowo obecne wyzwanie. Według Międzynarodowej Agencji Energii globalne emisje dwutlenku węgla związane z energią w 2019 r. wyniosły około 33 miliardówton - jest to liczba, którą ostatecznie trzeba będzie zredukować do zera netto.
Wychwytywanie i przechowywanie dwutlenku węgla (CCS) może usuwać węgiel z powietrza, ale jego koszty znacznie się różnią. Zakładając, że ta technologia zostanie wdrożona na dużą skalę przy średnim koszcie 100 USD za tonę, możemy obliczyć, że usunięcie CO2 wyemitowanego w 2019 r. kosztowałoby 3,3 bln USD. Biorąc pod uwagę, nie bez powodu, koszt redukcji emisji (100 USD za tonę) pokrywa się z kosztem społecznym poniesionym przez globalne ocieplenie, możemy następnie porównać tę liczbę do bogactwa wytworzonego przez gospodarkę taką jak Niemcy, gdzie PKB w 2019 r. wyniósło 3,861 blnUSD. Daje to ogromną cenę, którą trzeba płacić co roku, aby zapobiec dalszemu pogorszeniu się sytuacji klimatycznej.
Dla ekonomistów oczywistym rozwiązaniem jest przestrzeganie zasady, że "zanieczyszczający płaci." Każdy kraj powinien opodatkować lub ustalić cenę 100 USD za tonę CO2 wyemitowanego na swoim terytorium, który to dochód powinien zostać przeznaczony na zakup węgla usuniętego przez firmy zaangażowane w CCS. Problem z tą opcją polega na tym, że nie ma szans na jej przyjęcie w najbliższym czasie. Wiele obszarów sprzeciwiłoby się temu uważając, że takie podejście nakłada nieproporcjonalnie duże koszty na podmioty w najtrudniejszej sytuacji ekonomicznej. Musimy jednak również pamiętać, że to ci sami ludzie właśnie najbardziej cierpią z powodu zmian klimatycznych.
Ważniejszym zadaniem powinna być mobilizacja funduszy potrzebnych do wdrożenia CCS na skalę globalną. Jedną z głównych słabości porozumienia paryskiego, oprócz tego, że jego "wkłady ustalane na szczeblu krajowym" nie są wiążące, jest to, że odnosi się ono do wielkości emisji, nie przywiązując prawie żadnej roli do ceny węgla. Mając bardziej jednoznaczną, powszechnie stosowaną cenę emisji dwutlenku węgla, moglibyśmy jednocześnie zniechęcać do emisji, zachęcać do innowacji i inwestycji w technologie dekarbonizacji, takie jak CCS, i używać ich do odsysania węgla z powietrza.
Rozważmy teraz Unię Europejską, która zobowiązała się do osiągnięcia neutralności węglowej do 2050 r. i 55% redukcji do 2030 r. Wiele państw członkowskich przyjęło już prawnie wiążące cele (w tym Dania, Francja, Niemcy, Węgry i Szwecja). Aby posunąć się naprzód, UE może wykorzystać rynek emisji, który stworzyła 15 lat temu. To potężne urządzenie pokrywa już 45% emisji bloku, ale można je jeszcze ulepszyć.
Subscribe to PS Digital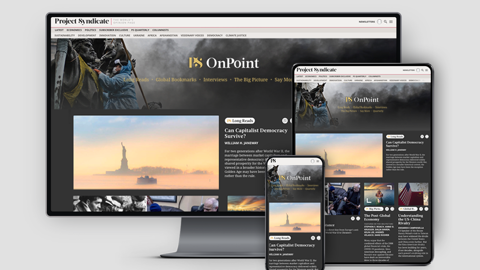 Subscribe to PS Digital
Access every new PS commentary, our entire On Point suite of subscriber-exclusive content – including Longer Reads, Insider Interviews, Big Picture/Big Question, and Say More – and the full PS archive.
Europejski rynek emisji dwutlenku węgla był początkowo ukierunkowany tylko na wielkość emisji dwutlenku węgla - opierając się na strukturze typu "limit i handel" - dlatego cena dwutlenku węgla była bardzo zmienna. Stąd po światowym kryzysie finansowym stracił ponad 80% swojej wartości i przez wiele lat powoli umierał. Dopiero niedawno Komisja Europejska zdała sobie sprawę, że musi bardziej skupić się na cenie węgla, która obecnie wynosi ponad 30 euro (37 dolarów) za tonę.
Ceny uprawnień do emisji dwutlenku węgla są zdecydowanie najbardziej efektywnym sposobem redukcji emisji, ponieważ z biegiem czasu stale zmieniają decyzje dotyczące emitentów. Im wyższa cena węgla, tym silniejsza zachęta do przejścia na energię niskoemisyjną lub zerową oraz do realizacji długoterminowych projektów czystej energii. Potencjalne przewagi komparatywne tych projektów wymagają większej uwagi.
Ale wysokiej ceny emisji dwutlenku węgla nie można narzucić z dnia na dzień. Zamiast tego cena musi być stopniowo podnoszona w czasie, zgodnie z danym celem neutralności węglowej. Komisja Europejska słusznie bierze pod uwagę rosnącą cenę. Może jednak znacznie zwiększyć skuteczność swojej strategii, ogłaszając z wyprzedzeniem cenę docelową emisji dwutlenku węgla. Aby promować ten pomysł, utworzyłem grupę zadaniową ds. wyceny emisji dwutlenku węgla w Europie, która skupia nie tylko ekonomistów i politologów, ale także liderów biznesu, którzy rozumieją, że potrzebują wyraźnego sygnału rynkowego, aby dokonać właściwych inwestycji w odpowiednim czasie.
Na całym świecie coraz więcej rządów - od Japonii i Korei Południowej po Nową Zelandię i Wielką Brytanię - ogłosiło cele zerowej emisji netto. Niedawne zobowiązanie Chin do osiągnięcia neutralności węglowej do 2060 r. jest szczególnie ważne, biorąc pod uwagę wielkość populacji i gospodarkę, która odpowiada za więcej emisji (choć nie na mieszkańca) niż USA i Europa razem wzięte. Co więcej, Chiny już stworzyły rynek węgla; ale, podobnie jak w przypadku Europy, mechanizm ten mógłby być stosowany skuteczniej, gdyby istniała bardziej jednoznaczna cena emisji dwutlenku węgla.
Ponieważ zmiany klimatyczne to problem globalny, który wymaga współpracy między krajami, grupa zadaniowa ds. ustalania cen emisji dwutlenku węgla w Europie podjęła wspólną inicjatywę z Międzynarodowym Forum Finansowym (chiński think tank), w celu promowania zbieżnej ceny emisji dwutlenku węgla. Stany Zjednoczone, w których podejście rządu federalnego do polityki klimatycznej wkrótce ulegnie drastycznej zmianie, mogą odegrać w tym względzie główną rolę. Oprócz potwierdzenia zaangażowania Ameryki na rzecz porozumienia paryskiego, Biden wypełnia kluczowe stanowiska doświadczonymi decydentami klimatycznymi, takimi jak były sekretarz stanu John Kerry i była przewodnicząca Rezerwy Federalnej USA Janet Yellen, która przewodziła Grupie 30 Grupy Roboczej ds. Zmian Klimatu i Finansów. Przedstawiając ustalenia grupy, Yellen jasno dała do zrozumienia, że rozumie wyzwanie, zauważając, że "ceny uprawnień do emisji dwutlenku węgla powinny stopniowo rosnąć w czasie, aby zachęcić firmy i przyspieszyć przejście do zera netto."
Nie trzeba dodawać, że wspólna inicjatywa dotycząca ustalania cen emisji dwutlenku węgla między trzema wiodącymi światowymi emitentami - Europą, USA i Chinami - może radykalnie wzmocnić globalne wysiłki w walce ze zmianami klimatycznymi. Wiemy już, że wycena emisji dwutlenku węgla jest konieczna, aby spełnić wszystkie zobowiązania dotyczące neutralności węglowej. Dzięki wiarygodnym globalnym ramom, które pozwolą wypełnić tę lukę w porozumieniu paryskim, wszystkie elementy będą wreszcie gotowe, aby sprostać najtrudniejszemu wyzwaniu jakie stoi przed ludzkością.
Z angielskiego przetłumaczyła Marz McNamer