Les droits de douanes en faveur de l'environnement
Robert Collier
BERKELEY – Ces derniers mois, la Chine s'est trouvée au cœur du débat international sur le réchauffement climatique. Elle a supplanté les Etats-Unis au rang de plus grande source d'émission de gaz à effet de serre, et est devenue le chantre diplomatique des nations en développement lors des dernières négociations des Nations Unies sur le climat à Bali. La Chine est susceptible de devenir la cible d'une véritable guerre commerciale pouvant détruire – ou peut-être sauver – les chances de rapprocher les nations riches des nations pauvres dans la lutte contre le réchauffement climatique.
L'intérêt porté à la Chine s'est intensifié à la fin de l'année dernière, lorsque les nouvelles données de l'Agence internationale de l'énergie et d'autres organismes de recherche ont révélé qu'elle avait dépassé les Etats-Unis au classement des émetteurs de gaz à effet de serre – et plus menaçant encore, que ses émissions augmentaient plus rapidement que les nations riches ne diminuaient les leurs. Même si la Chine atteint ses objectifs en matière de conservation de l'énergie, ses émissions augmenteront d'environ 2,3 milliards de tonnes métriques durant les cinq prochaines années – soit bien plus que la réduction de 1,7 milliards de tonnes imposée par le Protocole de Kyoto aux 37 pays développés « de l'Annexe 1 », y compris aux Etats-Unis.
Après les négociations peu concluantes sur l'environnement organisées à Bali par les Nations Unies, les industries américaines et européennes – en particulier de fer, d'acier, de ciment, de verre, de produits chimiques et de papier – craignaient que tout nouveau traité sur le climat les désavantagerait face aux concurrents chinois à forte croissance. Le Congrès américain s'est donc mobilisé pour créer un système de sanctions commerciales prélevant de lourdes taxes sur les importations d'autres grands émetteurs de gaz à effet de serre. L'ironie, c'est que le projet américain prend forme avant même que le pays ne réduise ses propres émissions, suscitant alors des accusations d'hypocrisie, de violation du droit international et menaçant d'une guerre commerciale majeure.
La proposition de droits de douanes contenue dans le texte de loi central sur le réchauffement climatique, actuellement devant le Congrès, imposera un contrôle des émissions nationales à partir de 2012, de même que des taxes sanctionnant les produits très polluants importés de pays ne menant pas d'« action comparable » à celle des Etats-Unis, à partir de 2020. Les syndicats et lobbies industriels exercent de fortes pressions pour que ces sanctions prennent effet plus rapidement.
José Manuel Barroso, Président de la Commission européenne, Nicolas Sarkozy et les chambres de commerce et d'industrie ont vivement soutenu un système de droits de douanes similaire, qui a conduit de nombreux analystes à prédire que l'Union européenne adopterait elle aussi un régime douanier spécifique aux produits « verts » dans les années à venir.
Subscribe to PS Digital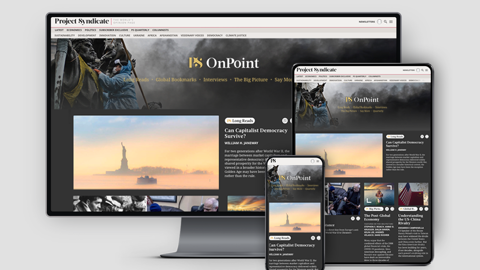 Subscribe to PS Digital
Access every new PS commentary, our entire On Point suite of subscriber-exclusive content – including Longer Reads, Insider Interviews, Big Picture/Big Question, and Say More – and the full PS archive.
Mettant en garde contre la possibilité d'une « guerre commerciale totale » si les sanctions se poursuivent, Susan Schwab, représentante américaine au commerce, soutient que les sanctions en faveur de l'environnement enfreindront les règles de l'Organisation mondiale du commerce. Dans un récent courrier adressé au House Energy and Commerce Committee [Comité sur l'énergie et le commerce au sein de la Chambre des représentants américaine], elle écrit : « nous pensons que cette démarche pourrait être un instrument inadapté et imprécis de crainte, plutôt que de persuasion, qui nous amènera le long d'une voie dangereuse et aura un impact négatif sur les fabricants, les fermiers et les consommateurs américains ».
De leur côté, les alliés des nations en développement sont d'avis que le programme de sanctions risque de détruire les chances de signer un traité après Kyoto. Les diplomates chinois n'ont pas répondu directement mais ont durci leur position dans les négociations sur le climat. En février, Yu Qingtai, grand négociateur chinois en la matière, a affirmé aux Nations Unies que les riches nations « à l'origine du réchauffement climatique » devaient être traitées comme des « coupables » et les pays en développement comme des « victimes ».
Nonobstant cette position catégorique, des responsables chinois en faveur de la protection de l'environnement expriment en privé leurs inquiétudes au sujet d'émissions de carbone sans cesse plus élevées. Ils proposent que les droits de douane « verts » des autres pays leur accordent davantage d'influence dans les luttes politiques intérieures sur le contrôle des gaz à effets de serre en les aidant à obtenir le soutien politique. Pan Yue, directeur adjoint de l'Administration d'État de protection de l'environnement, a affirmé dernièrement dans un article du China Daily en faveur de réglementations renforcées et d'une « Chine plus verte » que « l'image de la Chine au sein de la communauté internationale » était en péril.
Les tensions exacerbées au sujet des sanctions commerciales font ressortir deux grandes questions éthiques : les nations riches doivent-elles porter seules le fardeau des réductions d'émissions ? Faut-il utiliser à la fois bâtons et carottes pour provoquer un comportement qui ménage l'environnement dans les pays en développement ?
Même si la Chine risque de ne pas apprécier, le commerce international est une force de levier plus puissante que tout autre mécanisme de l'après Kyoto sur les politiques environnementales des pays en développement. Malgré la menace de guerres commerciales, les sanctions pourraient devenir le moyen le plus efficace de forcer la main aux mesures internationales de lutte contre le réchauffement climatique.