Antarktida za bodem zvratu
POSTUPIM – Nedávná satelitní pozorování potvrdila přesnost dvou nezávislých počítačových simulací, které ukazují, že západoantarktický ledový příkrov překročil hranici nezadržitelného zhroucení. Planeta tím vstupuje do nové éry neodvratných důsledků klimatických změn. Jedinou otázkou zůstává, zda učiníme dost pro to, abychom podobnému vývoji zabránili jinde.
Nejnovější zjištění ukazují, že klíčové součásti světového klimatického systému mají sice obrovskou velikost, ale zároveň jsou natolik křehké, že je lidská činnost může nenapravitelně narušit. Je zákonité, že čím je svět teplejší, tím vyšší hrozí riziko, že i další části Antarktidy dosáhnou obdobného bodu zvratu; dnes už dokonce víme, že srovnatelně zranitelná by mohla být Wilkesova pánev ve východní Antarktidě, která je stejně velká nebo i větší než ledový příkrov na západě.
Není mnoho lidských činností, jejichž dopad lze rozumně předpovídat na desítky, stovky, ba i tisíce let dopředu. Jednou z takových činností je nakládání s jaderným odpadem; druhou je podíl člověka na globálním oteplování prostřednictvím emisí skleníkových plynů v důsledku spalování fosilních paliv a vliv oteplování na stoupající hladiny moří.
Poslední zpráva Mezivládního panelu pro změny klimatu (IPCC) ostatně nezvykle silným jazykem konstatovala, že mořská hladina se bude "prakticky jistě" v nadcházejících staletích či tisíciletích dále zvyšovat. Čím větší budou navíc naše emise, tím výš se hladina zvedne.
Nedávná zjištění o Antarktidě jsou ovšem jiná. Západoantarktický ledový příkrov nereagoval na globální oteplování postupnými a předvídatelnými změnami, ale místo toho se náhle "překlopil" do nového stavu. Relativně malé tání pod šelfovým ledovcem Amundsenova moře vytlačilo linii jeho kontaktu s podložím na vrchol subglaciálního svahu, z něhož se nyní "valí dolů". Jednoduše řečeno stačil jediný teplotní ráz k zahájení vnitřní dynamiky, která nyní bude samovolně pokračovat bez ohledu na jakoukoliv akci, kterou lidstvo případně podnikne k jejímu zabránění.
Není zcela zřejmé, zda toto překlopení způsobili lidé – ačkoliv se během celého holocénu trvajícího 11 500 let, než lidé začali zasahovat do energetické rovnováhy Země, nic podobného nestalo. O to však nejde. Důležité je, abychom si uvědomili existenci gigantických součástí klimatického systému Země – například ledového příkrovu v západní Antarktidě, vážícího tři biliardy tun –, které lze vehnat do odlišného stavu, pokud v nějaké klíčové lokalitě dojde ke zlomkovému zvýšení teploty.
Introductory Offer: Save 30% on PS Digital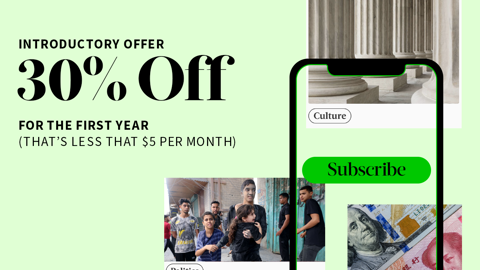 Introductory Offer: Save 30% on PS Digital
Subscribe now to gain greater access to Project Syndicate – including every commentary and our entire On Point suite of subscriber-exclusive content – starting at less than $5 per month.
Toto riziko už není pouze teoretické. Vůbec poprvé dospívají všechna zjištění založená na pozorováních a počítačových simulacích k totožnému závěru: obrovský sektor Amundsenova moře v západní Antarktidě zahájil nezvratné uvolňování ledu a nic už nemůže zastavit následné odvodnění celé pánve. Systém dospěl do bodu, odkud už není návratu.
Proto se nyní musíme zaměřit na jiná místa s podobnými topografickými podmínkami. Pokud se "ledová zátka" u pobřeží Wilkesovy pánve roztopí nebo rozláme na ledovce, vylije se z pánve do oceánu obrovské množství vody. Ačkoliv nikdo přesně neví, co by mohlo Wilkesovu pánev destabilizovat, můžeme si být docela jistí, že další globální oteplení způsobené emisemi skleníkových plynů toto riziko zvýší.
Skutečnost, že se mořská hladina bude zvedat dál, je dnes zřejmá. Stále však můžeme určovat, jak vysoko a jak rychle bude hladina stoupat, pokud budeme kontrolovat míru globálního oteplování, které způsobujeme. Klimatické změny vyvolává lidstvo, což je dobré v tom smyslu, že lidstvo je také může zastavit, pokud sníží emise skleníkových plynů.
Osud západní Antarktidy je sice zpečetěn, ale stále se nám může podařit zabránit kolapsu východoantarktického mořského ledového příkrovu. To znamená rozhodnout – raději dříve než později –, kterou cestou se vydáme. Současná cesta hrozí další destabilizací v Antarktidě; volba alternativní cesty v podobě nového energetického systému pro planetu je naší poslední nejlepší nadějí.
Z angličtiny přeložil Jiří Kobělka.