Boj americké plutokracie proti trvale udržitelnému rozvoji
NEW YORK – Americká plutokracie vyhlásila válku trvale udržitelnému rozvoji. Miliardáři jako Charles a David Kochovi (ropa a plyn), Robert Mercer (finance) a Sheldon Adelson (kasina) hýbou politikou ke svému osobnímu finančnímu prospěchu. Financují republikánské politiky, kteří slibují, že jim sníží daně, deregulují jejich odvětví a budou přehlížet varování ekologů, zejména klimatologů.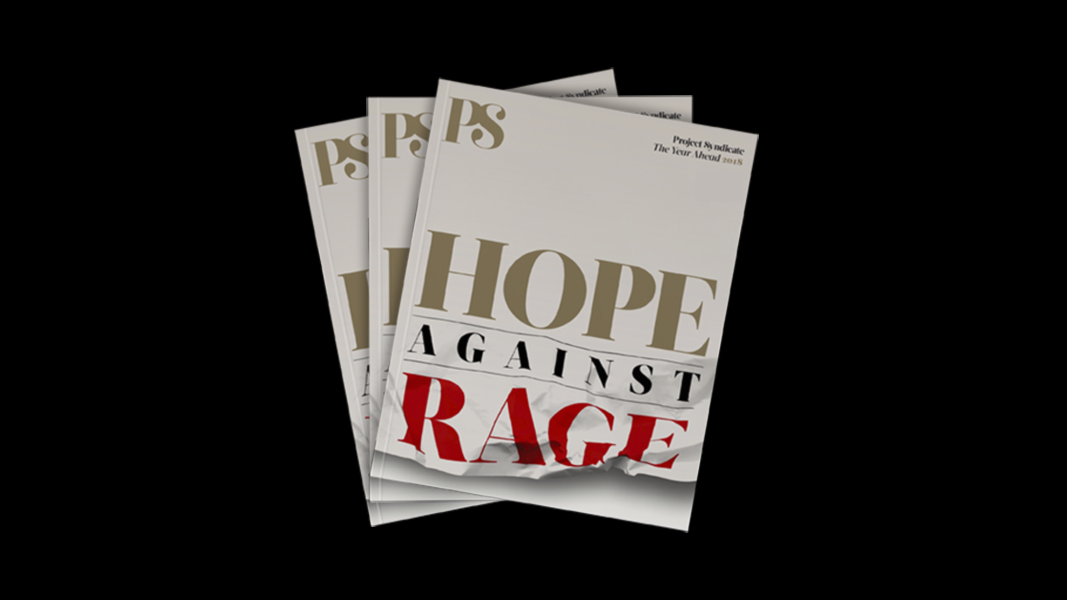 The Year Ahead 2018
The world's leading thinkers and policymakers examine what's come apart in the past year, and anticipate what will define the year ahead.
Co se týče pokroku na cestě k dosažení Cílů udržitelného rozvoje OSN, USA se v nedávném žebříčku Index CUR, s jehož řízením pomáhám, umístily na 42. místě z více než 157 zemí, hluboko pod téměř všemi ostatními zeměmi s vysokými příjmy. Dánskému komentátorovi Bjørnu Lomborgovi to nešlo do hlavy. Jak se mohla tak bohatá země umístit tak nízko? "Strefovat se do Ameriky je populární a jednoduché," domýšlel se.
Nejedná se však o napadání Ameriky. Index CUR se opírá o mezinárodně srovnatelná data relevantní pro 17 cílů udržitelného rozvoje ve 157 zemích. Skutečné jádro věci je jinde: podstatou trvale udržitelného rozvoje je sociální začlenění a environmentální udržitelnost, nejen bohatství. USA se řadí daleko za ostatní země s vysokými příjmy, protože americká plutokracie se už mnoho let obrací zády k sociální spravedlnosti a environmentální udržitelnosti.
USA jsou opravdu bohatá země, leč proslulý aforismus lorda Actona platí pro národy stejně jako pro jednotlivce: moc korumpuje a absolutní moc korumpuje absolutně. Plutokracie USA třímá už tak dlouho tolik moci, že vůči slabým a přírodnímu prostředí vystupuje s beztrestností.
Děním už dlouho hýbou čtyři mocné lobby: velké ropné společnosti, poskytovatelé soukromé zdravotní péče, vojensko-průmyslový komplex a Wall Street. Tyto zájmové skupiny se cítí obzvlášť posílené administrativou Donalda Trumpa, která je plná firemních lobbistů, o několika pravicových miliardářích v kabinetu ani nemluvě.
Přestože Cíle udržitelného rozvoje (CUR) vyzývají k tlumení změny klimatu prostřednictvím dekarbonizace (CUR 7, CUR 13), americké společnosti v oblasti fosilních paliv se úporně vzpírají. Pod tlakem velkých ropných a uhelných hráčů Trump oznámil záměr vyvázat USA z pařížské klimatické dohody.
Roční americké emise CO2 na osobu související s energiemi, 16,4 tuny, jsou mezi velkými ekonomikami nejvyšší na světě. Srovnatelný údaj například v Německu je 9,2 tuny. Agentura USA pro ochranu životního prostředí, aktuálně v rukou lobbistů ze sektoru fosilních paliv, týden co týden demontuje předpisy na ochranu životního prostředí (třebaže mnohé z těchto změn jsou soudně napadeny).
CUR se také domáhají nižší příjmové nerovnosti (CUR 10). Nerovnost příjmů v Americe během posledních 30 let výrazně vzrostla a Giniho koeficient dosahuje 41,1, druhé nejvyšší hodnoty v ekonomikách s vysokými příjmy, hned za Izraelem (42,8). Republikánské návrhy na snížení daní by nerovnost dále zvýšily. Míra relativní chudoby (domácnosti s méně než polovinou mediánu příjmů) je v USA na úrovni 17,5 %, také druhá nejvyšší v OECD (opět jen za Izraelem).
Obdobně platí, že ačkoliv CUR usilují o slušná pracovní místa pro všechny (CUR 8), američtí pracující jsou v OECD téměř jediní, kdo nemá zaručené placené volno při nemoci či péči o rodinu ani dovolenou. Stále víc Američanů proto pracuje ve skličujících podmínkách bez ochrany zaměstnání. Kolem devíti milionů amerických pracujících se tísní pod hranicí chudoby.
USA také trpí epidemií špatné výživy v rukou mocného amerického průmyslu rychlého občerstvení, který veřejnost v podstatě tráví jídelníčkem nabitým nasycenými tuky, cukry, nezdravým zpracováním a chemickými přísadami. Výsledkem je 33,7% míra obezity, zdaleka nejvyšší v OECD, s enormními nepříznivými důsledky v oblasti nepřenosných chorob. Americká "očekávaná délka zdravého života" (věk dožití bez nemocí) dosahuje jen 69,1 roku, oproti 74,9 roku v Japonsku a 73,1 roku ve Švýcarsku.
Cíle udržitelného rozvoje zdůrazňují mír (CUR 16), kdežto americký vojensko-průmyslový komplex usiluje o časově neohraničené války (Afghánistán, Irák, Sýrie, Jemen, Libye, abychom jmenovali část nynějších angažmá Ameriky) a rozsáhlý prodej zbraní. Během nedávné návštěvy Saúdské Arábie Trump podepsal dohodu o prodeji zbraní do této země za víc než 100 miliard dolarů a vychloubal se, že to bude znamenat "práci, práci, práci" v americkém obranném sektoru.
Americká plutokracie přispívá i k násilí na domácí půdě. Četnost násilných úmrtí v USA, 3,9 na 100 000 obyvatel, je nejvyšší v zemích OECD a několikrát vyšší než v Evropě (v Německu je to 0,9 na 100 000 obyvatel). Měsíc co měsíc dochází v USA k hromadné střelbě; nedávným příkladem byl masakr v Las Vegas. Avšak politická moc zbrojní lobby, která se staví i proti omezování útočných zbraní, blokuje přijetí opatření, která by zvýšila bezpečnost veřejnosti.
Jiným druhem násilí je masové věznění. Se 716 vězni na 100 000 obyvatel má Amerika světově největší míru vězněných, zhruba desetkrát vyšší než Norsko (71 na 100 000 obyvatel). Je pozoruhodné, že Amerika své věznice zčásti privatizovala, čímž vytvořila odvětví s prvořadým zájmem na maximalizaci počtu vězněných. Bývalý prezident Barack Obama vydal směrnici k postupnému ukončení soukromých federálních věznic, ale Trumpova administrativa ji zrušila.
Lomborg se také podivuje, proč USA dostaly nízké hodnocení u globálního "Partnerství pro cíle", přestože v roce 2016 na oficiální rozvojovou pomoc (ORP) vynaložily kolem 33,6 miliard dolarů. Odpověď je jednoduchá: v poměru k hrubému národnímu důchodu ve výši téměř 19 bilionů dolarů, americká ORP činila jen 0,18 % HND – zhruba čtvrtinu globálního cíle ve výši 0,7 % HDP.
Nízké hodnocení Ameriky v Indexu CUR není napadáním Ameriky. Je to spíše smutný a znepokojivý odraz bohatství a moci lobbistických skupin oproti běžným občanům v americké politice. Nedávno jsem pomáhal zahájit snahu o přeorientování americké politiky na úrovni států na témata dotýkající se udržitelného rozvoje prostřednictvím souboru Amerických cílů, jež kandidáti do státních zákonodárných sborů začínají přijímat. Jsem přesvědčen, že Amerika po Trumpovi se vrátí k hodnotám společného prospěchu, v Americe i jako globální partner pro udržitelný rozvoj.
Z angličtiny přeložil David Daduč