O renascimento da energia nuclear em sentido inverso
PARIS – No passado mês de Junho, Yukiya Amano, director-geral da Agência Internacional de Energia Atómica (AIEA), declarou que "a energia nuclear contribuirá de forma significativa e crescente para o desenvolvimento sustentável nas próximas décadas." Contudo, de acordo com World Nuclear Industry Status Report (Relatório sobre a Situação da Indústria Nuclear no Mundo, ndt.) deste ano, as tendências recentes apresentam um quadro muito diferente.
A Duke Energy, a maior empresa americana de abastecimento de energia, suspendeu os planos de construção de dois reactores na Flórida, após ter gasto mil milhões de dólares no projecto. A decisão foi tomada apenas três meses após a empresa ter abandonado o investimento em duas novas unidades na Carolina do Norte.
Na verdade, este ano, quatro empresas americanas de abastecimento de energia decidiram encerrar permanentemente um total de cinco reactores - os primeiros encerramentos verificados nos Estados Unidos em 15 anos. Uma das unidades - a Central Nuclear de Kewaunee em Wisconsin - foi abandonada após um investimento maciço em matéria de modernizações e uma renovação da licença por 60 anos; não tinha forma de produzir energia a preços competitivos. Pelas mesmas razões, a Vermont Yankee, outra central com uma licença para operar até 2032, tem o encerramento previsto para 2014.
Da mesma forma, o maior operador nuclear do mundo - a Electricité de France, empresa francesa de abastecimento de energia controlada pelo estado - anunciou estar na iminência de abandonar a energia nuclear nos EUA, após ter gasto cerca de dois mil milhões de dólares em projectos cancelados. E, para ajudar a compensar a subida dos custos operacionais, que resultaram em perdas de 1,5 mil milhões de euros (2 mil milhões de dólares) no ano passado, a EDF irá aumentar, este ano, os preços da energia eléctrica aos seus clientes franceses em 5%, em média, prevendo-se um aumento de outros 5%, para o próximo ano.
Durante os cinco anos que precederam Março de 2013, a EDF perdeu 85% do seu valor accionista. De igual modo, a maior construtora nuclear do mundo - a empresa estatal francesa AREVA - perdeu cerca de 88% do seu valor accionista entre 2008 e 2012. Não é de surpreender que os investidores tenham acolhido com agrado os novos planos estratégicos das duas empresas, bem como a retirada da EDF do mercado dos EUA; a pressão descendente sobre os preços das acções diminuiu, embora não se saiba por quanto tempo.
O declínio do sector da energia nuclear começou há décadas. Mas, desde que ocorreu a fusão tripla na central nuclear de Fukushima, em Daiichi, no Japão, em Março de 2011, o ritmo deste declínio acelerou significativamente. De facto, em 2012, a produção nuclear mundial anual decaiu para um nível sem precedentes de 7%, um valor superior à descida recorde de 4% registada no ano anterior, situando-se a produção total anual de energia nuclear 12% abaixo do seu máximo histórico, alcançado em 2006.
Subscribe to PS Digital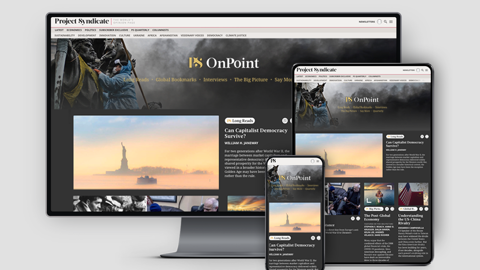 Subscribe to PS Digital
Access every new PS commentary, our entire On Point suite of subscriber-exclusive content – including Longer Reads, Insider Interviews, Big Picture/Big Question, and Say More – and the full PS archive.
Embora o Japão seja responsável por três quartos deste declínio, dado que apenas duas das 50 unidades que estão oficialmente em operação naquele país produzem realmente energia, 16 outros países, incluindo os cinco principais produtores mundiais de energia nuclear, diminuíram igualmente a sua produção. Como resultado, a participação da energia nuclear na produção mundial de electricidade decaiu para cerca de 10% em 2012, em relação ao pico de 17% registado em 1993. Apenas a República Checa atingiu o seu máximo histórico a nível do sector nuclear, no ano passado.
Além disso, dos 66 reactores em construção em todo o mundo, dois terços estão localizados em apenas três países, China, Índia e Rússia. Na China estão localizados 28 desses reactores. Nove dos 66 reactores figuraram como estando "em construção" durante mais de duas décadas. (o reactor da Watts Bar 2 no Tennessee detém o recorde, com um período de construção de 41 anos.) Outros quatro projectos estão em andamento há mais de dez anos.
No total, pelo menos 23 das 66 unidades actualmente em construção sofreram atrasos, muitos dos quais perduraram vários anos. Resta saber se os outros projectos, iniciados nos últimos cinco anos, estão a cumprir o calendário previsto. Como consequência destes atrasos, apenas três novas unidades começaram a funcionar no ano passado - correspondendo a metade do número de reactores que foram encerrados. A idade média do parque mundial de reactores situa-se actualmente em 28 anos e continua a aumentar de forma constante.
Em contraste, as novas tecnologias renováveis estão a ganhar força, ilustrando uma mudança fundamental a nível da política energética internacional e das estratégias de investimento. No ano passado, a China, a Alemanha, o Japão e a Índia produziram, pela primeira vez, mais energia a partir de fontes renováveis do que de fontes nucleares. Na China e na Índia a energia eólica superou a energia nuclear.
Desde 2000, a produção mundial de energia em terra representou, em média, 27% do crescimento anual, enquanto a taxa de crescimento em matéria de energia solar fotovoltaica tem vindo a situar-se num nível surpreendente de 42%. No ano passado, foram instalados mais 45GW de capacidade eólica e 32GW de energia solar em todo o mundo, em comparação com um acréscimo líquido de 1,2 GW a nível de energia nuclear.
A mudança para as energias renováveis foi particularmente acentuada nas principais economias avançadas do mundo. Na Alemanha, por exemplo o abandono em curso da energia nuclear foi complementado por uma implementação acelerada de energias renováveis, com uma capacidade de energia solar fotovoltaica até 3.000 MW, ligada à rede eléctrica da Alemanha num único mês. Como resultado, ao longo dos últimos sete anos, o preço por quilowatt solar instalado registou uma redução de três quartos.
Até nos EUA, onde o gás de xisto a preço reduzido está a remodelar a indústria energética, no ano passado, foi ligada à rede mais energia eólica do que gás e, nos primeiros três meses deste ano, mais de 80% da nova capacidade foi de origem renovável.
Ao longo da última década, a indústria nuclear tentou captar a atenção dos líderes mundiais com uma campanha promocional centrada na noção de um "renascimento nuclear". Mas as suas promessas - incluindo custos de investimento no valor de 1.000 dólares por quilowatt instalado e um tempo de construção de quatro anos - provaram ser falsas.
Na verdade, desde que a indústria lançou a sua campanha de relações públicas no início da década de 2000, as estimativas de custos septuplicaram e os lucros diminuíram. Os 34 reactores que começaram a operar ao longo da última década tiveram um tempo médio de construção de cerca de 10 anos, mas o seu contributo foi de apenas 26 GW, o que representa um terço da contribuição da energia solar e eólica num ano.
A retórica optimista da AIEA não consegue esconder a aritmética fundamental: as elevadíssimas despesas de manutenção e, em muitos casos, os custos de modernização pós-Fukushima, aliados à impossibilidade de criação de capacidades novas e competitivas sem grandes subsídios governamentais, estão a devastar a indústria nuclear. Segundo as palavras do economista Mark Cooper, a energia nuclear está realmente a "renascer em sentido inverso."
Tradução: Teresa Bettencourt