Čína a širé moře
HO ČI MINOVO MĚSTO – Od prosince 2013 rozšířila Čína ostrovy v Jihočínském moři o více než 1200 hektarů. Geopolitické důsledky této snahy o dobývání půdy jsou dobře doložené: většina této činnosti se odehrává na Spratlyových ostrovech, což je souostroví nacházející se mezi Vietnamem, Malajsií a Filipínami, přičemž všechny zmíněné státy si – spolu s Čínou, Tchaj-wanem a Brunejí – dělají na tento region nárok.
Méně se už diskutuje o ekologických dopadech tohoto projektu, které hraničí s katastrofou. Aktivita Číny ohrožuje stavy ryb i mořskou biodiverzitu vůbec a vytváří dlouhodobou hrozbu pro některé nejkrásnější formy mořského života na světě.
Překotná snaha čínských představitelů vymezit své nároky na tento region rychle likviduje tisíce korálových útesů, dno porostlé mořskou trávou a další mělčinové ekosystémy. Projekt dobývání půdy podkopává ekonomickou propojenost mezi Spratlyovými ostrovy a Jihočínským mořem, poněvadž dusí přísun živin, na nichž jsou tyto ekosystémy závislé.
Výbojný postoj Číny spolu s neurčeným vlastnictvím této oblasti a jejích stavů ryb navíc vede k ničivému rybolovu, který snižuje kvalitu mořského ekosystému a představuje riziko pro ohrožené druhy včetně mořských želv, žraloků a zév obrovských. Od roku 2010 se stavy ryb na Spratlyových ostrovech a v západní části Jihočínského moře snížily o 16%.
Na mořských zdrojích Jihočínského moře závisí živobytí přibližně 300 milionů lidí; kdyby Čína pokračovala v dosavadním kurzu, pak se zvýší riziko mohutné ekonomické dislokace. Jihočínské moře je však vodní plochou významnou pro celý svět, nejen pro země, které ho ohraničují. Je to zásadní mezinárodní námořní trasa propojující Indický a Tichý oceán, jíž denně proplouvá zhruba 300 plavidel včetně 200 ropných tankerů.
Mezinárodní společenství by mělo odsoudit militarizaci Spratlyových ostrovů Čínou a naléhat na změnu kurzu tak, aby se minimalizovalo riziko konfliktu, který by mohl být pro mořské prostředí ještě katastrofálnější. V obecnější rovině musí všechny země zodpovědné za rozklad a destrukci mělčinových ekosystémů v Jihočínském moři zastavit aktivity, které ohrožují biodiverzitu a hospodářskou produktivitu tohoto regionu.
Subscribe to PS Digital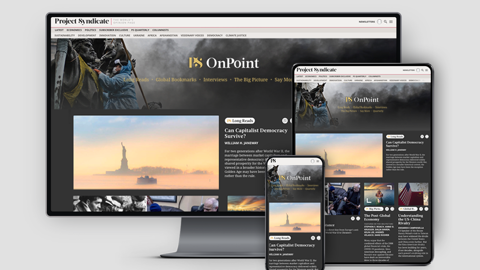 Subscribe to PS Digital
Access every new PS commentary, our entire On Point suite of subscriber-exclusive content – including Longer Reads, Insider Interviews, Big Picture/Big Question, and Say More – and the full PS archive.
Čínský nárok na Spratlyovy ostrovy a na velkou část Jihočínského moře se odvozuje z takzvané "devítičárkové linie" – demarkační čáry zasahující hluboko na jih od čínského území –, která je už od prvního zveřejnění po druhé světové válce opakovaně zpochybňována. A nedávná čínská snaha o dobývání půdy porušuje hned několik mezinárodních ekologických úmluv, zejména Konvenci OSN o biodiverzitě (CBD) a Úmluvu o mezinárodním obchodu s ohroženými druhy volně žijících živočichů a rostlin (CITES).
Počínání Číny v Jihočínském moři je také v rozporu s Úmluvou OSN o mořském právu z roku 1982, která zaručuje právo na plavbu v tamních vodách. A militarizace Spratlyových ostrovů je zjevným porušením Deklarace o chování zúčastněných stran v Jihočínském moři. Tato deklarace vyžaduje po signatářích (členech Sdružení národů jihovýchodní Asie a Číně), aby "projevovali zdrženlivost při výkonu aktivit, které by komplikovaly či vyhrocovaly spory a měly vliv na mír a stabilitu". To znamená "upustit od osídlování momentálně neosídlených ostrovů, útesů, mělčin, korálových ostrůvků a dalších útvarů a řešit rozdílné postoje konstruktivním způsobem".
Třináct let po této deklaraci by měly státy ASEAN zdvojnásobit úsilí o dosažení dohody s Čínou ohledně statusu Spratlyových ostrovů a Jihočínského moře. A mezinárodní společenství by mělo toto úsilí podpořit.
Všechny země v regionu mají zodpovědnost monitorovat a chránit mořské prostředí a spravovat jeho zdroje. Skutečný závazek však leží na Číně. Pokud jde o mezinárodní právo, je na nejmocnějších zemích světa, aby šly příkladem. Čína musí své závazky dodržovat – počínaje Jihočínským mořem.
Z angličtiny přeložil Jiří Kobělka.
James Borton je nerezidentním členem Saigonského centra mezinárodních studií při Univerzitě společenských a humanitních věd v Ho Či Minově Městě. Ngujen Ču Hoj je profesorem mořských věd a vládní politiky na Vietnamské národní univerzitě, předsedou Vietnamského sdružení mořského prostředí a přírody a bývalým zástupcem administrátora Vietnamské správy moří a ostrovů.