Het in goede banen leiden van de volgende gold rush
WASHINGTON, DC – De International Seabed Authority (ISA) is gevestigd aan de betonnen promenade van de haven van het Jamaicaanse Kingston, aan de andere kant van de baai, gezien vanuit de plek waar "Calico Jack" Rackham ooit werd opgehangen bij wijze van waarschuwing aan andere achttiende-eeuwse piraten. Vandaag de dag stelt dit kleine VN-agentschap de regels op voor de internationale wateren – of, om preciezer te zijn, voor de zeebodem zo'n vijf kilometer onder de zeespiegel –, maar toch is het grotendeels onbekend bij het algemene publiek. Maar als China besluit om vergeldingsmaatregelen te treffen tegen de Amerikaanse importtarieven, door zijn export van zeldzame aardmetalen te beperken, zou dat wel eens snel kunnen veranderen.
Zo'n 71% van het aardoppervlak ligt feitelijk onder water, en de zeebodem is rijk aan zeldzame aardmetalen en andere gewilde mineralen – vooral in diepe internationale wateren. De ISA beheert de mineraalrechten van ruim 50% van de mondiale oceaanbodem, en zijn 168 lidstaten hebben het recht om te strijden voor toegang tot de daar aanwezige grondstoffen. Maar gezien het risico van catastrofale ecologische gevolgen zullen alle landen straks tot de verliezers behoren als deze wedloop zonder de nodige behoedzaamheid wordt voorgezet.
Onderzee-mineralen zijn doorgaans te vinden op diepzeevlakten, als rotsblokken in de vorm van aardappels, in kokend heet water dat uit spleten in de zeebodem omhoog borrelt, en als afzettingen op de flanken van uitgedoofde onderwatervulkanen, genaamd seamounts. Over het algemeen zijn de concentraties mineralen op deze plekken veel hoger dan in ertslagen op het vasteland.
Maar ondanks al die rijkdom bevindt het enige actieve mijnbouwproject op de zeebodem zich momenteel voor de kust van Papoea Nieuw-Guinea, hoewel dat nu stilligt als gevolg van financiële problemen. Dit weerspiegelt hoe moeilijk en duur het nog steeds is om te opereren in het donkere, ijskoude en onder hoge druk staande water bij de diepzeebodem, waarvan ruim 80% nog niet in kaart gebracht en onderzocht is.
Niettemin denken commerciële organisaties en oceaanwetenschappers dat nieuwe technologieën diepzeemijnbouw binnen tien jaar nagenoeg onvermijdelijk zullen maken. Door een reeks innovaties, zoals betere satellietbeelden van de oceaanbodem en robotduikboten, wordt de toegang tot de zeebodem steeds makkelijker. Bovendien zorgen digitale technologieën en de mondiale schone energie-transitie voor een scherpe stijging van de vraag naar grondstoffen die in overvloed aanwezig zijn in de diepe oceaan. Naast zeldzame aardmetalen gaat het hierbij om kobalt, mangaan en tellurium, die worden gebruikt in een groeiend aantal toepassingen, waaronder batterijen, magnetische resonantie-apparatuur, zonnepanelen en geleidingssystemen voor munitie.
De concurrentieslag om deze steeds bruikbaarder grondstoffen verhevigde al vóór de recente escalatie van de Chinees-Amerikaanse handelsoorlog. China heeft een relatief voordeel als het gaat om cruciale mineralen, dankzij zijn aanzienlijke binnenlandse voorradenen zijn uitgebreide verwerkingsfaciliteiten. Het land heeft ook veel geld geïnvesteerd in andere grote productielanden zoals de Democratische Republiek Congo (DRC), verantwoordelijk voor zo'n 65% van de mondiale kobalt-productie en vindplaats van de helft van de totale reserves.
Subscribe now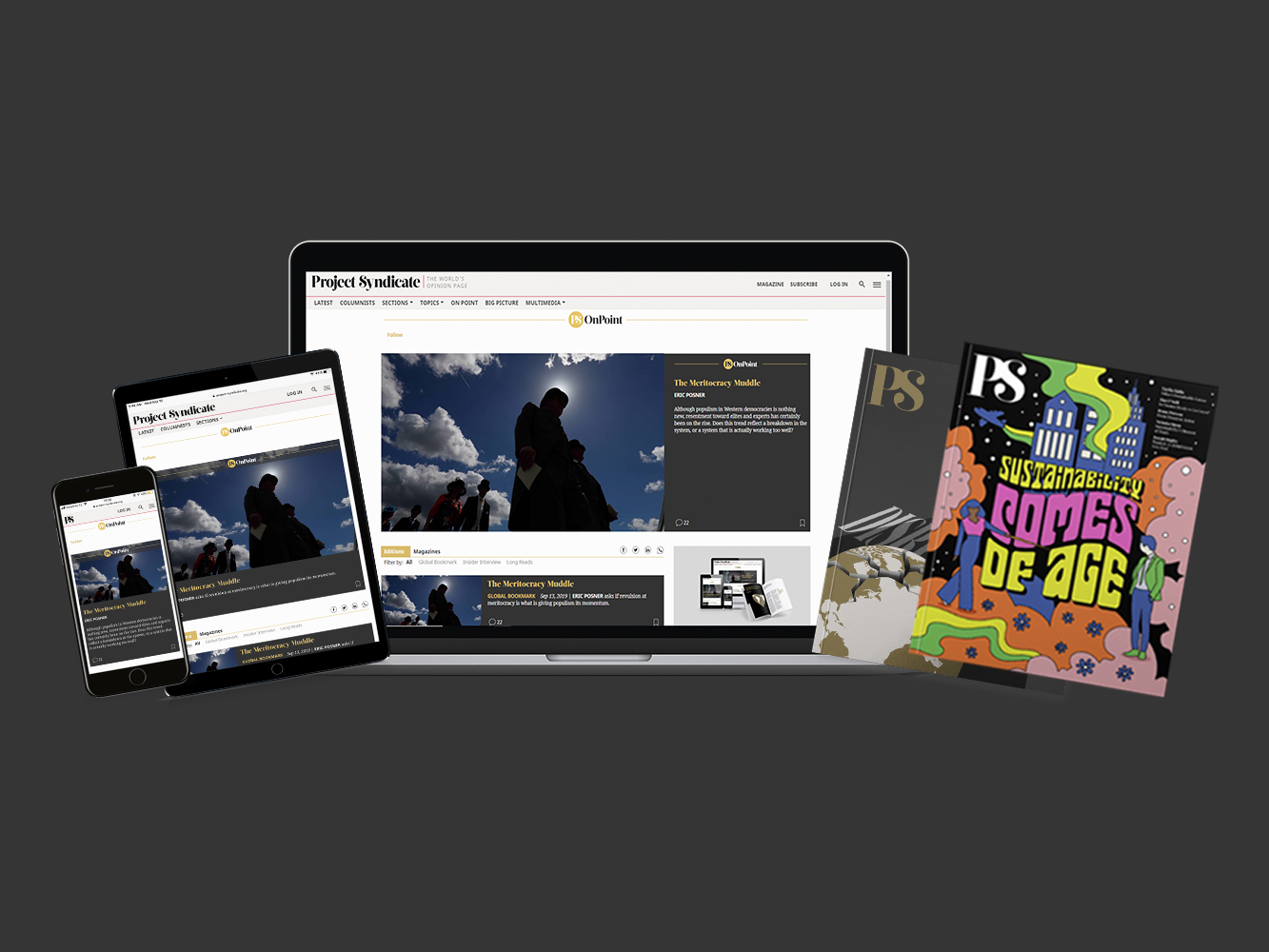 Subscribe now
Subscribe today and get a free copy of our new magazine, Sustainability Comes of Age, along with unlimited access to OnPoint, the Big Picture, the entire PS archive of more than 14,000 commentaries, and our annual magazine, for less than $2 a week.
De Verenigde Staten moeten daarentegen veel hightech-mineralen importeren. Dientengevolge heeft de Amerikaanse overheid onlangs 35 mineralen van cruciaal belang genoemd voor de economische en nationale veiligheid van het land, en een nieuwe strategie aangekondigd die onder meer oproept tot meer binnenlandse winning.
In termen van de grondstoffen van de zeebodem is er geen sprake van een strijd tussen deze twee geopolitieke rivalen. China zal er naar verwachting wel bij varen als de ISA volgend jaar een nieuwe mijnbouwrichtlijn afkondigt en zijn eerste vergunningsproces ooit zal starten voor de winning van mineralen in internationale wateren. Maar Amerika zal niet eens aan tafel zitten, omdat het land geen partij is bij het VN-verdrag over het Zeerecht (en dus niet officieel vertegenwoordigd is bij de ISA). Een kleine kliek Amerikaanse senatoren heeft de toetreding tot het verdrag lange tijd geblokkeerd om obscure ideologische redenen, een eigenaardigheid waar Amerika wel eens snel spijt van zou kunnen krijgen.
Met of zonder Amerikaanse bedrijven hangt er altijd een prijskaartje aan de economische vooruitgang. Het winnen en raffineren van de grondstoffen die nodig zijn voor digitale technologieën en schone energie heeft onvermijdelijk ecologische gevolgen. Alle mijnbouw – inclusief het schadelijke proces van het winnen van mineralen uit rotsen – is destructief, en het is nog te vroeg om te zeggen of diepzeemijnbouw meer of minder destructief zal zijn dan mijnbouw op het vasteland.
Wat in eerste instantie een onvruchtbare en grimmige woestenij lijkt is in feite het grootste bioom van de planeet, bevolkt door fantastische wezens als de zeeduivel en de vampierinktvis, afgezien nog van de oude koraalriffen die er al sinds de Bronstijd zijn. Een recent onderzoek onder leiding van de Universiteit van Hawaii van de Clarion-Clipperton Zone, een enorm internationaal onderwater-territorium dat zich uitstrekt van Hawaii tot Mexico, heeft een overvloed aan diepzee-flora en -fauna opgeleverd, waarvan ruim de helft volkomen nieuw was voor de wetenschap.
Onderzoekers hebben onlangs ook ontdekt dat microbiële organismen in de diepe oceaan een belangrijke rol kunnen spelen bij het reguleren van het klimaat op aarde. Sommige van deze formaties en organismen hebben er miljoenen jaren over gedaan om te groeien; het verstoren ervan, of zelfs maar het bedekken ervan met het sediment dat door de mijnbouw zou worden losgewoeld, kan ze voorgoed verwoesten. Er is weinig bekend over de rol die deze soorten en microben uit de diepe oceaan spelen voor de visstand, het mondiale klimaat en andere ecosysteemprocessen die zowel het leven in zee als op het land ondersteunen.
De internationale gemeenschap moet er op uit zijn om zich te verzekeren van het beste, minst destructieve aanbod van de mineralen die zij nodig heeft, of die nu uit de DRC of uit de diepe oceaan afkomstig zijn – of (het meest waarschijnlijk) uit beide bronnen. We moeten op z'n minst de zogenoemde "tradeoffs" identificeren en begrijpen voordat er cruciale beslissingen worden genomen, om de mogelijke gevolgen af te wegen voordat ze niet meer terug te draaien zijn. China en de VS (als die ertoe kunnen worden overgehaald de zijlijn te verlaten) moeten bij deze inspanningen een leidende rol spelen.
Toen de Industriële Revolutie begon kon niemand nog weten dat klimaatverandering een van de gevolgen ervan zou zijn. Maar in het digitale tijdperk moet de wereld veel meer ecologisch bewustzijn aan de dag leggen bij het aanboren van de rijkdommen in de diepe oceaan.
Vertaling: Menno Grootveld