La necesidad de manejar la próxima fiebre del oro
WASHINGTON, DC – La Autoridad Internacional de los Fondos Marinos (ISA, por sus siglas en inglés) se encuentra sobre la rambla de concreto del puerto de Kingston, Jamaica, mirando al lugar donde una vez se ahorcó a "Calico Jack" Rackham como advertencia a otros piratas del siglo dieciocho. Hoy esta pequeña agencia de las Naciones Unidas rige los océanos y mares o, más precisamente, el fondo marino a cerca de 5 kilómetros de profundidad. Gran parte del público general no la conoce, pero si China decidiera tomar represalias contra los aranceles aduaneros de Estados Unidos restringiendo sus exportaciones de minerales raros, esa situación podría cambiar bastante rápido.
Cerca del 71% de la superficie terrestre se encuentra bajo el agua, y el fondo marino es rico en elementos raros y otros minerales con alta demanda, especialmente en aguas internacionales profundas. La ISA administra los derechos minerales de más del 50% del suelo marino del planeta, y sus 168 estados miembros tienen el derecho a competir por el acceso a esos recursos. Pero, dado el riesgo de que se produzcan consecuencias ambientales catastróficas, todos los países podrían salir perdiendo si la competencia se efectúa sin las debidas precauciones.
Los minerales marinos tienden a estar agrupados en pedazos rocosos con forma de patata en los fondos abisales, expulsados por chorros de agua hirviente por fisuras del fondo marino y acumulados a lo largo de los bordes de volcanes marinos ya extintos, llamados montes submarinos. Por lo general, las concentraciones de minerales en estas formaciones son mucho más altas que en las menas de tierra firme.
Sin embargo, y a pesar de toda esa riqueza, el único proyecto minero marino activo del mundo se encuentra en la costa de Papúa Nueva Guinea y está paralizado debido a problemas financieros. Es un reflejo de lo difícil y costoso que todavía resulta operar en las profundidades marinas y sus condiciones de oscuridad, fríos extremos y altas presiones. Más del 80% de esas superficies siguen sin explorar.
No obstante, tanto las empresas comerciales como los oceanólogos coinciden en pensar que las nuevas tecnologías harán que la minería marina sea inevitable dentro de una década. Una variedad de innovaciones, como mejores imágenes por satélite del suelo marino y robots submarinos, están mejorando el acceso al fondo oceánico. Además, las tecnologías digitales y la transición global a energías limpias impulsan una acusada demanda de materiales que son abundantes en las profundidades. A los minerales raros se suman el cobalto, el manganeso y el telurio, utilizados en una creciente cantidad de aplicaciones, como baterías, equipos de resonancia magnética, paneles solares y sistemas guía para municiones.
La competencia por estos materiales de importancia creciente ya estaba aumentando antes de la reciente escalada de tensiones comerciales sino-estadounidenses. China posee una ventaja comparativa en minerales de importancia crítica, debido a sus significativos recursos internos y sus amplias instalaciones de procesamiento. Además, posee arraigadas inversiones en otros importantes países productores, como la República Democrática del Congo (RDC), que representa más del 65% de la producción mundial de cobalto y la mitad de las reservas totales.
Subscribe now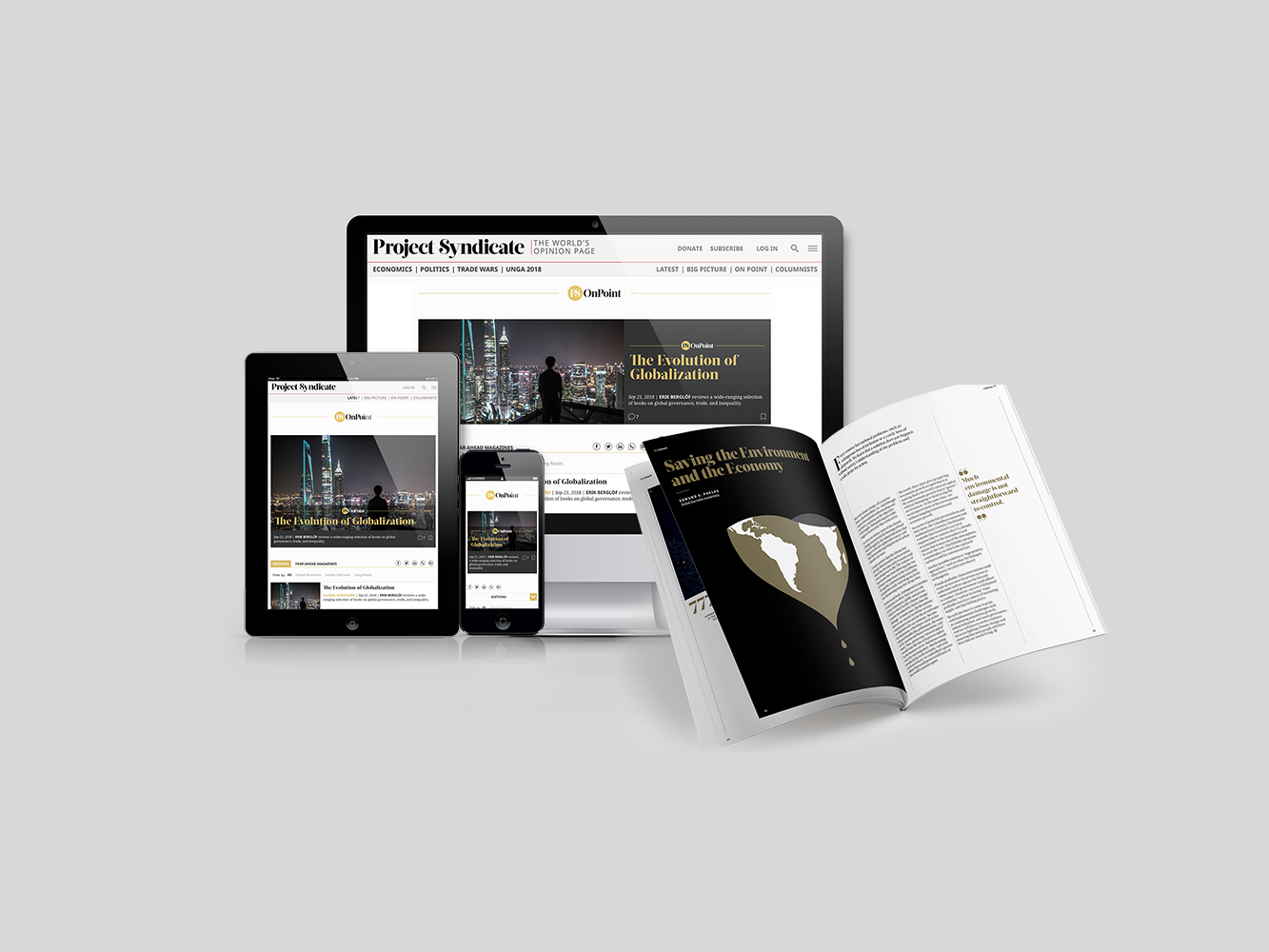 Subscribe now
Subscribe today and get a free copy of our new magazine, Sustainability Comes of Age, along with unlimited access to OnPoint, the Big Picture, the entire PS archive of more than 14,000 commentaries, and our annual magazine, for less than $2 a week.
En contraste, Estados Unidos debe importar muchos minerales necesarios para las altas tecnologías. En consecuencia, el gobierno estadounidense calificó 35 minerales como cruciales para la seguridad nacional y económica del país, y anunció una nueva estrategia para aumentar la minería local, entre otras medidas.
En términos de recursos del fondo marino, no hay comparación entre estos dos rivales geopolíticos. Se espera que a China le vaya bien el año próximo, cuando la ISA publique un nuevo código minero y comience el primer proceso de explotación minera en aguas internacionales de la historia. Estados Unidos ni siquiera estará en la mesa de negociaciones, ya que no parte de la Convención de la ONU sobre Derecho Marítimo (y, en consecuencia, no tiene representación oficial en la ISA). Una pequeña camarilla de senadores estadounidenses ha bloqueado por largo tiempo el ingreso al tratado por oscuras razones ideológicas, una actitud que Estados Unidos pronto verá que no se puede permitir.
Con o sin la presencia de empresas estadounidenses, el progreso económico no sale gratis. Inevitablemente, la obtención y la refinación de materias primas necesarias para las tecnologías digitales y la energía limpia tienen consecuencias sobre el medio ambiente. Todas las actividades mineras –incluido el nocivo proceso de extraer minerales de las rocas- son destructivas y es demasiado temprano como para decir si la minería marina es más o es menos destructiva que la minería en tierra firme.
Lo que a primeras parece un terreno baldío e inaccesible en realidad es el mayor bioma del planeta, habitado por criaturas fantásticas como el rape, el calamar vampiro y antiguos corales presentes desde la Edad del Bronce. Una reciente exploración liderada por la Universidad de Hawái de la Zona Clarion-Clipperton, un vasto territorio submarino internacional que se extiende de Hawái a México, documentó una gran abundancia de flora y fauna en los fondos marinos, y más de la mitad de estas especies era completamente desconocida para la ciencia.
Además, los investigadores han descubierto hace poco que los organismos microbianos de las profundidades oceánicas pueden desempeñar un importante papel en la regulación del clima planetario. Algunas de estas formaciones y organismos se han acumulado a lo largo de millones de años, por lo que perturbarlos, o siquiera cubrirlos de sedimentos mineros, los podría destruir para siempre. Poco se sabe de la función que estas especies y microbios del fondo oceánico juegan en los cardúmenes, el clima mundial y otros procesos de ecosistemas de los cuales dependen la vida terrestre y marina.
La comunidad internacional debe apuntar a asegurar el mejor y menos destructivo suministro de los minerales que precisa, sea de la RDC o de las profundidades marinas, o más probablemente de ambas fuentes. Al menos deberíamos identificar las ventajas y desventajas antes de tomar decisiones cruciales, para ponderar las posibles consecuencias antes de que se vuelvan irrevocables. Está Claro que China y EE.UU. (si se lo puede persuadir a salir de los márgenes) deberán desempeñar un papel de liderazgo en ello.
Cuando comenzó la Revolución Industrial, nadie podría haber previsto que el cambio climático sería una de sus consecuencias. Pero en la era digital, el planeta debe tener una conciencia ambiental mucho más elevada al buscar aprovechar las riquezas minerales del fondo marino.
Traducido del inglés por David Meléndez Tormen