Russlands wahrscheinliche Einmarschroute
BRATISLAVA – "Alle sind nach Waluiki unterwegs." Dieser in den sozialen Medien kursierende Satz gibt womöglich den deutlichsten Hinweis darauf, wo die russischen Streitkräfte in die Ukraine einfallen könnten, falls der russische Präsident Wladimir Putin die 130.000 Soldaten, die er entlang der Grenze hat aufmarschieren lassen, von der Leine lässt.
Man kann eine gerade Linie von Waluiki, das strategisch günstig im Norden der von Russland unterstützten abtrünnigen Region Donbass und östlich von Charkiw liegt, zur Großstadt Dnipro am Fluss Dnper ziehen. Das sind etwa 300 km – die kürzestmögliche Entfernung bis zur formidablen natürlichen Verteidigungslinie, die dieser Fluss darstellt. Die Kontrolle dieser Linie würde Russland in die Lage versetzen, die gesamte Süd- und Ostukraine abzuschneiden, die derzeit auf den Donbass ausgerichteten ukrainischen Streitkräfte komplett einzukreisen und sie zu einer raschen Kapitulation zu zwingen.
Der unmittelbare militärische Lohn wäre beträchtlich: die völlige Kontrolle über das Asowsche Meer und die sichere Verteidigung des Landkorridors zur annektierten Krim, einschließlich des in Richtung der regenarmen Halbinsel fließenden Trinkwassers. Und falls der Widerstand des ukrainischen Militärs unerwartet schwach sein sollte, könnte Russland seinen Landraub über Odessa hinaus bis zur moldawischen Grenze ausweiten, die Ukraine komplett vom Schwarzen Meer abschneiden und ihre Seeverkehrswirtschaft lahmlegen.
Falls der Widerstand größer ist, als die russischen Militärplaner vorhersagen, besteht eine zuverlässige Alternative im schnellen Rückzug zum Donbass bei gleichzeitigem Bombardement der eingekreisten ukrainischen Armee aus der Luft, um diese durch schwere Verluste zur Kapitulation zu den Friedensbedingungen des Kremls zu zwingen.
Wie diese Bedingungen aussehen würden ist klar. Während der gesamten russischen Geschichte hat Russlands Führung im Bewusstsein der Zerbrechlichkeit ihres riesigen Reichs ihre Verteidigungsstrategie fast immer auf der Schaffung eines territorialen Cordon sanitaire aufgebaut. Die NATO als aggressive, expansionistische Bedrohung darzustellen war für den Kreml propagandistisch nützlich, auch wenn Russland vor allem die defensiven Fähigkeiten der NATO fürchtet.
Bis zur russischen Annexion der Krim und der faktischen Besetzung des Donbass 2014 stand die Ukraine einem NATO-Beitritt ambivalent gegenüber, auch wenn sie an einem EU-Beitritt stärker interessiert war. Inzwischen sind ihre militärische Führung und eine deutliche Mehrheit der Bevölkerung zu dem Schluss gelangt, dass nur die NATO die Verteidigung der Ukraine gegen die russische Aggression garantieren kann. Zwar hat es die NATO bisher sorgfältig vermieden, der Ukraine im Rahmen eines Aktionsplans zur Mitgliedschaft (MAP) irgendeine Garantie zu geben, sondern nur ein vages Versprechen einer Mitgliedschaft zu einem späteren Zeitpunkt angeboten. Doch hat sich die aktive militärische Zusammenarbeit zwischen NATO und Ukraine beträchtlich vertieft, auch wenn die NATO von Waffenlieferungen, gegen die Deutschland und die Niederlande bis vor kurzem noch ihr Veto einlegten, gerade noch absah.
Subscribe to PS Digital Now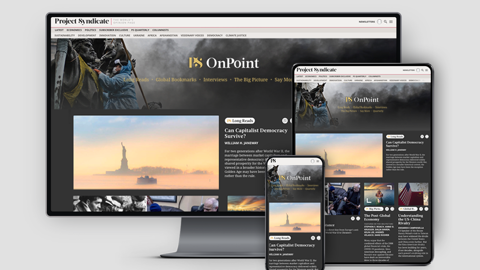 Subscribe to PS Digital Now
Access every new PS commentary, our entire On Point suite of subscriber-exclusive content – including Longer Reads, Insider Interviews, Big Picture/Big Question, and Say More – and the full PS archive.
Putin scheint daher zu dem Schluss gelangt zu sein, dass der beste Weg, um die Ukraine an der Stationierung von NATO-Waffen oder dem Beitritt zum Bündnis zu hindern, darin besteht, ihre Regierung zur Annahme der demütigenden russischen Bedingungen zu zwingen. Putins langerklärter Wunsch, die Ukraine zu destabilisieren und wieder der russischen Einflusssphäre einzuverleiben, legt nahe, dass die angemessene Rolle der Ukraine aus Sicht des Kremls die eines Vasallenstaates ist. Und weil die den Einsatz militärischer Gewalt diktierende perverse Logik offensichtlich ist, ist auch die Schwierigkeit, eine Einigung zu deren Vermeidung zu erzielen, offensichtlich.
Die USA und die europäischen Mächte haben den Einsatz von Bodentruppen in der Ukraine bereits ausgeschlossen. Sie haben es zudem nach 2014 versäumt, die Ukraine ausreichend zu bewaffnen, um einen russischen Einmarsch zu kostspielig zu machen. Erst jetzt wird dies ernsthaft diskutiert – was die russischen Militärstrategen an diesem Punkt lediglich dazu bewegen könnte, ihre Invasionspläne zu forcieren. Es wurde weder eine Flugverbotszone über der Ukraine noch eine Blockade des Zugangs zum Schwarzen Meer vorgeschlagen, obwohl die Türkei im Prinzip aufgefordert werden könnte, NATO-Solidarität zu zeigen, indem sie unter Berufung auf das Übereinkommen von Montreux aus dem Jahr 1936 den Bosporus für russische Schiffe sperrt.
Die USA und Europa stützen sich zur Abschreckung fast völlig auf zielgerichtete Wirtschaftssanktionen. Doch haben Sanktionen Russland in der Vergangenheit nicht abgehalten. Russland ist geschickt darin, die Uneinigkeit der EU auszunutzen, indem es das falkenhafte Polen und die Baltischen Staaten gegen das taubenhafte Deutschland, Italien und Ungarn ausspielt. Während etwa der Ausschluss Russlands vom internationalen Zahlungssystem SWIFT dem Land potenziell schweren Schaden zufügen könnte, hat sich der deutsche Oppositionsführer Friedrich Merz bereits gegen diese Idee ausgesprochen. Die tiefe Uneinigkeit bei den Ansichten der EU-Staaten würde auch im Falle eines russischen Angriffskriegs gegen die Ukraine fortbestehen, wobei anfängliche drakonische Sanktionen mit wachsendem Widerstand dagegen verwässert würden.
Eine Sanktion, die deutliche Wirkung hätte, wäre die Beschlagnahme des ausländischen Finanzvermögens der politischen Eliten Russlands. Diese Gelder könnten dann treuhänderisch für spätere Reparationszahlungen an die Ukraine für die von Russland verursachten Kriegsschäden aufbewahrt werden. Die Regierungen der USA und der europäischen Länder sollten alle erforderlichen Gesetze verabschieden, um sich die hierfür notwendigen Befugnisse zu übertragen. Diese Gesetze sollten weithin bekanntgemacht und verbreitet werden.
Derartige "intelligente" Sanktionen mögen nicht gerade atemberaubend erscheinen, doch regieren im Kreml Gier und persönliche Interessen und nicht Ideologie. Die russische Führung ist, was diese Möglichkeit angeht, eindeutig empfindlich. Als die USA Pläne ankündigten, persönliche Sanktionen gegen Putin und andere führende Regierungsvertreter zu verhängen, erklärten die Russen, dass dies ein "extremer" Schritt wäre, der einen vollständigen Zusammenbruch der bilateralen Beziehungen bedeuten würde. Die USA und Europa sollten dies als Zeichen betrachten, wie wirksam die Drohung einer dauerhaften Beschädigung der finanziellen Interessen Putins und seiner Entourage wäre.
Schon jetzt muss Putin bewusst sein, dass selbst ein begrenzter Einfall in der Ukraine ein Schritt auf unbekanntes politisches Gelände wäre, dessen Risiken tatsächlich beträchtlich sind. Die russischen Streitkräfte, darunter viele junge Rekruten, würde in der Ukraine ein feindseliger Empfang erwarten, und die Gewalt eines Guerillakrieges würde unzweifelhaft auf Russland übergreifen. Schon jetzt werden Freiwilligen-Streitkräfte für längerfristige verdeckte Aufstandsmaßnahmen trainiert.
Zudem wird sich die russischsprachige Mehrheit im Süden und Osten der Ukraine, die das heute im besetzten Donbass herrschende Chaos vor Augen hat, jedem Einmarsch aktiv widersetzen. In der Westukraine wäre der Widerstand, falls die russischen Truppen eine Überquerung des Dnper wagen, sogar noch heftiger. Wie ein Ukrainer vor kurzem einem Freund von mir sagte, würden in seinem Dorf selbst die alten Männer die "Moskowiter" bekämpfen.
Wir sollten daher "höllische persönliche Sanktionen" gegen Putin und seinen engeren Kreis vorbereiten – und fürs Erste alle Augen auf Waluiki gerichtet halten.
Aus dem Englischen von Jan Doolan