Un nuevo paradigma para los plásticos
BERLÍN – Se sabe hace mucho que la acumulación de plástico en los rellenos sanitarios y océanos del mundo supone un riesgo cada vez mayor para el medioambiente. Ahora también hemos comprendido la amenaza urgente –e incluso mortal– que plantea a la salud pública. Sin embargo, la búsqueda mundial de soluciones a la crisis del plástico sigue sistemáticamente centrada en el extremo incorrecto del ciclo de vida: la gestión de residuos.
Un buen ejemplo es el debate que continuará este mes en la Asamblea de las Naciones Unidas para el Medioambiente (UNEA-4), porque girará en torno de los "desechos y microplásticos marinos". Aunque es un tema importante, no es más que una pequeña parte de un problema mucho mayor.
Es verdad que el plástico es desde hace mucho tiempo un elemento esencial del crecimiento económico mundial. Sus aparentemente infinitas aplicaciones incluyen dispositivos médicos que salvan vidas, vestidos, juguetes, diversos usos industriales y agrícolas, etcétera. Algunos han llegado a presentarlo como parte de la solución al cambio climático, con el argumento erróneo de que tiene menos huella de carbono que otros materiales. Pero en realidad, al descomponerse en el mar o en tierra firme, el plástico libera una cantidad considerable de gases de efecto invernadero como metano y etileno.
De hecho, el 99% del plástico procede de combustibles fósiles como carbón, petróleo y gas. Y está comprobado que es nocivo para el organismo humano en cada etapa de su ciclo de vida, desde la extracción como combustible fósil, pasando por su amplio uso como material de embalaje para alimentos, hasta llegar al proceso de gestión de residuos (incluidos rellenos sanitarios, centros de reciclado e incineradores).
De un modo u otro, casi todos los organismos del planeta se ven afectados por la producción, el uso o la eliminación de plástico, cuyos efectos tóxicos permanecen y se acumulan sin cesar en el aire que respiramos, el agua que bebemos y el suelo que pisamos. Algunos de los efectos principales de la producción de plástico incluyen daños a los sistemas inmunitario y reproductivo, al hígado y a los riñones, e incluso cáncer; conforme se avanza por el ciclo de vida de los productos de plástico, estas amenazas continúan y se suman daños adicionales al desarrollo neurológico y otros sistemas. Para colmo de males, la producción está en aumento y no se detendrá. La industria estadounidense del plástico planea aumentarla un 30% en los próximos años.
La gente asocia el plástico con materiales maravillosos que salvan vidas, pero se calcula que el 40% de la producción global de plástico se destina a embalajes que se usarán una sola vez. Son productos pensados para ser usados para almacenamiento y transporte temporal y luego descartados. Por eso casi el 80% de todo el plástico producido terminó en un relleno sanitario o liberado al medioambiente, pese a años de campañas de promoción del reciclado por parte de la industria. No sólo carecemos de capacidad de reciclado suficiente para manejar el plástico que ya está en circulación, sino que las últimas innovaciones en reciclado pueden estar causando más daño al medioambiente y a la salud pública, en la forma de contaminación del aire, cenizas tóxicas y otras externalidades.
Subscribe now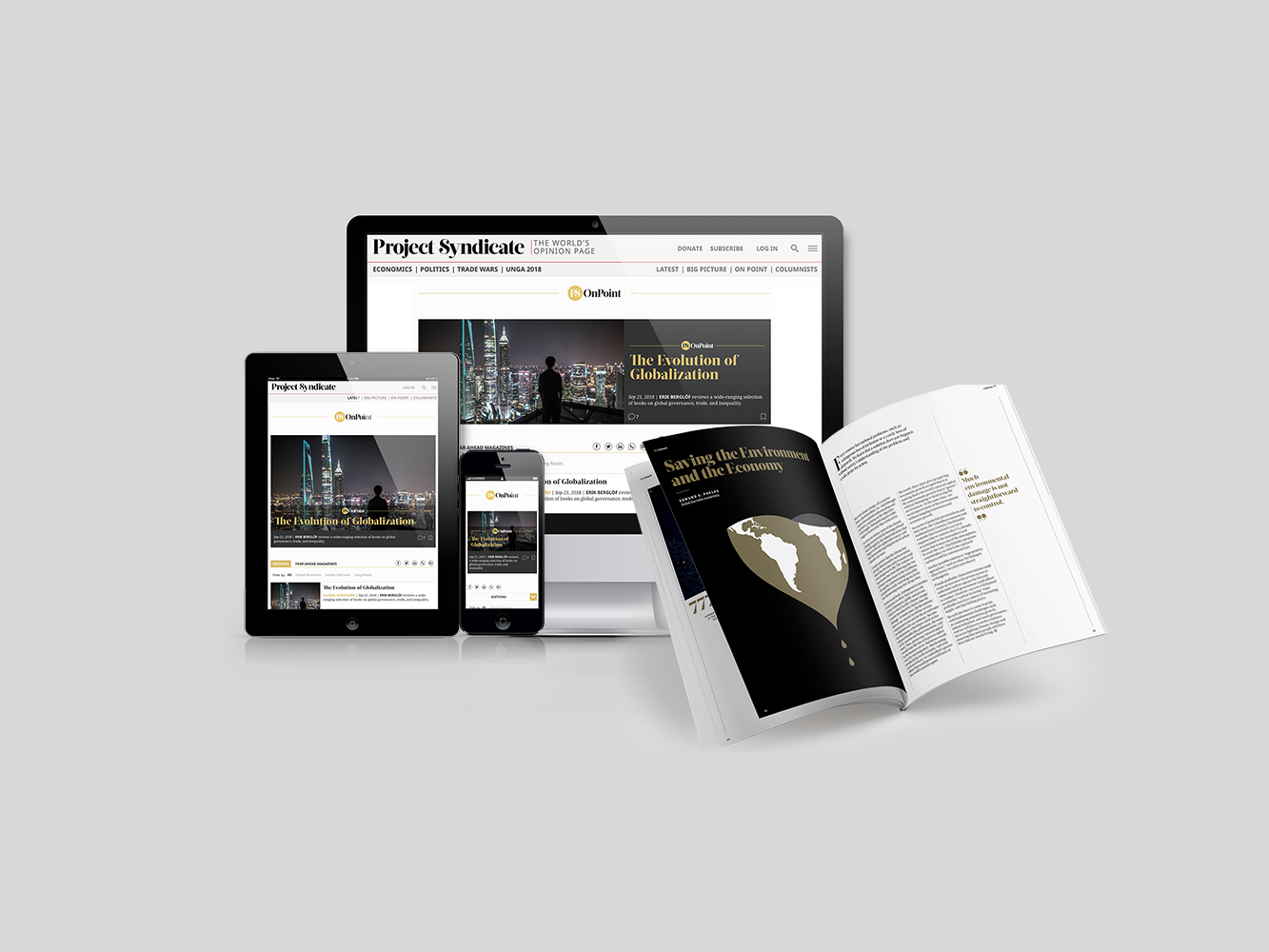 Subscribe now
Get unlimited access to OnPoint, the Big Picture, and the entire PS archive of more than 14,000 commentaries, plus our annual magazine, for less than $2 a week.
Un debate centrado exclusivamente en la gestión de residuos conviene a la industria del plástico. Los productores llevan años invirtiendo en márketing y publicidad para convencer a los consumidores de que son ellos los responsables de la crisis del plástico. Y los representantes de la industria se han esforzado en persuadir a los gobiernos –incluidos los que participan en la UNEA– de que pongan el acento en la gestión de residuos.
Hasta ahora, esto logró impedir medidas que limitarían la producción y con ella las ganancias. Cuando la industria gasta mil millones de dólares para el lanzamiento de una muy publicitada "alianza para terminar con los residuos plásticos", su objetivo real es mantener el statu quo y proteger los 200 000 millones de dólares que lleva invertidos en ampliar la producción durante los próximos cinco años.
Pero hay motivos de esperanza. Break Free From Plastic, un creciente movimiento global formado por organizaciones no gubernamentales, viene trabajando en informar a los gobiernos y a sus representantes sobre los perjuicios y riesgos asociados con la nueva producción de plástico. En los 15 meses transcurridos desde la UNEA-3, un grupo de expertos ad hoc se reunió dos veces para evaluar alternativas para una solución holística de la crisis del plástico. Sus conclusiones, respaldadas por numerosos análisis con patrocinio de la ONU y por informes independientes, señalan falencias importantes y falta de coordinación suficiente en las estructuras de gobernanza actuales.
Las recomendaciones del grupo de expertos han dado un importante estímulo a la búsqueda de un nuevo marco global para reducir la producción y el consumo de plástico. En la UNEA-4 se presentará una resolución propuesta por Noruega que pide estructuras de gobernanza global más sólidas para resolver el problema de los desechos y microplásticos marinos. Pero esperemos que esto sirva como un primer paso hacia un tratado legalmente vinculante, con un enfoque multidimensional para la solución del problema.
Un nuevo convenio global para hacer frente a la crisis del plástico mejoraría la coordinación entre gobiernos y estructuras regulatorias actuales y también proveería apoyo financiero y técnico adicional. Y sobre todo, se centraría en evitar el aumento de la contaminación con plásticos y el daño a la salud humana en todas las fases del ciclo de producción.
Todos tenemos derecho a vivir en un entorno sano. Pero ese derecho no estará garantizado hasta que se implementen medidas legalmente vinculantes que limiten la producción de plástico y hagan a empresas y gobiernos responsables por el daño que hace a nuestros organismos, comunidades y ecosistemas. Educar a la gente sobre la importancia del reciclado no basta. Somos optimistas y creemos que la UNEA reconocerá este hecho y se sumará a los que ya lideran una iniciativa innovadora para proteger la salud humana y del medioambiente.
Traducción: Esteban Flamini
,