Richting een mondiaal verdrag voor plastic afval
BERLIJN – Als er over miljoenen jaren nog geologen zijn zullen ze makkelijk in staat zijn om het begin van het zogeheten Antropoceen aan te wijzen – het geologische tijdperk waarin de mens de dominante invloed op het milieu van onze planeet werd. Waar ze ook zullen kijken zullen ze duidelijk bewijs vinden van zijn beginfase, in de vorm van plastic-vervuiling.
Plastic is een cruciaal materiaal in de wereldeconomie, en wordt gebruikt in auto's, mobiele telefoons, speelgoed, kleren, verpakkingen, medische hulpmiddelen, en nog veel meer. Wereldwijd werd er in 2015 322 miljoen ton plastic geproduceerd. En dit getal blijft groeien; tegen 2050 zou het vier maal zo hoog kunnen zijn.
Maar plastic creëert nu al enorme mondiale milieu-, economische, en sociale problemen. Ondanks dat er natuurlijke hulpbronnen nodig zijn om het te produceren is plastic zo goedkoop dat het vaak gebruikt wordt voor wegwerpproducten, vaak voor eenmalig gebruik. Als resultaat hier eindigt een grote hoeveelheid hiervan uiteindelijk als vervuiling van de planeet.
Plastic verstopt de riolen van steden en verhoogt het risico op overstromingen. Grotere stukken kunnen gevuld met regenwater een broeinest voor ziekteverwekkende muggen worden. Tot 13 miljoen ton plastic eindigt elk jaar in de oceaan; tegen 2050 zou zich daar meer plastic dan vis kunnen bevinden. Plastic dat aanspoelt op kusten kost de toeristenindustrie honderden miljoenen dollars per jaar.
Bovendien betekent al dat plastic een serieuze bedreiging voor het dierenrijk. Behalve de dode of stervende zeehonden, pinguïns, en schildpadden die zo ongelukkig zijn om in plastic ringen of netten vast te komen zitten vinden biologen dode walvissen en vogels met hun maag vol plastic afval.
Plastic producten zijn waarschijnlijk ook niet erg goed voor de mens. Alhoewel het plastic gebruikt om bijvoorbeeld ons voedsel te verpakken gewoonlijk niet giftig is, lopen de meeste plastics over van de chemische stoffen, van weekmakers (die de hormoonhuishouding kunnen verstoren) tot vlamvertragers (die in hoge concentraties kankerverwekkend of giftig kunnen zijn). Deze chemische stoffen kunnen via de oceaan en zijn voedselpiramide uiteindelijk op ons bord belanden.
Subscribe to PS Digital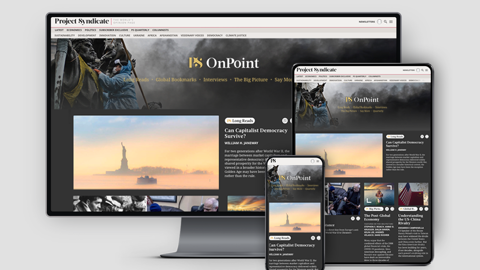 Subscribe to PS Digital
Access every new PS commentary, our entire On Point suite of subscriber-exclusive content – including Longer Reads, Insider Interviews, Big Picture/Big Question, and Say More – and the full PS archive.
Het aanpakken van dit probleem zal niet makkelijk worden; geen enkel land of bedrijf hoe vastbesloten ook kan dit alleen. Het zijn vele actoren samen – inclusief de grootste plasticproducenten en vervuilers, zero-waste initiatieven, onderzoekslaboratoria, en samenwerkingen om vervuiling op te ruimen – die dit probleem frontaal te lijf moeten gaan.
De eerste stap is om een forum op hoog niveau op te richten om discussie tussen dit soort belanghebbenden te faciliteren, met als doel een samenwerkingsstrategie te ontwikkelen voor het verminderen van plastic-vervuiling. Zo een strategie moet verder gaan dan vrijwillige actieplannen en partnerschappen en zich concentreren op de ontwikkeling van een wettelijk bindende internationale overeenkomst, ondersteund door een engagement van alle regeringen om plastic-vervuiling te elimineren. De onderhandelingen over zo een verdrag zouden nog dit jaar gelanceerd kunnen worden, bij de vergadering van het VN-milieuprogramma in Nairobi in december.
Wetenschappers hebben al concrete voorstellen gedaan voor een plasticverdrag. Eén van de auteurs van dit artikel heeft een conventie voorgesteld gemodelleerd naar het klimaatverdrag van Parijs: een bindend en overkoepelend doel gecombineerd met vrijwillige nationale actieplannen en flexibele maatregelen om daar te komen. Een onderzoeksteam van de University of Wollongong in Australië heeft geïnspireerd door het Montreal Protocol, het verdrag dat de ozonlaag beschermt, quota en verboden voor de productie van nieuwe plastics voorgesteld.
Sommigen vragen zich wellicht af of we ons opnieuw moeten begeven op het lange, bochtige, en vermoeiende pad van mondiale verdragsonderhandelingen. Kunnen we het plasticprobleem niet op een technische manier oplossen?
Het korte antwoord is waarschijnlijk niet. Biologisch afbreekbaar plastic bijvoorbeeld heeft alleen zin als het snel genoeg ontbindt om de fauna niet te schaden. Zelfs veelbelovende ontdekkingen zoals bacteriën en motten die plastic kunnen oplossen of verteren kunnen slechts een secundaire rol spelen.
De enige manier om het probleem echt aan te pakken is om de hoeveelheid plastic afval serieus te reduceren. Technologie zou hierbij behulpzaam kunnen zijn, door meer opties voor substitutie en recycling aan te reiken; maar zoals de vele zero-waste gemeenschappen en steden over de hele wereld al hebben laten zien is dit eigenlijk niet nodig.
Zo heeft Capannori, een stad van 46.770 inwoners in de buurt van Lucca in Italië, in 2007 bijvoorbeeld een zero-waste strategie overgenomen. Tien jaar later heeft het de hoeveelheid afval met 40% teruggebracht. Met 82% van het gemeentelijke afval dat nu aan de bron gescheiden wordt eindigt nog slechts 18% op de vuilnisbelt. Zulke ervaringen moeten de nationale actieplannen die onderdeel van het plasticverdrag zouden vormen informeren en begeleiden.
Het 'circulaire economie pakket' van de Europese Commissie is een ander voorbeeld dat de moeite waard kan zijn te kopiëren. Alhoewel het nog niet is geïmplementeerd hebben de afvaldoelen ervan het potentieel om de Europese Unie 190 miljoen ton aan CO2-uitstoot per jaar te besparen. Dat is het equivalent van de jaarlijkse uitstoot van Nederland.
Natuurlijk zal de transitie naar zero waste nogal wat investeringen vergen. Elk internationaal verdrag voor plastic moet daarom een financieringsmechanisme bevatten, en het 'de vervuiler betaalt' principe is hier een goed uitgangspunt. De wereldwijde plasticindustrie, met een jaarlijkse omzet van ongeveer 750 miljard dollar, moet toch zeker een paar honderd miljoen dollar kunnen missen om de rotzooi te helpen opruimen die ze zelf hebben veroorzaakt.
Een veelomvattend, bindend, en vooruitziend mondiaal plasticverdrag zal niet makkelijk te behalen zijn. Het zal tijd en geld kosten, en zal onvermijdelijk mazen en tekortkomingen bevatten. Het zal op zichzelf het probleem van plastic-vervuiling zeker niet oplossen. Maar het is wel een vereiste voor succes.
Plastic-vervuiling is een definiërend probleem van het Antropoceen. Het is tenslotte een mondiale plaag die geheel door onszelf gecreëerd is – en die eveneens geheel binnen onze macht ligt om op te lossen.
Vertaling Melle Trap