Vstříc globální dohodě o plastovém odpadu
BERLÍN – Budou-li za několik milionů let existovat geologové, dokážou snadno stanovit počátek takzvaného antropocénu – geologické éry, během níž začali mít převládající vliv na prostředí naší planety lidé. Ať se totiž podívají kamkoliv, najdou tam jasné důkazy o jeho počátku ve formě plastového odpadu.
Umělá hmota neboli plast je ve světové ekonomice klíčovým materiálem: najdeme ho v automobilech, mobilních telefonech, hračkách, oděvech, obalech, lékařských zařízeních a mnoha dalších předmětech. V roce 2015 se na světě vyrobilo 322 milionů krychlových metrů plastu. A toto číslo dále roste; do roku 2050 by mohlo být čtyřikrát vyšší.
Plast však už dnes způsobuje rozsáhlé globální ekologické, ekonomické a sociální problémy. Přestože jsou i k jeho výrobě zapotřebí přírodní zdroje, je tak levný, že se z něj často vyrábějí netrvanlivé předměty – mnohdy i na jedno použití. V důsledku toho nakonec obrovské množství plastu znečišťuje zeměkouli.
Plast ucpává kanalizační systémy měst a zvyšuje riziko záplav. Větší kusy se mohou plnit dešťovou vodou, a vytvářet tak vhodné prostředí pro líhnutí komárů šířících nemoci. Až 13 milionů tun plastového odpadu končí každoročně v oceánech; do roku 2050 by v nich mohlo plavat víc plastu než ryb. Plast vyplavený na pobřeží stojí turistický průmysl stamiliony dolarů ročně.
Takové množství plastu navíc představuje vážnou hrozbu pro světovou faunu. Vedle mrtvých či umírajících tuleňů, tučňáků a želv, kteří měli tu smůlu, že se zamotali do plastových řetězů či sítí, nacházejí biologové mrtvé velryby a ptáky se žaludky napěchovanými plastovým odpadem.
Plastové výrobky nemusí být až tak vhodné ani pro člověka. Plasty používané například k balení potravin sice obvykle bývají netoxické, avšak většina plastů je plná různých chemických látek, od změkčovadel (která mohou narušovat činnost žláz s vnitřní sekrecí) po zhášedla (jež mohou být při vyšších koncentracích karcinogenní či toxická). Tyto chemikálie mohou skrz oceán a jeho potravní řetězec pronikat až na naše talíře.
Secure your copy of PS Quarterly: The Year Ahead 2023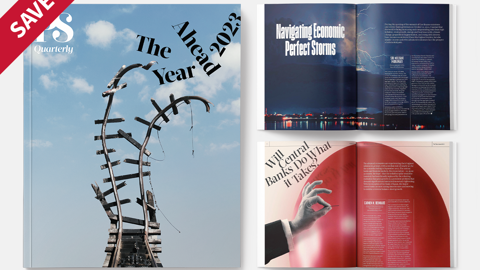 Secure your copy of PS Quarterly: The Year Ahead 2023
Our annual fourth-quarter magazine is here, and available only to Digital Plus and Premium subscribers. Subscribe to Digital Plus today, and save $15.

Vyřešení tohoto problému nebude snadné; žádná jednotlivá země či firma – i kdyby byla sebeodhodlanější – to nedokáže sama. K problému se bude muset postavit čelem mnoho aktérů současně – největší producenti plastů a znečišťovatelé, iniciativy za nulový objem odpadu, výzkumné laboratoře i sdružení sběračů odpadu.
Prvním krokem je vytvoření vysoce postaveného fóra, které zprostředkuje diskusi mezi těmito aktéry s cílem rozvinout strategii spolupráce na omezení znečištění životního prostředí plasty. Tato strategie by měla jít nad rámec dobrovolných akčních plánů a partnerství a soustředit se na formulaci právně závazné mezinárodní dohody podložené závazkem všech vlád eliminovat znečištění plasty. Jednání o takové dohodě lze zahájit ještě letos na prosincovém Ekologickém shromáždění Organizace spojených národů, které proběhne v Nairobi.
Vědci už předložili konkrétní návrhy úmluvy o znečištění plasty. Jeden z autorů tohoto článku navrhl konvenci koncipovanou podle pařížské klimatické dohody: závazný zastřešující cíl kombinovaný s dobrovolnými národními akčními plány a flexibilními opatřeními k jejich dosažení. Výzkumný tým z australské Wollongonžské univerzity se zase nechal inspirovat Montrealským protokolem – úmluvou chránící ozónovou vrstvu – a navrhl stropy a zákazy pro budoucí produkci plastů.
Leckdo by si mohl položit otázku, zda bychom se znovu měli vydávat na dlouhou, klikatou a únavnou cestu jednání o globálních dohodách. Nemůžeme problém s plasty vyřešit technicky?
Stručná odpověď zní, že nejspíš ne. Například biologicky rozložitelné plasty mají smysl pouze v případě, že se rozloží natolik rychle, aby neublížily fauně. I slibné objevy, jako jsou bakterie či moli schopní plasty rozpouštět nebo konzumovat, však mohou představovat jen vedlejší podpůrné řešení.
Jediným způsobem, jak tento problém skutečně vyřešit, je omezit objem plastového odpadu. Technologie nám mohou být nápomocné a nabízet větší počet řešení v oblasti nahrazování a recyklace, ovšem jak nám ukázala řada světových komunit a měst s nulovým objemem odpadu, není to nutné.
Například Capannori, město s 46 700 obyvateli ležící nedaleko toskánské Luccy, podepsalo strategii nulového odpadu v roce 2007. Během následujících deseti let snížilo objem odpadu o 40%. Plných 82% městského odpadu se dnes separuje u zdroje a pouhých 18% zbytkového odpadu končí na skládkách. Takové zkušenosti by měly sloužit jako příklad a návod pro národní akční plány, které budou tvořit součást úmluvy o plastech.
Dalším příkladem hodným následování může být takzvaný "balík cirkulární ekonomiky" vypracovaný Evropskou komisí. Ačkoliv zatím nebyl implementován, jeho cíle v oblasti odpadového hospodářství mají potenciál ušetřit Evropské unii 190 milionů tun emisí CO2 ročně. To je ekvivalent ročních emisí Nizozemska.
Přechod na nulový odpad si samozřejmě vyžádá jisté investice. Jakákoliv mezinárodní úmluva o plastu proto musí obsahovat mechanismus financování a princip "znečišťovatel platí" je správným odrazovým můstkem. Globální sektor výroby plastů, jehož roční obrat dosahuje zhruba 750 miliard dolarů, by bezpochyby dokázal nalézt pár set milionů na pomoc při úklidu jím vytvořeného nepořádku.
Dosažení všeobecné, závazné a dopředu orientované globální dohody o plastech nebude snadné. Taková dohoda si vyžádá čas i peníze a nepochybně bude obsahovat mezery a nedostatky. A rozhodně sama o sobě nevyřeší problém znečištění plasty. Je však podmínkou úspěchu.
Znečištění plasty je určujícím problémem antropocénu. Koneckonců jde o celosvětovou metlu, kterou jsme si vytvořili zcela sami – a také je zcela v naší moci ji vyřešit.
Z angličtiny přeložil Jiří Kobělka.