Klimatický lék horší než samotná nemoc
DŽAJPUR – Dva roky po podpisu pařížské klimatické dohody francouzské hlavní město tento měsíc opět přivábilo největší klaďase světa, kteří se sešli na summitu One Planet prezidenta Emmanuela Macrona. Při projevech střídavě cupujících amerického prezidenta Donalda Trumpa za to, že od pařížského ujednání ustoupil, a vzájemně se ujišťujících, že dohoda zůstává na dobré cestě, utvořili politici chumel s hvězdnými aktivisty a podnikatelskými esy, který sám sobě blahopřál.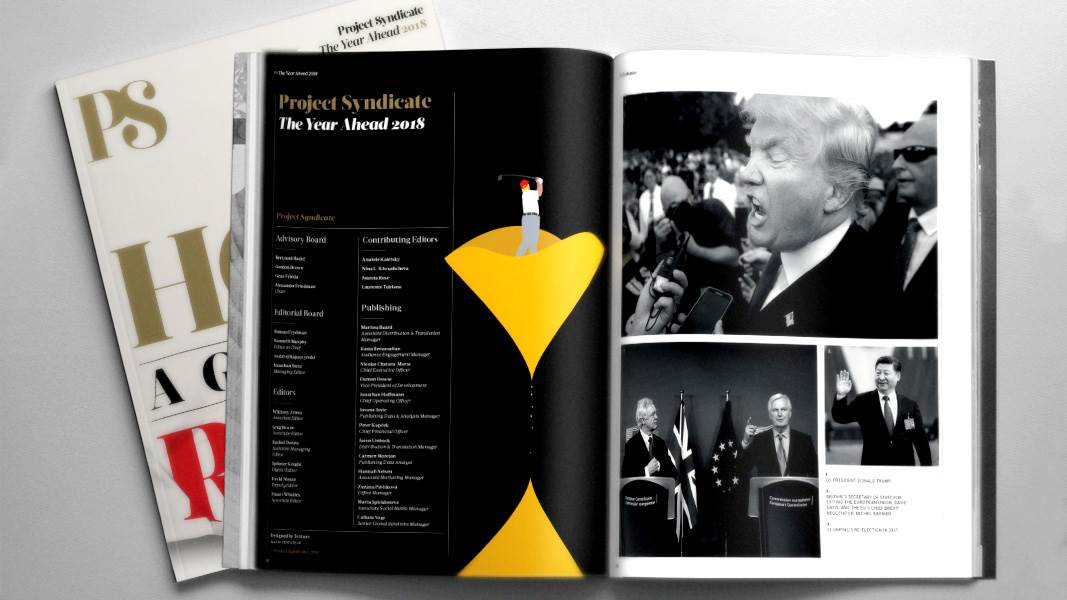 The Year Ahead 2018
The world's leading thinkers and policymakers examine what's come apart in the past year, and anticipate what will define the year ahead.
K takové samolibé žoviálnosti bychom měli přistupovat s opatrností. Dobrá vůle k zastavení změny klimatu nestačí a historie je poseta dobře míněnými politikami, které se ukázaly jako neužitečné, nebo dokonce horší než problémy, jež měly řešit.
Jedním obzvlášť drásavým příkladem byl pokus Mao Ce-tunga zlepšit úrodu a zdraví vyhubením vrabců. Prudce se rozrostla populace sarančat, což přispělo k hladomoru, který si vyžádal kolem 30 milionů životů.
Imunní ale není žádná vláda. Americký prezident Bill Clinton přiznává, že jeho erbovní trestní zákon "třikrát a dost" se v roce 1994 vymstil, když bylo uvězněno tolik lidí, že "nezbylo dost peněz je vzdělávat, připravit na nová zaměstnání a zvýšit [jim] šance, až vyjdou na svobodu." V následujícím desetiletí se Spojeným státům zdálo rozumné držet své nejhorší irácké vězně v jednom táboře – leč právě tomu se teď klade za vinu, že budoucím vůdcům Islámského státu pomohl naučit se kout pikle.
Omyly politických přístupů jsou často zřejmé až při pohledu zpět. Abychom je rozeznali v reálném čase, musíme umět provést klidnou analýzu nákladů a účinků. U žádného tématu to není zapotřebí víc než u změny klimatu. Vezměme si pařížský summit z počátku měsíce, kde pozornost poutala nepřítomnost Trumpovy administrativy či vzdor ostatních světových lídrů vůči němu. Nikde jsme se nedoslechli o skutečných nákladech a účincích pařížské dohody.
Stanovit rozsah problému nám pomáhá ekonomická věda.Mezivládní panel ke změně klimatu (IPCC), klimatický panel OSN, odhaduje, že globální oteplování za zhruba 60 let vyjde planetu na 0,2 % až 2 % HDP. To je sice problém, ale není to konec světa.
Aktuálně jsou čisté náklady globálního oteplování vlastně téměř nulové. Zdá se, že to není pravda, protože jsme vystaveni náporu děsivých zpráv ohledně klimatu. Nedostáváme ale úplný obrázek.
Sucho v Sýrii pochopitelně proniká do zpráv. Jenže celkově globální oteplování znamená více srážek. Přehled sestavený časopisem Nature dokládá, že od roku 1982 such celosvětově ubývá. Přestože tedy globální oteplování mohlo k některým suchům přispět, celkově jejich výskyt snižuje; absence sucha ale sotva zaplní titulky.
Rovněž slýcháme obavy, že jsou ničeny tropické pralesy. To si sice zaslouží pozornost, ale širší pohled ukazuje, že větší množství oxidu uhličitého hnojí vegetaci, takže změna klimatu ve skutečnosti od roku 1982 rozhojnila světovou zeleň (rostliny všeho druhu) o ekvivalent celého kontinentu.
Nejlepší odhady proto ukazují, že globální oteplování má právě teď zhruba nulové čisté náklady. (Nejpesimističtější studie zjistila náklady ve výši 0,3 % HDP, nejoptimističtější čistý přínos ve výši 2,3 %.) Nebudeme-li jednat, náklady vzrostou na 2 % v polovině století a na 3-4 % počátkem dvaadvacátého století.
Klimatické politiky velebené v Paříži jsou ale v zásadě gesta s vysokými náklady a slabým účinkem. Evropská unie letos na činnosti související s klimatem věnuje 20 % svého rozpočtu. Zohledníme-li celkové náklady pro ekonomiku, bude účet pro EU pravděpodobně ve výši zhruba 209 miliard eur.
Přínos bude mizivě malý. Vezmeme-li závazky EU ke snížení emisí CO2 podle pařížské dohody do roku 2030, moje vědecky recenzovaná analýza dokládá, že při nejoptimističtějším vývoji by emisní cíle, v případě úplného dosažení a dodržení cílů do konce století, odvrátily do roku 2100 globální oteplení jen o 0,053°C).
Tak malý dopad není dostatečným důvodem politiky EU pro snižování emisí odepsat. Měl by nás ale přimět k přemýšlení, jestli lék není nákladnější než samotná nemoc, a k otázce, jaké jiné přístupy by mohly být lepší.
Další vědecky recenzovaná studie ukazuje, že každý dolar vynaložený na klimatické politiky EU přinese celkový dlouhodobý klimatický přínos v hodnotě pouhých tří centů. Navzdory fandění z Francie je pařížská dohoda stejně nevyvážená: samotná Organizace spojených národů odhaduje, že při 1-2 bilionech dolarů ročních nákladů je na dobré cestě k dosažení 1 % z toho, co by bylo zapotřebí, abychom vzestup teploty udrželi pod 2°C.
Potřebujeme chytřejší, lacinější alternativy. Můj think tank, Kodaňský konsensus, požádal 27 špičkových světových ekonomů zaměřených na klima, aby prověřili všechny využitelné politické přístupy, a dospěli jsme k závěru, že nejlepší dlouhodobé investice jsou do výzkumu a vývoje v oblasti zelené energetiky. Každý vynaložený dolar by vyústil v odvrácení škod na klimatu v hodnotě 11 dolarů. To dává mnohem větší smysl než utrácet majlant za úbytky CO2, které nedosáhnou téměř ničeho.
Země by měly utlumit své současné, neefektivní klimatické politiky a raději posílit výdaje na zelený výzkum a vývoj. Jedině inovace dokážou stlačit cenu budoucí zelené energie pod fosilní paliva, čímž všechny přimějí k přechodu. Potřebujeme také levné a efektivní způsoby adaptace, abychom předešli nejhorším klimatickým újmám. Hlavním pramenem ohrožení budoucím poškozením klimatu je přitom chudoba: právě chudé zasáhne nejvíc, stejně jako všechny ostatní globální těžkosti. Vymanit lidi z chudoby tudíž pomůže víc než cokoliv jiného.
Navzdory vzletné rétorice z Paříže budou nejlepší úmysly na planetě málo platné, pokud se ukáže, že naše klimatické "řešení" bylo jen další politikou, která planetu stála víc než jí přinesla.
Z angličtiny přeložil David Daduč