Der Pariser Ansatz zur weltweiten Regierungsführung
WASHINGTON, DC – Als ehemalige Präsidentin der Amerikanischen Gesellschaft für Internationales Recht müsste ich die jüngste Vereinbarung von Paris zum Klimawandel eigentlich als Fehlschlag beklagen. Gemessen an den traditionellen Standards für Abkommen ist sie eine traurige Angelegenheit. Betrachtet man die Vereinbarung aber in Bezug auf ihre Funktion als Modell für effektive globale Regierungsführung im einundzwanzigsten Jahrhundert, sind ihre Defizite gleichzeitig ihre größten Stärken.
Dem gegenüber steht der internationale juristische Goldstandard des Vertrages, eines bindenden Dokuments, das durch Gerichte und Schiedstribunale durchgesetzt werden kann. Solche Verträge oder Abkommen sind mehr als nur der Ausdruck einer Absicht, sondern enthalten kodifizierte, durchsetzbare Regeln, und, für den Fall von Zuwiderhandlungen, entsprechende Sanktionen. Damit sie in den einzelnen Ländern gesetzlichen Status erhalten, müssen sie von den nationalen Parlamenten verabschiedet werden.
Bei der Vereinbarung von Paris kann davon keine Rede sein. In den Vereinigten Staaten ist sie nationalrechtlich gesehen eine exekutive Vereinbarung, die nur für die Regierung von Präsident Barack Obama bindend ist. Eine exekutiv-legislative Vereinbarung hingegen hätte den selben Status wie ein Abkommen, bis auf die Tatsache, dass ein Abkommen von zwei Dritteln des Senats verabschiedet werden muss, während eine exekutiv-legislative Vereinbarung von Senat und Repräsentantenhaus anhand derselben Regeln zu behandeln ist, die auch auf alle anderen inländische Gesetze zutreffen. Eine nur exekutive Vereinbarung einer Regierung ist nicht automatisch für die Nachfolgeregierung bindend, aber sie müsste von dieser explizit wieder verworfen werden.
Im Gegensatz zu traditionellen internationalen Abkommen sind die Anforderungen der Vereinbarung von Paris auch nicht starr festgelegt. Der Grund dafür, dass internationale Abkommen oder Verträge sorgfältig ausgehandelt werden, ist, dass sie, sobald sie Gesetz werden, nicht mehr geändert werden können, außer durch formal vereinbarte Anpassungsprozesse. Aus dieser Dauerhaftigkeit beziehen sie ihre Autorität. Die 195 Unterzeichner der Pariser Vereinbarung hingegen haben ein nicht bindendes System entworfen, im Rahmen dessen sie ihre individuellen Verpflichtungen alle fünf Jahre erhöhen. Anders ausgedrückt, werden die Vertragsparteien ermutigt (aber nicht verpflichtet), immer stringentere Revisionen ihrer so genannten Intended Nationally Determined Contributions (INDCs, beabsichtigte national bestimmte Beiträge) einzureichen, die auf ihrer eigenen Einschätzung beruhen.
Auch die Idee der "Einhaltung" als Maßstab für Legalität oder Illegalität wurde in der Pariser Vereinbarung aufgegeben. Zu bestimmen, ob die Unterzeichner einer internationalen Vereinbarung deren Verpflichtungen einhalten, war immer die Arbeit von internationalen Anwälten oder Tribunalen. In der Vereinbarung von Paris wird diese Kontrolle letztlich durch Transparenz ersetzt und ein "erweitertes Transparenz-Rahmenwerk" entworfen, um "gegenseitiges Vertrauen aufzubauen und die effektive Umsetzung zu fördern".
Ein nachfolgender Artikel der Vereinbarung enthält einen Kontrollmechanismus, legt aber zugleich fest, dass dieser "auf Expertenbasis" stattfindet, was bedeutet, dass zu den Bewertungsteams auch Wissenschaftler, Politikexperten und Rechtsanwälte gehören. Darüber hinaus wird er "erleichternd" sein, also auf eine Art funktionieren, die "transparent, nicht-konfrontativ und nicht-strafend" ist. Dies klingt nicht wie eine Disziplinarkommission, sondern eher wie eine Unterstützergruppe.
Subscribe to PS Digital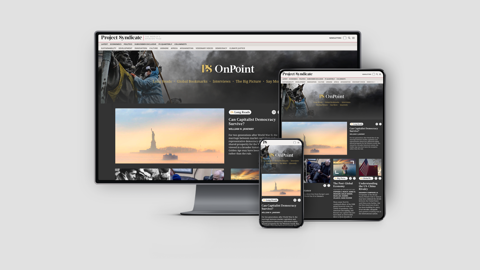 Subscribe to PS Digital
Access every new PS commentary, our entire On Point suite of subscriber-exclusive content – including Longer Reads, Insider Interviews, Big Picture/Big Question, and Say More – and the full PS archive.
Kurz gesagt, an traditionellen rechtlichen Standards gemessen ist die Pariser Vereinbarung letztlich eine Erklärung guter Absichten zum Einhalten des angestrebten Ziels, den weltweiten Temperaturanstieg auf 2° Celsius – oder idealerweise 1,5°C – über den präindustriellen Werten zu begrenzen. Von den Abkommen von Wien, Versailles oder gar von denjenigen zum Verbot von Landminen oder der Gründung des Internationalen Gerichtshofs könnte diese Vereinbarung kaum weiter entfernt sein. Und genau aus diesem Grund hat sie eine gute Chance, erfolgreich zu sein.
Zunächst einmal wäre die Lösung eines so komplexen und veränderlichen Problems wie des Klimawandels mit dauerhaften, bindenden Verpflichtungen unmöglich. Zu dem Zeitpunkt, an dem – wenn überhaupt – eine Übereinkunft erreicht würde, hätte sich der Umfang und die Ausprägung des Problems bereits geändert, ganz zu schweigen von den Technologien zu seiner Lösung. Die neue Methode weltweiter Regierungsführung, für die die Vereinbarung von Paris beispielhaft ist und die flexible Prozesse an Stelle fester Regeln setzt, passt viel besser zu den Arten globaler Probleme, vor denen wir heute stehen.
Und in einer Welt von 195 unterschiedlichen Ländern – von den bettelarmen über die konfliktbeladenen bis hin zu den hoch entwickelten – können Top-Down-Verpflichtungen nie einheitlich genug sein, um zu funktionieren. Bottom-Up-INDCs hingegen, im Rahmen derer die Bürger und Regierungen jedes einzelnen Landes zusammen kommen und bestimmen müssen, was sie realistischerweise erreichen können, sind deutlich vielversprechender.
Aber die vielleicht wichtigste Neuerung der Pariser Vereinbarung ist der Übergang von selektivem Zwang zu kollektiv unterstütztem Wettbewerb. Anstatt sich im Fall der Nichteinhaltung rechtlicher Vorgaben gegenseitig zu verklagen, versuchen Länder, sich bei ihren Bemühungen zur Lösung eines gemeinsamen Problems gegenseitig zu überholen. Unterstützt wird dieser Wandel durch Transparenzmechanismen, die es Journalisten, Aktivisten, Wissenschaftlern, betroffenen Bürgern und klimafreundlichen Unternehmen ermöglichen, an Debatten teilzunehmen, Erfolge und Fehlschläge zu veröffentlichen, Hilfe und Rat zu geben sowie hinterher hinkende Länder zu unterstützen.
Dies führt uns zum letzten entscheidenden Merkmal des neuen weltweiten Regierungsmodells, für das die Vereinbarung von Paris beispielhaft ist: Die Einigung, die zu Beginn des letzten Monats erreicht wurde, ist, ebenso wie die Konferenz der Beteiligten selbst, nicht nur für die Regierungen da. Obwohl letztere aufgefordert werden, über den offiziellen Grünen Klimafonds weiterhin öffentliche Gelder zur Verfügung zu stellen, spielen auch Individuen und juristische Personen eine große Rolle.
Bill Gates beispielsweise hat während der Verhandlungen weltweit damit Schlagzeilen gemacht, dass er einen Zwei-Milliarden-Dollar-Fonds zur Investition in saubere Energien ankündigte, der durch die Breakthrough Energy Coalition (BEC) finanziert wird, einer Gruppe von 26 Philanthropen aus aller Welt und der Universität von Kalifornien. Mit der BEC wird eine neue Ebene der öffentlich-privaten Partnerschaften eingeläutet. Die Investoren arbeiten mit den Regierungen von etwa zwanzig Ländern – wie China, Indien und den USA – zusammen, die bereits jetzt etwa 80% der weltweiten Investitionen in saubere Energien auf sich vereinen und nun angekündigt haben, ihren Einsatz noch einmal zu verdoppeln.
Die Verhandler von Paris haben erkannt, dass die Wirtschaft, die Philanthropen, die Zivilgesellschaft, das Hochschulwesen und die normalen Menschen bei der Lösung eines großen weltweiten Problems alle eine Rolle spielen müssen. Sogar auf der Regierungsseite finden Veränderungen statt. Auf kommunaler Ebene sind die Behörden ihren nationalen Kollegen oft deutlich voraus. Sie werden in Organisationen wie der C-40 aktiv, eines "Netzwerks der Megastädte der Welt, die sich auf Lösungen gegen den Klimawandel verpflichtet haben".
Die Vereinbarung von Paris ist ein wucherndes, rollendes, überlappendes Bündel der nationalen Verpflichtungen eines wilden Sammelsuriums von Akteuren und Betroffenen. Sie ist kein Gesetz. Sie ist ein mutiger Schritt hin zur öffentlichen Problemlösung auf globaler Ebene. Und sie ist der einzige Ansatz, der überhaupt funktionieren kann.
Aus dem Englischen von Harald Eckhoff