Słuszna Zmiana Po Pandemii
LONDYN – Oszacowanie wszystkich gospodarczych skutków pandemii COVID-19 zajmie trochę czasu. Ale niektóre koszty już stają się widoczne, poczynając od dewastacji jaką ten kryzys przeprowadził w globalnej sile roboczej. Ponieważ zmiany klimatu grożą przede wszystkim najbardziej narażonym pracownikom na świecie, potrzebna jest całościowa reakcja na ten kryzys, która podkreśla zarówno sprawiedliwość, jak i zrównoważony rozwój.
Liczby malują ponury obraz. Międzynarodowa Organizacja Pracy ostrzega, że 1,6 miliarda pracowników w szarej strefie - prawie połowa światowej siły roboczej - jest "bezpośrednio zagrożona utratą środków do życia." Unia Afrykańska informuje, że w samej Afryce zagrożonych jest prawie 20 milionów miejsc pracy, zarówno w sektorze formalnym, jak i nieformalnym. W Stanach Zjednoczonych gazeta The New York Times szacuje, że pomimo podstawowej stopy bezrobocia wynoszącej 13,3 % - i tak wyższej niż w jakiejkolwiek poprzedniej powojennej recesji - faktyczne bezrobocie jest bliższe 27%.
Oczywiście, rządy muszą działać, aby chronić pracowników przed COVID-19. Ale jeśli takie wysiłki mają sprawić, że gospodarka - i jej pracownicy - stanie się silniejsza poza obecnym kryzysem, muszą one także realizować cele zawarte w porozumieniu klimatycznym z Paryża z 2015 r. - w tym wyrażoną tam wizję "sprawiedliwej zmiany." Oznacza to nie tylko przejście na zrównoważone wzorce rozwoju, ale także ochronę praw pracowników oraz ich źródeł utrzymania.

Zbyt często zakłada się, że postęp w zakresie zrównoważonego rozwoju musi odbywać się kosztem wzrostu gospodarczego i zatrudnienia. Pracownicy sektorów zanieczyszczających obawiają się, że zmiany przyniosą nie tylko "osierocone aktywa," ale także "osieroconych pracowników" - i być może nie bez powodu. Dawne miasta i wioski wydobywcze w Wielkiej Brytanii wciąż nie odzyskały siły po upadku przemysłu węglowego pod koniec XX wieku.
Jednak nie musi to być nieuniknione. Międzynarodowa Agencja Energii Odnawialnej przewiduje, że przy większych inwestycjach w odnawialne źródła energii, liczba miejsc pracy w tym sektorze wzrośnie do 42 milionów na całym świecie do roku 2050 (czterokrotnie więcej niż ich obecny poziom). Środki efektywności energetycznej stworzyłyby 21 milionów dodatkowych miejsc pracy, a elastyczność systemu jeszcze 15 milionów więcej. Tak więc przy wystarczających inwestycjach w zieloną gospodarkę będziemy mieli wystarczającą liczbę miejsc pracy.
Jednak zapewnienie pracownikom lepszej sytuacji będzie wymagało właściwie skoordynowanych wysiłków, aby zagwarantować, że nowe miejsca pracy będą dobrymi miejscami pracy i ułatwią płynną zmianę pracownikom przesiedlonym z innych gałęzi przemysłu (takich jak paliwa kopalne). Jedynym sposobem na osiągnięcie tego jest przyjęcie prawdziwie zintegrowanego podejścia, w którym rządy, firmy, związki zawodowe i inwestorzy pracują aby zagwarantować, że inicjatywy klimatyczne uwzględniają potrzeby pracowników.
Subscribe to PS Digital Now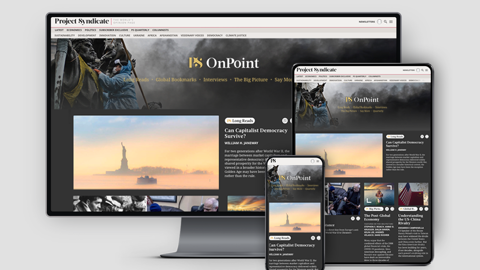 Subscribe to PS Digital Now
Access every new PS commentary, our entire On Point suite of subscriber-exclusive content – including Longer Reads, Insider Interviews, Big Picture/Big Question, and Say More – and the full PS archive.
W ostatnich latach względy środowiskowe, społeczne i związane z zarządzaniem zyskują popularność w kręgach biznesowych, inwestycyjnych i politycznych. Jednak zbyt często dominuje podejście izolacji, w którym każdy osobno zajmuje się krytycznymi wymiarami długoterminowej wydajności.
To nie wystarczy. Tak jak nieokiełznane zmiany klimatu spowodują poważne szkody dla gospodarki i jej pracowników - nie tylko poprzez zaostrzenie klęsk żywiołowych i przyczyniając się do pandemii - tak samo nie uda się poprawić zarządzania kapitałem ludzkim i ochronić dobrobytu pracowników. Budowanie zrównoważonej gospodarki - i płynących z niej długoterminowych zwrotów z inwestycji - będzie niemożliwe przy wysokim poziomie bezrobocia, nierówności i zakłóceń.
Aby uniknąć takiego wyniku, należy wykorzystać zaangażowanie akcjonariuszy, aby zmusić firmy nie tylko do wdrożenia sprawiedliwych zmian, ale także do zwiększenia przejrzystości poprzez publiczne ujawnianie informacji. Ponad dwie trzecie inicjatyw realizowanych obecnie przez Candriam (jeden z autorów tego artykułu, Naïm Abou-Jaoudé, jest dyrektorem naczelnym Candriam) bezpośrednio odnosi się do transformacji energetycznej, uczciwych warunków pracy i etyki biznesowej - filarów sprawiedliwej transformacji.
Ponadto inwestorzy powinni zachęcać firmy do lokowania kapitału - na przykład poprzez nową generację inwestycji i emisję obligacji - w celu wspierania odnowy i dywersyfikacji społeczności dotkniętych transformacją. Inwestorzy i firmy powinny współpracować z rządami, aby zagwarantować, że sprawiedliwa zmiana będzie głównym napędem polisy, zwłaszcza jeśli chodzi o planowanie odbudowy po COVID-19, aby fundusze stymulujące mogły pomóc w budowie czystej, integracyjnej gospodarki przyszłości.
Nigdy wcześniej nasze społeczeństwa - w tym rządy, organy publiczne, inwestorzy i firmy - nie były tak zaangażowane w zrównoważony rozwój jak obecnie. Nie tylko rządy na całym świecie zobowiązały się do realizacji celów ONZ-tu w kwestii zrównoważonego rozwoju; ponad 11 tysięcy firm ze 157 krajów również udzieliło swojego wsparcia.
Ale to tylko pierwszy krok; podmioty te muszą teraz wywiązać się ze swoich zobowiązań - i upewnić się, że ich wysiłki będą doskonalić, a nie podważać imperatywy społeczne. Jest to nie tylko wybór etyczny; jest to także najlepszy sposób na zapewnienie dynamiczności gospodarczej w przyszłości. Tylko poprzez dodanie imperatywów środowiskowych i społecznych do naszych modeli biznesowych i taktyk gospodarczych możemy zapewnić długoterminowy wzrost i dobrobyt - i zbudować odporność potrzebną do przetrwania przyszłych wstrząsów.
Z angielskiego przetłumaczyła Marz McNamer