O svatých a o služebnictvu
MOSKVA: V červenci roku 1918 byl čekistickým úderným komandem popraven ve sklepení jednoho domu uralského města Jekatěrinburgu poslední car Mikuláš II., jeho rodina, tři služebníci a rodinný doktor. Jejich těla byla poté rozsekána, zasypána nehašeným vápnem, spálena, pohřbena, vykopána, a znovu pohřbena v neoznačeném hrobě. V létě roku 1998 byla znovu, s velkými poctami pohřbena v Saint Petersburgu.
Letos v létě Ruská ortodoxní církev členy naši poslední královské rodiny kanonizovala coby mučedníky. Ovšem ti čtyři služebníci, jež zahynuli společně s carskou rodinou, kanonizováni nebyli. Ti čtyři mohli odejít; mohli si zvolit odchod, ale neučinili tak. Nikdy se neptali, zda se jejich osudem stanou chyby jejich Pána. Nikdy neočekávali žádné výhody nebo odměny. Byli věrní až do samotného konce a za svoji věrnost byli zabiti.
Naše rodina, po všechna ta stalinovská, kruščevovská a brežněvovská léta, si také držela služebnictvo. Bylo jich mnoho a vykonávali rozličné úkoly. Nikdy jsme je ovšem nenazývali sloužícími; to nebylo slušné slovo. Když jsem si jako malá holka čítávala příběhy o králích a grandech obklopených sloužícími, mé dětské srdéčko plakalo na těmi zločiny proti rovnosti a spravedlnosti. Ne, tito lidé, kteří s námi žili, kteří pro nás vařili, kteří chodili na vycházky s našimi dětmi v kočárcích, myli okna a pečovali o naše kožichy, nebyli nikdy nazýváni sloužícími. Měli svá jména a nikdy by nebyli požádáni, aby vykonali nějaký odporný či nebezpečný úkol.
Tou nejstarší v naší rodině byla chůva Gruša. Byla drobounká, s bílými nadýchanými vlasy. Jednou, když jsem se probudila nějakou noční můrou, s hrůzou jsem křičela a volala ji. Jen si povzdechla, cosi zamumlala a tiše si přisunula židli k mé posteli. Tváře ji jen vrněly tichým: "pšš-šš-šš". Chůva Gruša voněla po olejové lampičce, mýdlových vločkách a kouři z komína. Držela jsem se sukně jejích šatů; byly to tmavě hnědé šaty a malými bílými tečkami. Ten odstín hnědé pro mě navždy zůstal odstínem bezpečí. Obludy, jež se skrývaly pod mojí postelí, mě nemohly odnést, dokud byla chůva nablízku.
Ve dne jsem do její sukně plakávala; když jsem byla hladová, utíkala jsem za ní. Moje chůva nikdy neřekla: "Sněz si , co máš sama na talíři." A nikdy neřekla: "Musíš se podělit s ostatními", anebo "Nebuď lakomá". Byli to mojí rodiče, kteří mě naučili myslet na ostatní. Moje chůva mě nikdy nic takového neučila. Učit dobrému a špatnému nebylo mezi jejími úkoly.
Nikdy mi nic nebrala; nikdy mi nikoho nedávala za příklad; nikdy mě nezesměšnila. Kdybych bila svoji sestru nebo se s ní hádala, tahala ji za vlasy anebo jí brala její hračky, chůva by jen počkala, až se bouřka přežene, a pak by mě odvedla do nějakého vzdáleného pokoje a zahrnula sladkostmi a koláčky. Chůva neměla žádnou představu o krajní mezi či spravedlnosti. Jí nebyla vlastní laskavost a dobrota, nýbrž čistá, všemocná láska.
Subscribe to PS Digital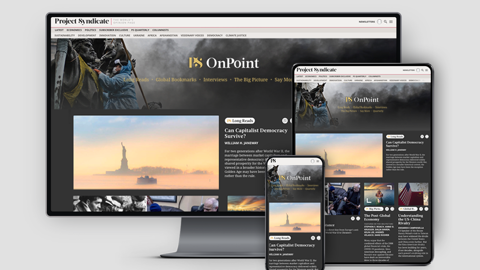 Subscribe to PS Digital
Access every new PS commentary, our entire On Point suite of subscriber-exclusive content – including Longer Reads, Insider Interviews, Big Picture/Big Question, and Say More – and the full PS archive.
Po dlouhý čas jsem si byla jistá, že naše "chůva" byla svého druhu pokrevní příbuznou. Můžeš být "babičkou" vonící po drahých parfémech s perlami na krku, ale také třeba "chůvičkou" vonící kouřem a olejem, s křížkem na nitce pod hnědými šaty. Jednou jsem se chůvy zeptala: "Věříš v Boha? Hned s tím přestaň! Žádný Bůh není! Kosmonauti tam nahoře žádného neviděli." Ale chůva je zamumlala: "On se nikdy neukazuje".
Naše chůva se nikdy nevdala; nikdy neměla své vlastní děti. Vychovala ale jiné děti. Slepě je milovala, nekonečně, a chránila je před každým větrem, hladem, obludami, rodiči a, to především, před ostatními lidmi. Pamatuji si jistý chlad mezi mým otcem a ní; dokonce jeden druhého ani nezdravil. Chůva ale milovala moji matku, protože moje matka byla kdysi jejím dítětem; občas se mi zdálo, že by byla schopna kohokoliv zabít, kdo by jen odvážil nám ublížit. Až několik let po její smrti jsem odhalila strašný zločin, kterého se pro nás dopustila.
Ve dnech nacistické blokády Leningradu, sebrala naše chůva pytlík městské mouky. Udělala to, když celý Leningrad zmíral hladem, kdy mrtvá těla ležela všude kolem a lidé jedli lidi. Sehnala pytlík mouky ve městě, kde se lidé vraždili pro kůrku chleba. Přešla zamrzlou řeku Něva během velkého bombardování, společně s dítětem, které jí bylo svěřeno do péče – třicetiletým bratrem mé matky. Pro všechny to tehdy byl již dospělý muž, ne však pro naši chůvu, pro kterou navždy zůstal jejím malým, růžovolícím, vystrašeným a uplakaným chlapcem.
Chůvin vlastní malý synovec během obležení Leningradu zemřel hlady. "Jak jsi to mohla dopustit? – ptala se moje babička. "Zachránila jsem Sergeje" – odpověděla chůva. "Jak jsi ale mohla opustit své vlastní příbuzné? – nedala se moje babička. "Ale zachránila jsem Sergeje". Chůva už naší rodinu do konce života neopustila. Vychovala sedm dětí mé matky a pět vnoučat; dožila se vysokého věku, aniž by kdy o něco požádala.
Nikdy jsem nikoho nemilovala na celém světě tak silně, jak jsem milovala svoji chůvičku. A nikdo nemiloval mě tak silně, jako ona milovala mě. Neudělala jsem nic, čím bych si její lásku zasloužila. Ba co víc: nebýt jí, nikdy bych byla nepoznala, že láska může být nekonečná. Bílé vlasy, hnědé šaty, krucifix na nitce – byla mým malým andělem strážným, jehož jsem dostala jen tak, zadarmo.
Inu, Ruská církev požehnala poslednímu carovi, ale zapomněla na jeho sloužící. Ovšem my bychom si měli pamatovat, jak se říká, kdo projde ouškem jehly, dojde spasení. Moskevský patriarcha byl se pravděpodobně v tomto příslovečném oušku zadřel, pro všechny jeho perlami obsypané ornáty, jeho zlato a Mercedes. V tomto ohavném století, ve kterém žijeme, nakonec jen ti bídní nebo věrní projdou skrz. Moje nevinná a prostá chůva, jež nikdy nezhřešila, jistě tímto ouškem jehly prošla, možná se ještě jednou zastavila, jen na okamžik, aby pohlédla zpět a naposledy zkontrolovala, jak se jejím dětem vede.