Finansowe Utrzymanie Małych Wysp
KINGSTOWN/APIA/WIKTORIA - Jest zbyt wcześnie, by stwierdzić, czy wszystkie rozmowy na temat reformy finansowania rozwoju podczas tegorocznych wiosennych spotkań Międzynarodowego Funduszu Walutowego i Banku Światowego przełożą się na znaczące działania polityczne dla krajów Globalnego Południa. Jednak wielostronne instytucje finansowe coraz częściej uznają potrzebę ewolucji, aby pozostać istotnymi w świetle nowych globalnych wyzwań, a światowi przywódcy zwracają uwagę na innowacyjne podejścia, takie jak Inicjatywa Bridgetown premier Barbadosu Mii Amor Mottley, mająca na celu zaspokojenie bezpośrednich potrzeb finansowych krajów dotkniętych zadłużeniem lub stymulacja Sekretarza Generalnego António Guterresa do realizacji Agendy na Rzecz Zrównoważonego Rozwoju 2030.
Lepiej późno niż wcale. Obecna międzynarodowa architektura finansowa jest przestarzała i nieprzystosowana do radzenia sobie z ogromnymi zakłóceniami spowodowanymi zmianami klimatu, globalnym spowolnieniem gospodarczym, pandemią COVID-19 oraz zmianami w dystrybucji dochodów napędzanymi rozwojem technologicznym i zglobalizowaną konkurencją. Unikalne cechy geograficzne i demograficzne małych, rozwijających się państw wyspiarskich (SIDS) - takich jak nasze kraje - jeszcze bardziej utrudniają radzenie sobie z tymi zakłóceniami.
Oddalenie krajów SIDS, w połączeniu z ograniczoną powierzchnią użytkową i niewielką populacją, gwarantuje znaczące bariery dla integracji w szybko rozwijającej się globalnej gospodarce. Nasze kraje są nadmiernie uzależnione od importu - zwłaszcza żywności i energii - często w dużym stopniu polegając na jednym sektorze gospodarki (zazwyczaj turystyce), co czyni nas podatnymi na zakłócenia w łańcuchu dostaw i inne zewnętrzne wstrząsy.
Organizacja Narodów Zjednoczonych od dawna uznaje naszą szczególną sytuację, ale społeczność międzynarodowa zrobiła niewiele, aby pomóc nam nią zarządzać. Nigdzie nie jest to bardziej widoczne niż w globalnym systemie finansowym, gdzie często jesteśmy pozostawieni sami sobie - "małe rybki" na łasce drapieżników, którzy czerpią duże zyski z przepakowywania naszego długu.
Problem polega na tym, że finansowanie koncesyjne jest przede wszystkim powiązane z tradycyjnymi miarami rozwoju, a mianowicie dochodem narodowym brutto (DNB) danego kraju. Jednak stosunkowo wysoki dochód krajów SIDS - ponad połowa z nich kwalifikuje się jako kraje o wyższym średnim dochodzie - uniemożliwia wielu z nich dostęp do taniego finansowania oferowanego krajom o najniższych dochodach. Wykorzystanie dochodu jako jedynego wyznacznika pomocy finansowej oznacza większe zadłużenie dla SIDS, które nieproporcjonalnie odczuwają skutki globalnego ocieplenia i innych wstrząsów zewnętrznych. Nie ma sposobu na uniknięcie tej sytuacji bez wiarygodnych ram, które uwzględniałyby te słabe punkty.
Wielowymiarowy Wskaźnik Podatności (MVI) - obecnie rozpatrywany przez Zgromadzenie Ogólne ONZ - może być ratunkiem. MVI - uniwersalny ranking oparty na podatności krajów rozwijających się na wstrząsy zewnętrzne - stanowi podstawę dla międzynarodowych instytucji, takich jak MFW i Bank Światowy, do przydzielania koncesjonowanego finansowania potrzebnego do przygotowania się i wyjścia z nieprzewidzianych kryzysów. Podczas gdy Inicjatywa Bridgetown odnosi się do bezpośredniego zagrożenia związanego ze zmianami klimatu, kraje SIDS mierzą wysoko we wszystkich trzech wymiarach podatności na zagrożenia: gospodarczym i społecznym, a także środowiskowym.
Subscribe to PS Digital Now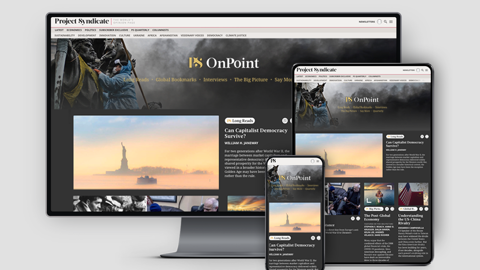 Subscribe to PS Digital Now
Access every new PS commentary, our entire On Point suite of subscriber-exclusive content – including Longer Reads, Insider Interviews, Big Picture/Big Question, and Say More – and the full PS archive.
Przykładowo, kryzys gazowy w Europie i wysoka inflacja w Stanach Zjednoczonych, napędzane przez wojnę na Ukrainie, zdominowały nagłówki gazet w ciągu ostatniego roku. Jednak konsekwencje gospodarcze wojny były szczególnie bolesne dla odległych państw wyspiarskich, takich jak Seszele, gdzie niedobór energii jest potęgowany przez wyższe koszty transportu. Wysoka inflacja i gwałtownie rosnące ceny biletów lotniczych odstraszyły europejskich turystów, podkopując ożywienie branży turystycznej w kraju po pandemii COVID-19, która jest kluczowym źródłem dochodów budżetowych.
Jeśli chodzi o wymiar społeczny, pandemia wywarła głęboki wpływ na Samoa i inne państwa wyspiarskie Pacyfiku. Niektórzy mogą twierdzić, że uniknęły one najgorszych skutków zdrowotnych COVID-19 ze względu na ich izolację. Należy jednak również wziąć pod uwagę ich ograniczenia, w tym ograniczoną zdolność do świadczenia usług zdrowotnych. Bez pracowników i obiektów potrzebnych do przetrwania fal infekcji, których doświadczyły większe kraje, państwa te zostały zmuszone do wdrożenia bardziej rygorystycznych środków blokujących na znacznie dłużej niż reszta świata. Społeczne, psychologiczne i ekonomiczne skutki tej polityki będą odczuwalne przez pokolenie lub dłużej.
Podczas gdy wyższe temperatury i podnoszący się poziom mórz stanowią poważne zagrożenie dla krajów SIDS, nie są to jedyne obawy środowiskowe. Ludność Saint Vincent i Grenadynów jest zdana na łaskę aktywnego wulkanu - tykającej bomby zegarowej, która ostatnio wybuchła w 2021 roku. Ponadto łańcuch wysp znajduje się w pasie huraganów na Atlantyku; burze te będą coraz silniejsze i częstsze w miarę pogłębiania się kryzysu klimatycznego. Kiedy PKB kraju może zostać zniszczony w jednej chwili, jak istotny jest dochód jako miara podatności na zagrożenia?
Prawdą jest, że DNB na mieszkańca pozostaje najbardziej wiarygodnym sposobem identyfikacji krajów najsłabiej rozwiniętych, które bardzo potrzebują pomocy finansowej i innych zasobów na preferencyjnych warunkach, aby móc samodzielnie funkcjonować. MVI nie ma na celu zastąpienia DNB ani ingerowania w udzielanie pomocy materialnej krajom, które najbardziej jej potrzebują. Zamiast tego ma na celu uzupełnienie tego procesu poprzez identyfikację krajów podatnych na zagrożenia, które również zasługują na finansowanie na preferencyjnych warunkach, ale obecnie nie mają do niego dostępu.
Reforma międzynarodowej architektury finansowej zawsze będzie wydawać się niewygodnym momentem. Ale architektura ta odmawia odpowiedniego schronienia wrażliwym krajom, takim jak nasze: jesteśmy zmuszani do płacenia premii za niesolidne zakwaterowanie. Jeśli wielostronne instytucje finansowe będą zbyt długo zwlekać z usunięciem wad konstrukcyjnych, cała struktura w końcu się rozpadnie.
Z angielskiego przetłumaczyła Marz McNamer