Microfinanciering voor klimaatweerbaarheid
LONDEN – Kwetsbare gemeenschappen krijgen het leeuwendeel van de klimaatverandering voor hun kiezen; van een stijgende zeespiegel en extreem weer tot steeds langere ernstige droogtes en overstromingen. Volgens de Wereldbank kan klimaatverandering zonder de juiste maatregelen tegen 2030 meer dan 100 miljoen mensen de armoede in gedreven hebben.
Om de meest kwetsbare gemeenschappen te helpen weerbaarder te worden tegen de effecten van klimaatverandering zouden financiële instituties het midden- en kleinbedrijf (MKB) moeten steunen. In opkomende economieën is het MKB verantwoordelijk voor 45% van de werkgelegenheid en tot 33% van het bbp – en deze getallen zijn nog significant hoger wanneer het informele MKB wordt meegeteld. Wanneer het MKB zijn eigen klimaatweerbaarheid opbouwt, kan dit katalyserende effecten op de gemeenschap eromheen hebben.
Helaas ervaren eigenaars van middelgrote of kleine bedrijven problemen om leningen van banken te krijgen en moeten ze zich in plaats daarvan wenden tot informele leningen en andere financieringsbronnen om hun bedrijven te ondersteunen. Volgens de Wereldbank heeft 50% van het officiële MKB geen toegang tot formeel krediet, en loopt het totale financieringstekort voor zowel het formele als informele MKB op tot 2,6 biljoen dollar wereldwijd. Ondanks dat dit tekort aanzienlijk varieert tussen verschillende landen is het vooral Afrika en Azië groot.
Microfinanciering kan dit gat dichten door in de kleine leningen te voorzien die het MKB nodig heeft om op te starten en tot bloei te komen. Volgens de OESO voorzien organen voor microfinanciering, inclusief nationale ontwikkelingshulporganisaties, banken, coöperaties, en non-profitorganisaties, al in basale financiële diensten voor meer dan 100 miljoen van 's werelds ondernemende armen, waarvan 90% vrouw is.
De rol van microfinanciering in het vergroten van de klimaatweerbaarheid van het MKB moet vollediger gedefinieerd worden. In Afrika, Azië, en Latijns-Amerika hebben microkredieten het MKB al in staat gesteld om in droogteresistente gewassen te investeren, om betere irrigatie aan te leggen, en om klimaatverzekering aan te schaffen om hun inkomen te beschermen wanneer oogsten mislukken vanwege te veel of te weinig regen.
Deze projecten hebben bewezen succes gehad. Volgens een evaluatie door de OESO, heeft 43% van de microfinancieringsactiviteiten in Bangladesh in 2010 de weerbaarheid van gemeenschappen vergroot. Deze projecten omvatten programma's voor leningen voor weerbestendige behuizing en droogte- en zouttolerante zaden, en hebben de klimaatweerbaarheid vergroot. In Nepal ondersteunt microfinanciering noodhulp bij natuurrampen en de voorbereiding hierop, de diversificatie van gewassen, en verbeterde toegang tot irrigatie. Microfinanciering kan ook de transitie van het MKB naar zakenmodellen met weinig gebruik van fossiele brandstoffen ondersteunen, door hun inspanningen om op hernieuwbare energiebronnen en op duurzame productie en aanvoerlijnen over te gaan te financieren.
Introductory Offer: Save 30% on PS Digital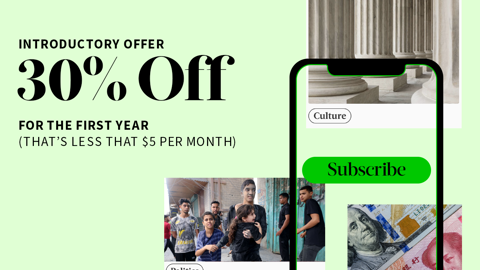 Introductory Offer: Save 30% on PS Digital
Subscribe now to gain greater access to Project Syndicate – including every commentary and our entire On Point suite of subscriber-exclusive content – starting at less than $5 per month.
Microfinanciering is niet de enige oplossing, en er zijn genoeg critici te vinden. Om zorgen over geld dat niet goed besteed zou worden weg te nemen zouden organisaties voor microfinanciering MKB-eigenaars die leningen gebruiken om klimaatweerbaarheid en projecten voor hernieuwbare energie te financieren moeten belonen. Dit hoeft helemaal geen uiting van sociale verantwoordelijkheid te zijn. In feite is zo een benadering volgens de Business en Sustainable Development Commission, waar ik voorzitter van ben, zelfs in het eigenbelang van verstrekkers van microkredieten.
De private sector moet in gaan zien dat de klimaatcrisis ook mogelijkheden biedt, vooral met betrekking tot het MKB. En sommigen in de private sector zien dit zelfs al in.
GSMA (een handelsorganisatie die honderden telecomoperators vertegenwoordigt en waarvan de algemeen directeur, Mats Granryd, lid is van de Business Commission) en haar leden faciliteren microfinanciering in landelijke gebieden. Met mobiele telefoons kunnen boeren snel informatie vinden die varieert van de prijzen van zaden tot weerpatronen, en ze hebben directe toegang tot de fondsen die ze nodig hebben om transacties te maken. Deze mobiel toegankelijk gemaakte informatie leidt tot betere besluitvorming, bespaart de boeren geld en vergroot hun weerbaarheid tegen extreme weerpatronen en droogte. En natuurlijk profiteren de mobiele providers ook van hun operaties in de uitgebreide plattelandsmarkt.
Er liggen ook mogelijkheden in peer-to-peer leennetwerken, waarbij onlinediensten leners direct met kredietverstrekkers verbinden. P2P microkredietplatforms zoals lendwithcare.org, Lendico, en RainFin blijken populair te zijn, en zouden de microfinancieringsgemeenschap nieuwe energie kunnen geven en een grotere toegang tot leningen voor het MKB in ontwikkelingslanden kunnen bieden. Financiële producten als weerderivaten – die oogsten verzekeren en de ondernemingen van het MKB en een deel van de armste mensen op aarde – hebben ook potentieel.
Als de wereld serieus is over het verzachten van de ergste effecten van de klimaatverandering - in het bijzonder de disproportionele impact op kwetsbare gemeenschappen - zouden zowel de publieke als private sector inspanningen moeten ondersteunen om microfinanciering voor het MKB uit te breiden. Zij die in de frontlijn van het beschermen van levens en levensonderhoud staan kunnen dit niet alleen volbrengen.
Vertaling Melle Trap