Verspil niet, Wil niet
ROME – Elk jaar verspillen of verliezen we 1,3 miljard ton aan voedsel; een derde van 's werelds jaarlijkse voedselproductie. De enorme schaal van dit getal is bijna onmogelijk te bevatten, hoe je het ook benadert. Probeer je 143.000 Eiffeltorens op elkaar gestapeld voor te stellen, of een berg van 10 biljoen bananen.
Dit getal is alleen nog maar ondoorgrondelijker omdat, naast deze gigantische verspilling en verlies, 840 miljoen mensen dagelijks chronische honger ondervinden. Nog vele miljoenen meer hebben 'stille honger'; ondervoeding en een tekort aan vitamines en mineralen.
Voor de meer economisch ingestelden is hier nog een getal: verspilling en verlies van voedsel kosten, uitgedrukt in producentenprijzen, ongeveer 750 miljard dollar per jaar. Als we het over verkoopprijzen zouden hebben en de bredere impact op het milieu (inclusief klimaatverandering) dan zou dit getal nog veel hoger uitvallen.
Het is in een tijdperk van soberheid moeilijk te begrijpen hoe zo'n enorm wegbloeden van hulpbronnen genegeerd kan worden. Het is zelfs zo dat op sommige plaatsen de hoeveelheid voedsel die verspild wordt aan het groeien is.
Nu focust een nieuw rapport van de Voedsel en Landbouworganisatie van de Verenigde Naties op een ander verontrustend aspect van het probleem: de negatieve consequenties voor het milieu en voor de natuurlijke hulpbronnen die we nodig hebben om te overleven.
Als voedsel verloren gaat of verspild wordt, worden de energie, het land en het water die gebruikt werden om het te produceren ook verspild. Tegelijkertijd worden grote hoeveelheden broeikasgassen in de atmosfeer gebracht tijdens de productie, de bewerking en het koken.
Subscribe to PS Digital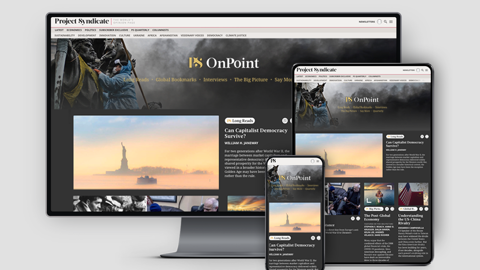 Subscribe to PS Digital
Access every new PS commentary, our entire On Point suite of subscriber-exclusive content – including Longer Reads, Insider Interviews, Big Picture/Big Question, and Say More – and the full PS archive.
Vanuit welk perspectief je het dan ook bekijkt (ethisch, economisch, het milieu, of in termen van voedselveiligheid), we kunnen een jaarlijkse verspilling van 1.3 biljoen ton voedsel gewoonweg niet tolereren. Dit is de reden dat de vermindering van verlies en verspilling van voedsel een van de vijf pijlers is van de 'Zero Hunger Challenge' van de secretaris-generaal van de VN Ban Ki-Moon en een belangrijk aandachtspunt van de High Level Task Force voor mondiale voedselveiligheid van de VN. We werken samen binnen de VN en met een brede coalitie van andere partners om het hele jaar rond universele toegang tot voldoende voedsel te verzekeren; om groeibelemmeringen bij kinderen uit te sluiten; om alle voedselsystemen duurzaam te maken en om armoede op het platteland uit te bannen.
Volgende week zal het 'Global Green Growth Forum' in Kopenhagen gelegenheid bieden om dieper op deze materie in te gaan. Er kan nog veel gedaan worden. Om te beginnen moet het verlies en de verspilling van voedsel gezien worden als een belangrijke beleidskwestie, in plaats van als een keuze van levensstijl die men in handen laat van individuele consumenten en hun geweten. De wereld moet zich bewust worden van de noodzaak tot beleid dat alle stappen in de voedselketen omvat, van productie tot consumptie.
Het verlies van voedsel (op boerderijen, tijdens de bewerking, het transport en op de markt) ondermijnt de voedselveiligheid in de meeste ontwikkelingslanden, waar het verlies na de oogst kan oplopen tot 40% van de productie. Het investeren in infrastructuur voor transport, opslag en marketing van voedsel is hard nodig, net zoals programma's om boeren de beste methoden te leren.
In de ontwikkelde landen moeten de voedselverkoopmethoden opnieuw overdacht worden. Zo is bijvoorbeeld de afwijzing van voedsel op basis van esthetische normen een grote oorzaak van verspilling. Sommige supermarkten zijn al begonnen om hun standaarden hoe fruit er uit zou moeten zien te versoepelen; ze verkopen 'misvormde' artikelen tegen gereduceerde prijzen en helpen zo de bewustwording te vergroten dat lelijk niet slecht betekent. Er zijn meer van dit soort benaderingen nodig en ook eensgezinde pogingen om afzetmarkten te vinden voor overtollig voedsel.
Bedrijven en huishoudens zouden moeten monitoren waar en hoe ze voedsel verspillen en hier stappen tegen moeten ondernemen, omdat het vermijden van verspilling nog belangrijker is dan recyclen of composteren.
Ja, 1,3 miljard ton is een verbijsterend getal. Maar deze simpele stappen zijn makkelijk te begrijpen en liggen binnen het bereik van iedereen. De wereld staat voor vele schijnbaar onhandelbare problemen; de verspilling van voedsel is een probleem waar we nu met z'n allen wel iets aan kunnen doen.
Vertaling: Melle Trap