Investice pro udržitelný růst
NEW YORK – Velkým zklamáním v dnešní světové ekonomice je nízká míra investic. Růst v zemích s vysokými příjmy během let směřujících k finanční krizi roku 2008 poháněly výdaje za bytovou výstavbu a soukromou spotřebu. Když udeřila krize, zřítily se oba typy výdajů a investice, které měly mezeru zaplnit, se nikdy nezhmotnily. To se musí změnit.
Po krizi se přední světové centrální banky pokusily oživit výdaje a zaměstnanost sražením úrokových sazeb. Tato strategie se v jistém rozsahu osvědčila. Zaplavením kapitálových trhů likviditou a držením tržních úrokových sazeb na nízké úrovni tvůrci politik povzbudili investory ke šroubování cen akcií a dluhopisů. To skrze kapitálové výnosy vytvořilo bohatství a zároveň povzbudilo spotřebu a – prostřednictvím počátečních veřejných nabídek – určité investice.
Tato politika ovšem narazila na své meze – a přinesla nepopiratelné náklady. Při úrokových sazbách na nule či dokonce pod nulou si investoři půjčují na vysoce spekulativní účely. Celková kvalita investic proto upadla a zároveň se prodloužila dluhová páka. Až centrální banky konečně zpřísní úvěry, bude hrozit riziko podstatných poklesů cen aktiv.
Jak se měnová politika hnala do krajnosti, vytratilo se zvýšení dlouhodobých investic do vysokorychlostních železnic, silnic, přístavů, nízkouhlíkové energetiky, nezávadné vody a sanitace, zdravotnictví a školství. Vzhledem k tomu, že veřejné investice drží zkrátka rozpočtová spořivost a soukromé investice brzdí zásadní nejistoty ohledně veřejné politiky a mezinárodního zdanění, tyto výdaje v zemích s vysokými příjmy obecně poklesly.
Navzdory slibům amerického prezidenta Baracka Obamy ohledně investic do vysokorychlostní železnice a další moderní infrastruktury, se během osmi let, kdy byl u moci, nepostavila ani míle rychlých tratí. Je načase proměnit slova v činy, ve Spojených státech i jinde, a zahájit novou éru vysokých investic do udržitelného rozvoje.
Takovou strategii čekají tři náročné úkoly: určit vhodné projekty, vypracovat ucelené plány, které zahrnou veřejný i soukromý sektor (často víc než jedné země), a strukturovat financování. Aby uspěly, vlády musí umět účinně dlouhodobě plánovat, rozpočtovat a realizovat projekty. V posledních dvaceti letech tyto schopnosti předvedla Čína (ovšem s významnými nedostatky v oblasti životního prostředí), kdežto USA ani Evropě se nedařilo. Nejchudším zemím přitom Mezinárodní měnový fond a další často říkali, aby to ani nezkoušely.
Subscribe to PS Digital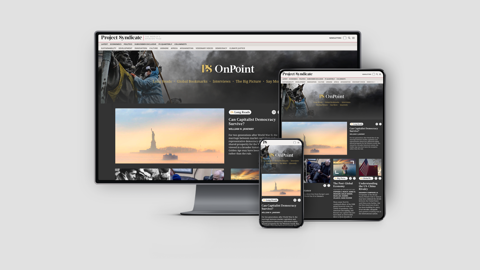 Subscribe to PS Digital
Access every new PS commentary, our entire On Point suite of subscriber-exclusive content – including Longer Reads, Insider Interviews, Big Picture/Big Question, and Say More – and the full PS archive.
Dnes se vládám dostává pomoci při překonávání alespoň jednoho ze stěžejních úkolů. Ke správným projektům je navedou Cíle udržitelného rozvoje (CUR) a pařížská klimatická dohoda.
Svět potřebuje rozsáhlé investice do nízkouhlíkových energetických soustav a ukončení výstavby nových uhelných elektráren. Dále potřebuje rozsáhlé investice do elektromobilů (a vyspělých baterií), doprovázené strmým úbytkem vozů se spalovacími motory. Především rozvojový svět potřebuje rovněž významné investice do vodovodních a sanitačních projektů v rychle rostoucích urbanizovaných oblastech. Konečně obzvlášť země s nízkými příjmy potřebují rozšířit zdravotnické a školské soustavy.
Dosáhnout pokroku u některých těchto cílů pomůže čínská iniciativa "jeden pás, jedna cesta" – jejímž cílem je propojit Asii s Evropou sítěmi moderní infrastruktury – za předpokladu, že se projekty budou plánovat s ohledem na budoucnost s nízkouhlíkovou energií. Tato iniciativa povzbudí zaměstnanost, výdaje a růst, zejména v pevninských ekonomikách napříč Eurasií. Měla by dokonce dodat novou dynamiku ekonomickým a diplomatickým vztahům mezi Evropskou unií, Ruskem a Čínou.
Podobný program je naléhavě potřebný v Africe. Africké země už sice určily prioritní investice do elektrifikace a dopravy, ale bez nové vlny investičních výdajů zůstane pokrok pomalý.
Úhrn výdajů afrických zemí jen do školství by se měl zvýšit o desítky miliard dolarů ročně; úhrn výdajů do infrastruktury by měl vyletět alespoň o sto miliard dolarů ročně. Tyto potřeby by se měly hradit většinou z dlouhodobých, nízce úročených půjček z Číny, Evropy a USA, jakož i z prostředků uvolněných z dlouhodobých úspor afrických zemí (například zavedením nového penzijního systému).
I Spojené státy a Evropa potřebují významné nové infrastrukturní programy. USA – kde byl poslední velký infrastrukturní projekt, národní dálniční soustava, dokončen v 70. letech minulého století – by měly klást důraz na investice do nízkouhlíkové energetiky, vysokorychlostní železnice a masového přijetí elektromobilů.
Co se týče Evropy, programem CUR by se pro EU měl stát Investiční plán pro Evropu Evropské komise, přezdívaný "Junckerův plán," podle předsedy Komise Jeana-Clauda Junckera. Měla by se zaměřit například na vytvoření celoevropské přenosové sítě pro nízkouhlíkovou energii a na masivní posílení výroby obnovitelné energie.
Aby pomohly s financováním takových programů, multilaterální rozvojové banky – například Světová banka, Asijská rozvojová banka a Africká rozvojová banka – by si za převládajících nízkých úrokových sazeb měly vzít výrazně víc dlouhodobého dluhu od kapitálových trhů. Tyto prostředky by pak měly půjčit vládám a partnerským investičním subjektům veřejného a soukromého sektoru.
Vlády by měly vybírat postupně narůstající uhlíkové daně a výnosů využívat k financování systémů nízkouhlíkové energetiky. Nadto je třeba zatmelit nehorázné díry v globální soustavě firemních daní a tím celosvětový výnos z firemních daní posílit o zhruba 200 miliard dolarů ročně, ne-li víc. (Americké společnosti v současnosti sedí na bezmála dvou bilionech dolarů v zahraničních fondech, které je zapotřebí konečně zdanit.) Přírůstek výnosů by se měl alokovat na nové veřejné investiční výdaje.
U nejchudších zemí by velká část potřebných investic měla přijít prostřednictvím posílené oficiální rozvojové pomoci. Existuje několik způsobů jak tyto peníze navíc na rozvojovou pomoc získat snížením vojenských výdajů, mimo jiné ukončením válek na Blízkém východě, pevným rozhodnutím ustoupit od příští generace jaderných zbraní, seškrtáním amerických vojenských základen v zahraničí a předejitím americko-čínským závodům ve zbrojení skrze posílenou diplomacii a spolupráci. Výslednou mírovou dividendu by bylo zapotřebí napumpovat do zdravotní péče, školství a infrastruktury v dnešních zbídačených a válkou zmítaných regionech.
Udržitelný rozvoj není jen přání a slogan; nabízí jedinou realistickou cestu ke globálnímu růstu a vysoké zaměstnanosti. Je načase jí věnovat pozornost – a investice –, které si zaslouží.
Z angličtiny přeložil David Daduč