Stát si bere zpět energetiku
LONDÝN – Ačkoliv na dnešním globálním energetickém trhu převažuje nejistota, jedna věc začala být zřejmá: vlády opět přebírají stěžejní roli. Motiv je spíše pragmatický než ideologický a detaily se stát od státu liší, avšak trend je nezpochybnitelný. Vlády všech politických směrů si berou zpět kontrolu nad trhem, který v minulosti do značné míry uvolnily soukromým firmám a ponechaly si na něm jen omezenou regulaci. V mnoha západních ekonomikách jde dost možná o největší posun v rovnováze veřejné a soukromé ekonomické moci od druhé světové války.
Tato nově nalezená asertivita státu pramení zčásti z obrovského růstu cen, kvůli němuž hrozí rozsáhlá energetická chudoba a kolaps některých energeticky náročných provozů. Po letech nedostatečných investic v tomto sektoru způsobil vzestup poptávky po energiích po skončení pandemie covid-19 zákonitě skokový nárůst cen, zejména v Asii. Cena zemního plynu pro spotřebitele v Evropské unii vzrostla ve druhé polovině roku 2021 o 12%.
To však bylo jen předznamenání současného cenového spurtu, který je výsledkem ruské invaze na Ukrajinu. Unijní plán snížit dovoz ruského plynu o dvě třetiny do roku 2023 v kombinaci se snížením ruských dodávek do zemí, jako jsou Německo a Finsko, vyvolaly pětinásobné zvýšení evropské referenční ceny během 12 měsíců do června letošního roku. Podle jednoho odhadu měly být průměrné spotřebitelské účty za energii ve Velké Británii – která dováží málo ruského plynu, ale 50% svých denních potřeb pokrývá na globálním trhu – do začátku letošního roku čtyřikrát vyšší oproti úrovni z roku 2021.
Druhým silným faktorem nutícím vlády k intervenci jsou klimatické změny. Na vzestupu poptávky po energiích v uplynulém roce se podílelo hlavně uhlí, které je i nadále převládajícím energetickým zdrojem v Asii, což způsobilo, že emise skleníkových plynů se vrátily na úroveň před pandemií. Navzdory silnému růstu obnovitelných zdrojů, jako jsou větrná a sluneční energie, je vzhledem k přetrvávající závislosti světa na uhlovodících zjevné, že bez dalších vládních zásahů budou emise i v několika nadcházejících letech stoupat.
Žádnou z těchto výzev nemohou vyřešit tržní síly samotné. Bez ocenění uhlíku nebo jiných regulačních opatření, jež mohou zavést jedině vlády, budou lidé dál používat benzinové automobily. Tržní síly také nemohou příliš pomoci rodinám, které se potýkají s náhlým vzestupem ceny nepostradatelné komodity. Trhy rovněž nemohou přerozdělit nečekaný profit firem jako Saudi Aramco, která ve druhé čtvrtině letošního roku vykázala rekordní zisk ve výši 48,4 miliardy dolarů, a tak pomoci mnoha menším firmám, pro něž je energie klíčovým vstupem.
Státní intervence do energetického trhu mají mnoho různých podob. Německá vláda například ohlásila plány na využití 2% pozemků v zemi k produkci větrné energie a koncipuje krizová přídělová schémata, aby nějak zvládla očekávané zimní energetické výpadky po zastavení dodávek plynu Ruskem. Všechny britské domácnosti zase na počátku krize obdržely přímou pomoc ve výši 400 liber, která jim měla pomoci pokrýt rostoucí účty za energii a jež byla zčásti financována z výnosu daně z neočekávaných zisků ropných a plynárenských producentů. Ukázalo se však, že tento příspěvek je nedostatečný, a tak Liz Trussová po nástupu do funkce premiérky zastropovala ceny energií pro domácnosti na dva roky a nabídla krátkodobou podporu firemním odběratelům. Ve snaze zvýšit domácí nabídku energií pak poskytla nové licence na těžbu ropy a plynu v Severním moři a zrušila moratorium na frakování. Na zelené agendě Velké Británie se na papíře nic nemění a žádné nové automobily s benzinovým či naftovým pohonem nedostanou od roku 2030 povolení k provozu, přičemž vládní intervence se prozatím zaměřuje na kontrolu cen a zvýšenou produkci uhlovodíků.
CYBER MONDAY SALE: Save $35 on all new PS subscriptions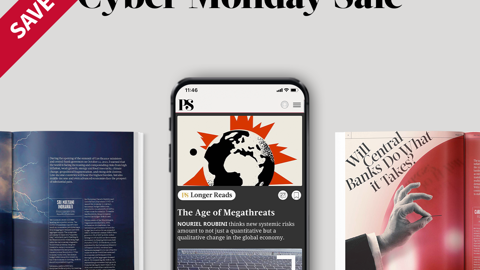 CYBER MONDAY SALE: Save $35 on all new PS subscriptions
For a limited time, you can subscribe to PS for as little as $49.99. Click the button below to find the subscription tier that is right for you.

Na druhé straně Atlantiku nedávno americký prezident Joe Biden prosadil zákon o snížení inflace, který poskytuje 27 miliard dolarů na pomoc nízkopříjmovým a středněpříjmovým americkým domácnostem s přechodem na čistší energie a zároveň poskytuje finance na udržení provozu prodělečného sektoru jaderné energetiky. Francouzský prezident Emmanuel Macron pokračuje v úplném zestátňování energetické společnosti EDF, někdejší vlajkové lodi francouzské průmyslové síly, která už dvě desetiletí trpí manažerskými a technickými přehmaty. A ve Francii i ve velké části kontinentální Evropy se zpřísňuje kontrola nad cenami energií.
Tyto i mnohé další nedávné vládní iniciativy jsou bohužel jen útržkovitými reakcemi na zásadní problémy spojené s energetickou nejistotou a klimatickými změnami. Až příliš mnoho opatření je nedostatečně promyšlených, poskytuje za peníze příliš málo hodnoty a nedokáže řešit hlubší překážky změn.
Významný přechod na elektromobily má například logiku pouze v případě, že budou k dispozici jak dobíjecí sítě, tak bezpečné dodávky pokročilých materiálů, na které jsou elektromobily odkázané. Malé hotovostní příspěvky poskytované všem jsou zase nákladné a neřeší otázku koncentrované dlouhodobé energetické chudoby. A politika na zvýšení produkce větrné energie nemá význam, pokud není k dispozici infrastruktura, která si poradí s dodávkami elektřiny přicházejícími z mnoha různých míst.
Vlády sahají po krátkodobých řešeních, aby ukázaly, že jednají. Výsledná politika však nebývá vždy nejlevnější či nejefektivnější a u mnoha opatření nakonec vyjde najevo, že jsou jen dočasnými záplatami. V žádné z výše uvedených zemí neexistuje jasný konsensus v otázce podoby dlouhodobé energetické politiky.
Trend k větším vládním zásahům do energetického sektoru je však jasně daný. A jakmile začnou vycházet najevo limity konkrétních politik, zareagují na to politici většími intervencemi, nikoliv naopak. Role státu se bude muset dále zvýšit mimo jiné i proto, aby se nějak vyřešil vzniklý propad investic. K uspokojení budoucí poptávky po všech formách energie a s nimi spojené infrastruktuře budou zapotřebí další prostředky. Financování přechodu na nízkouhlíkovou ekonomiku si vyžádá obrovské částky.
Je pravděpodobné, že hlavním zdrojem nezbytného kapitálu budou vlády, které zároveň poskytnou garance a dotace soukromému sektoru. Není však ani zdaleka jisté, zda vlády, jejichž finance jsou už nyní napnuté v důsledku covid-19, zareagují dostatečně. Ve Velké Británii slíbila opoziční Labouristická strana, která má v současnosti výrazný náskok v předvolebních průzkumech, že založí novou veřejnou energetickou společnost Great British Energy, která do roku 2030 vytvoří sektor bezuhlíkové elektřiny.
Žádné z těchto řešení není receptem na ideální výsledek. Úkol zajistit trvalé a dostupné dodávky energie je příliš důležitý, než aby se mohl přenechat trhu, a příliš složitý, než aby ho převzali ministři a úředníci. Zapojení obou složek je nezbytné, ale žádná z nich sama o sobě nestačí.
Logika ukazuje na projekty spolupráce, v jejichž rámci vlády stanoví energetické cíle a standardy a soukromé firmy soutěží o to, aby se mohly podílet na plnění obecných cílů. Dosažení takové spolupráce a rovnováhy se však v současné době jeví spíše jako vzdálená touha.
Z angličtiny přeložil Jiří Kobělka