Německé sluneční snílkovství
KODAŇ – V Německu spěje k hořkému konci jeden z největších veřejně-politických experimentů se zelenou energií na světě a politici v ostatních zemích by si z něj měli vzít důležitá ponaučení.
Německo se kdysi pyšnilo titulem "fotovoltaického světového šampiona", když rozdělovalo občanům štědré dotace – jejich celková výše dosáhla podle výzkumu německé Porúrské univerzity více než 130 miliard dolarů –, aby investovali do sluneční energie. Nyní však německá vláda slibuje, že dotace seškrtá dříve, než plánovala, a že během následujících pěti let podporu ukončí. Co se stalo?
S dotacemi neefektivních zelených technologií je jeden zásadní problém: jsou dostupné, pouze pokud se přidělují v miniaturních, symbolických objemech. Němci však v loňském roce instalovali 7,5 gigawattů fotovoltaické (PV) kapacity, což byl více než dvojnásobek výkonu, který vláda pokládala za "přijatelný". Odhaduje se, že pouze kvůli tomuto zvýšení zaplatí průměrný odběratel za elektrickou energii o 260 dolarů ročně více.
Podle týdeníku Der Spiegel dnes dokonce i členové kabinetu kancléřky Angely Merkelové popisují tuto politiku jako mohutnou bezednou jámu. Německý ministr hospodářství a technologií Philipp Rösler označil raketově se zvyšující sluneční dotace za "hrozbu pro ekonomiku".
Německé nadšení pro solární energii je pochopitelné. Kdybychom dokázali plně zachytit jen jednu hodinu sluneční energie, uspokojili bychom celkovou světovou potřebu energie na celý rok. A dokonce i při malé účinnosti současných PV technologií bychom dokázali uspokojit celosvětovou poptávku po energii pomocí solárních panelů pokrývajících plochu 250 000 čtverečních kilometrů, což je zhruba 2,6% rozlohy Saharské pouště.
Německo – podobně jako většina světa – není bohužel tak slunečné jako Sahara. A ačkoliv je sluneční světlo zdarma, panely a instalace nikoliv. Sluneční energie je nejméně čtyřikrát nákladnější než energie vyrobená z fosilních paliv. Navíc má tu výraznou nevýhodu, že není k dispozici večer a v noci, kdy se spotřebovává velká část elektrické energie.
Introductory Offer: Save 30% on PS Digital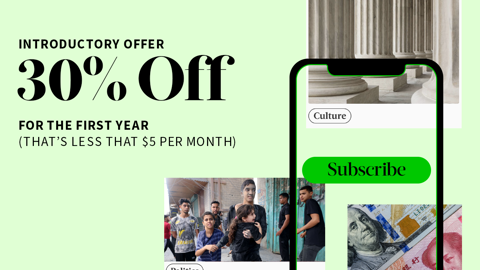 Introductory Offer: Save 30% on PS Digital
Subscribe now to gain greater access to Project Syndicate – including every commentary and our entire On Point suite of subscriber-exclusive content – starting at less than $5 per month.
Jak uvedlo Německé sdružení fyziků, "solární energie nemůže nahradit jakékoliv dodatečné elektrárny". Během krátkých a zatažených zimních dnů nedokáže 1,1 milionu německých solárních systémů generovat vůbec žádnou elektřinu. Země je pak nucena dovážet značné množství elektřiny z jaderných elektráren ve Francii a v České republice. A když uplynulou zimu odmítlo svítit slunce, jeden nouzový záložní plán oživil rakouskou elektrárnu na mazut, která měla nahradit výpadek v dodávkách.
Navzdory mohutným investicím představuje sluneční energie pouze asi 0,3% celkové spotřeby energie v Německu. Je to jeden z klíčových důvodů, proč dnes Němci platí za elektřinu druhou nejvyšší cenu v rozvinutém světě (překonává je pouze Dánsko, které si klade za cíl stát se "světovým šampionem ve větrné energii"). Němci platí třikrát více než jejich americké protějšky.
Tyto rozsáhlé investice navíc dělají pozoruhodně málo pro boj s globálním oteplováním. I při nerealisticky velkorysém předpokladu přináší solární energie v čistém výsledku snížení emisí CO2 v Německu zhruba o osm milionů tun – čili asi o 1% – během příštích 20 let. Když se tyto dopady zakalkulují do standardního klimatického modelu, je výsledkem snížení průměrné teploty o 0,00005oC (tedy o jednu dvacetitisícinu stupně Celsia). Jinak řečeno: německé dotace do solárních panelů v objemu 130 miliard dolarů pozdrží do konce století zvýšení teploty o 23 hodin.
Při využití sluneční energie platí Německo zhruba 1000 dolarů za snížení objemu CO2 o jednu tunu. Současná cena CO2 v Evropě je 8 dolarů. Německo tedy mohlo za stejnou cenu odbourat 131krát více CO2. Místo toho Němci na každém euru investovaném do solárních panelů promrhají více než 99 centů.
A to nejhorší teprve přijde: protože je Německo součástí Systému EU pro obchodování s emisemi, jsou skutečným důsledkem existence extra solárních panelů v Německu nulové redukce CO2, protože celkové množství emisí je už zastropované. Místo toho Němci jednoduše umožňují jiným částem EU emitovat více CO2. Německé solární panely tak pouze zlevnily spalování uhlí Portugalsku či Řecku.
Obhájci německých solárních dotací také tvrdí, že přispěli k vytvoření "zelených pracovních míst". Každé pracovní místo vytvořené zelenou energetickou politikou však stojí v průměru 175 000 dolarů – to je podstatně více než cena za tvorbu pracovních míst v jiných částech ekonomiky, jako jsou infrastruktura nebo zdravotnictví. A mnoho "zelených pracovních míst" se navíc vyváží do Číny, což znamená, že Evropané dotují čínská pracovní místa s nulovým snížením CO2.
Německý experiment s dotacemi neefektivní solární technologie selhal. Vlády by se raději měly zaměřit nejprve na zintenzivnění výzkumu a vývoje, aby učinily zelené technologie levnějšími a konkurenceschopnějšími. Výroba by se měla posílit později.
Prozatím zaplatili Němci asi 130 miliard dolarů za klimatickou politiku, která nemá žádný dopad na globální oteplování. Dotují čínská pracovní místa a závislost jiných evropských zemí na špinavých zdrojích energie. A zbytečně zatížili vlastní ekonomiku. Jak pravděpodobně dosvědčí i mnoho německých představitelů, vlády v jiných koutech světa si nemohou dovolit zopakovat stejnou chybu.