Wie hebben het meest te lijden onder de klimaatverandering?
SEATTLE – Een paar jaar geleden bezochten Melinda en ik een groep rijstboeren in het Indiase Bihar, een van de regio's van het land die het meest te kampen hebben met overstromingen. Ze waren allemaal bijzonder arm, en afhankelijk van de door hen verbouwde rijst voor de voeding en ondersteuning van hun gezinnen. Ieder jaar zwollen de rivieren op na de komst van de moessonregens, en dreigden zij hun land te overstromen en hun gewassen te verwoesten. Toch waren de boeren bereid er alles onder te verwedden dat hun boerderij zou worden gespaard. Het was een gok die ze vaak verloren. Na de verwoesting van hun gewassen vluchtten ze dan naar de stad op zoek naar werk, om hun gezin te kunnen voeden. Maar het jaar daarop kwamen ze weer terug – dikwijls armer dan toen ze vertrokken – om het opnieuw te proberen.
Ons bezoek herinnerde ons er weer eens aan dat het leven voor de armste boeren ter wereld zoiets als koorddansen is zonder vangnet. Ze hebben geen toegang tot verbeterde zaden, mest, irrigatiesystemen en andere voordelige technologieën, zoals de boeren in de rijke landen die wel hebben – en zij hebben ook geen oogstverzekering om zichzelf tegen verliezen te beschermen. Er is maar één geval van tegenslag – droogte, overstromingen of ziekte – voor nodig om ze nog dieper in de armoede en de honger te storten.
De klimaatverandering staat op het punt een nieuwe risicolaag aan hun levens toe te voegen. De komende decennia zullen de stijgende temperaturen leiden tot grote ontwrichtingen van de landbouw, vooral in tropische gebieden. Gewassen zullen niet willen groeien door te weinig of te veel regenval. Ziekten zullen welig tieren in de warmere klimaatzones en gewassen vernietigen.
Boeren in rijkere landen zullen ook veranderingen ervaren. Maar zij hebben de middelen en genieten de steun om deze risico's te kunnen opvangen. De armste boeren ter wereld komen iedere dag meestal met lege handen thuis. Dat is de reden dat van alle mensen die onder de klimaatverandering zullen lijden, zij waarschijnlijk het meest te verduren zullen krijgen.
Arme boeren zullen de pijn van deze verandering voelen op het moment dat de wereld hun hulp hard nodig heeft om de groeiende bevolking te kunnen voeden. Tegen 2050 zal de mondiale vraag naar voedsel naar verwachting met 60% zijn gestegen. Afnemende oogsten kunnen het mondiale voedselsysteem onder druk zetten, de honger doen toenemen en afbreuk doen aan de enorme vooruitgang die de wereld de afgelopen halve eeuw tegen de armoede heeft geboekt.
Ik ben optimistisch dat we de ergste gevolgen van de klimaatverandering kunnen tegengaan en de wereld kunnen voeden – als we nu iets doen. Er is dringend behoefte aan investeringen door overheden in nieuwe schone energie-innovaties waardoor de broeikasgasemissies drastisch zullen worden teruggedrongen en de stijgende temperaturen een halt zal worden toegeroepen. Tegelijkertijd moeten we erkennen dat het te laat is om alle gevolgen van de hogere temperaturen te pareren. Zelfs als de wereld volgende week een goedkope, schone energiebron ontdekt, zou het nog de nodige tijd kosten voor we van onze door fossiele brandstoffen aangedreven gewoonten af zijn en zijn overgestapt op een koolstofvrije toekomst. Dat is de reden dat het van cruciaal belang is dat de wereld investeert in pogingen om de armsten te helpen zich aan te passen.
Subscribe to PS Digital Now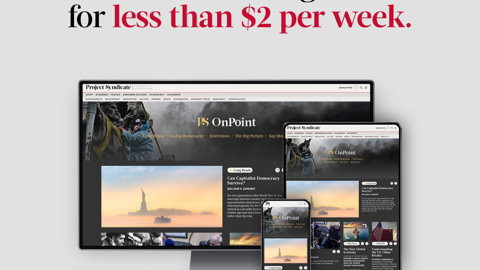 Subscribe to PS Digital Now
Access every new PS commentary, our entire On Point suite of subscriber-exclusive content – including Longer Reads, Insider Interviews, Big Picture/Big Question, and Say More – and the full PS archive.
Veel middelen die zij nodig hebben zijn vrij fundamenteel van aard – dingen die zij sowieso nodig zullen hebben om meer voedsel te kunnen verbouwen en meer inkomen te genereren: toegang tot financiering, betere zaden, meststoffen, training en markten waar zij kunnen verkopen wat ze verbouwen.
Andere middelen zijn nieuw en afgestemd op de behoeften die voortvloeien uit een veranderend klimaat. De Gates Foundation en zijn partners hebben samengewerkt om nieuwe variëteiten van gewassen te ontwikkelen, die zelfs groeien in tijden van droogte of overstromingen. De rijstboeren die ik in Bihar ontmoette verbouwen nu bijvoorbeeld een nieuwe variëteit rijst – bijgenaamd 'scuba'-rijst – die goed is bestand tegen overstromingen en twee weken onderwater kan staan. Ze zijn erop voorbereid dat veranderingen in het weerpatroon meer overstromingen in de regio zullen veroorzaken. Andere rijstvariëteiten worden ontwikkeld die tegen droogte, hitte, kou en bodemproblemen als zoutbesmetting kunnen.
Al deze inspanningen kunnen levens veranderen. Het komt vaak voor dat deze boeren hun oogst en hun inkomen verdubbelen of verdrievoudigen als zij toegang hebben tot de voordelen die boeren in de rijke wereld als vanzelfsprekend beschouwen. De nieuwe welvaart stelt hen in staat hun dieet te verbeteren, in hun boerderijen te investeren en hun kinderen naar school te sturen. Hun levens staan dan ook niet meer zo onder druk, zodat ze een gevoel van veiligheid ervaren, zelfs als ze een slechte oogst hebben.
Er zullen ook dreigingen uit de klimaatverandering voortvloeien die we nu nog niet kunnen voorzien. Om daarop voorbereid te zijn moet de wereld het onderzoek versnellen naar zaden en steun voor kleine boeren. Een van de meest opwindende innovaties om boeren te helpen is satelliettechnologie. In Afrika gebruiken onderzoekers satellietbeelden voor het maken van gedetailleerde bodemkaarten, die boeren kunnen vertellen welke variëteiten van gewassen het op hun land goed zullen doen.
Toch kan beter zaaigoed of een nieuwe technologie het leven van boerenfamilies pas veranderen als ze deze zaken zelf in de hand hebben. Een aantal organisaties, waaronder een non-profitgroep genaamd One Acre Fund, is bezig manieren te bedenken om ervoor te zorgen dat boeren hun voordeel kunnen doen met deze oplossingen. Het One Acre Fund werkt nauw samen met ruim 200.000 Afrikaanse boeren, en biedt toegang tot financiering, gereedschap en training. In 2020 wil het fonds een miljoen boeren bereiken.
In de Annual Letter van dit jaar hebben Melinda en ik voorspeld dat Afrika zichzelf over vijftien jaar zal kunnen voeden. Zelfs ondanks de risico's van de klimaatverandering is dat een voorspelling waaraan ik vasthoud.
Ja, arme boeren hebben het zwaar. Hun levens zijn puzzels met zó veel stukjes die op de juiste plaats moeten komen – van het planten van de juiste zaden en het gebruiken van de juiste mest tot het krijgen van training en het vinden van een plaats om hun oogst te verkopen. Als ook maar één stukje op de verkeerde plek terecht komt, kan hun leven al uit elkaar vallen.
Ik weet dat de wereld in staat is om te helpen deze puzzelstukjes op hun plaats te krijgen, zowel als het gaat om de uitdagingen die zich vandaag voordoen als in het geval van de uitdagingen waarmee zij morgen geconfronteerd kunnen worden. Het belangrijkste is dat ik weet dat de boeren dat ook weten.
Vertaling: Menno Grootveld