Nie Stal Lecz Żywność Jest Największym Wyzwaniem Klimatycznym
LONDYN – Dyskusje na temat polityki klimatycznej często koncentrują się na tym, kto poniesie koszty osiągnięcia gospodarki o zerowej emisji dwutlenku węgla, ze szczególnym uwzględnieniem sektorów przemysłowych, takich jak stal i cement. Ale ogólne koszty są uderzająco niskie, a naszym największym wyzwaniem jest system żywnościowy, a nie produkty przemysłowe.
Na przykład najnowszyraport Komisji ds. Zmian Klimatu Zjednoczonego Królestwa pokazuje, że zmniejszenie brytyjskiej emisji gazów cieplarnianych do zera netto do 2050 r. zmniejszyłoby brytyjski PKB tylko o 0,5%. Raport Komisji ds. Transformacji Energetycznych "MakingMissionPossible" szacuje podobny całkowity koszt 0,5% światowego PKB w celu zmniejszenia emisji z systemów energetycznych, budowlanych, przemysłowych i transportowych do zera do połowy stulecia.
Te kosztorysy są znacznie niższe od kosztorysów przedstawionych w poprzednich badaniach. W przełomowym przeglądzie Sterna na temat ekonomiki zmian klimatycznych, opublikowanym w 2006 r., zasugerowano koszty rzędu 1-1,5% PKB, aby osiągnąć jedynie 80% redukcję emisji.
Ta mile widziana zmiana odzwierciedla dramatyczny i nieoczekiwany spadek kosztów kluczowych technologii - kosztyenergiiwiatrowejnalądziespadłyo 60% w ciągu zaledwie dziesięciu lat, ogniwa fotowoltaiczne o ponad 80%, a baterieo 85%. Koszty te są obecnie tak niskie, że stosowanie produktów i usług o zerowej emisji dwutlenku węgla w wielu sektorach poprawi sytuację konsumentów.
[Wykres]
Na przykład przyszłe "całkowite koszty systemowe" związane z eksploatacją systemów energii elektrycznej o niemal zerowej emisji dwutlenku węgla - łącznie z magazynowaniem i elastycznością wymaganą w przypadku nieprzewidywalnych źródeł, takich jak wiatr i energia słoneczna - będą często niższe niż w przypadku dzisiejszych systemów opartych na paliwach kopalnych. W ciągu dziesięciu lat konsumenci na całym świecie będą kupować więcej samochodów elektrycznych, płacąc za pojazdy nieco mniej i znacznie mniej za energię, która je napędza, niż za kupowany obecnie olej napędowy i benzynę.
Subscribe to Project Syndicate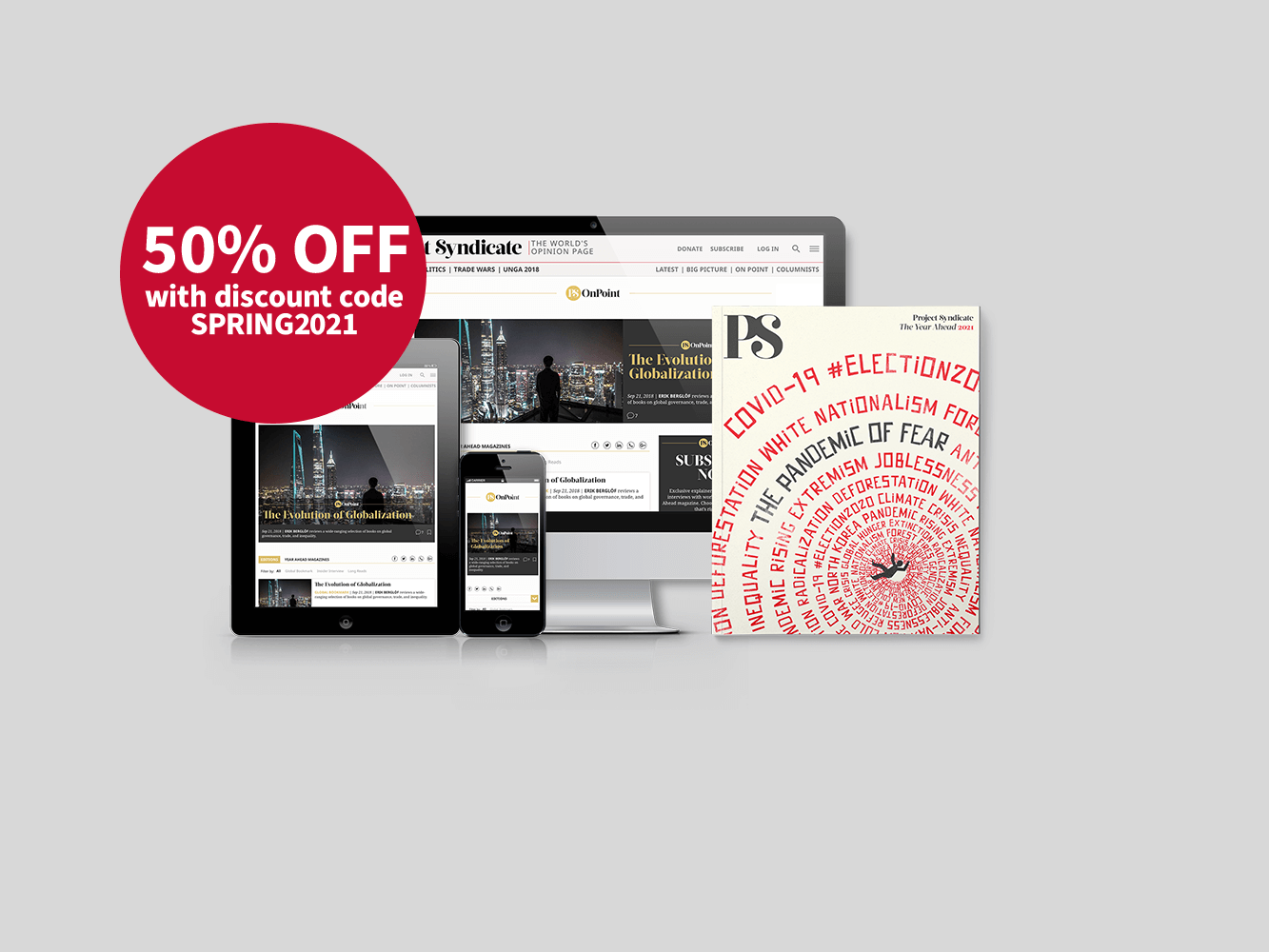 Subscribe to Project Syndicate
Enjoy unlimited access to the ideas and opinions of the world's leading thinkers, including weekly long reads, book reviews, topical collections, and interviews; The Year Ahead annual print magazine; the complete PS archive; and more. All for less than $5 a month.
Jednak w niektórych trudniejszych sektorach jak stal, cement i żegluga, dekarbonizacja może wiązać się ze znacznymi kosztami. Na długo przed 2050 rokiem stal o niskiej zawartości węgla może być produkowana przy użyciu wodoru jako środka redukującego zamiast węgla koksowego lub poprzez dodanie wychwytywania i składowania dwutlenku węgla do tradycyjnych wielkich pieców. Może to jednak spowodować wzrost kosztów o 25%, czyli około 100 USD za tonę stali. Statki dalekobieżne mogą być zasilane amoniakiem lub metanolem, ale koszty paliwa mogą wzrosnąć o ponad 100%, a stawki frachtowe o 50%. Jak ujął to BillGates w swojej nowej książce JakUniknąćKatastrofyKlimatycznej, w niektórych sektorach mamy do czynienia z "ekologiczną premią kosztową" w porównaniu z dzisiejszą technologią emitującą dwutlenek węgla.
Dlatego konieczne jest skoncentrowanie badań i rozwoju oraz inwestycji kapitału podwyższonego ryzyka na przełomowych technologiach, które mogą obniżyć tę premię. Ale ważne jest również, aby zdać sobie sprawę, że nawet jeśli utrzyma się "zielona premia," koszt dekarbonizacji tych sektorów będzie tak mały, że konsumenci prawie tego nie zauważą.
Zadaj sobie pytanie, ile stali kupiłeś w zeszłym roku. Jeśli nie jesteś menedżerem ds. zakupów, odpowiedź prawdopodobnie nie będzie prosta. Konsumenci kupują pośrednio stal zawartą w produktach i usługach, które konsumują - w samochodach, pralkach lub usługach zdrowotnych świadczonych w szpitalu zbudowanym ze stali. Dane z World Steel Association wskazują, że "rzeczywiste zużycie stali na osobę" wynosi 300-400 kilogramów (661-882 funtów) rocznie w Europie i Stanach Zjednoczonych. Tak więc, gdyby cena stali wzrosła o 100 USD za tonę, sytuacja konsumentów byłaby tylko o 30-40 USD gorsza.
Ten mały koszt odzwierciedla zasadniczą różnicę między zieloną premią od dóbr pośrednich a "zieloną premią konsumencką" od produktów końcowych. Wzrost ceny stali nawet o 25% doda mniej niż 1% do cen samochodów. Stawki frachtowe mogą wzrosnąć o 50%, ale spowodowałoby to wzrost cen importowanych ubrań lub żywności o równie niewielką kwotę.
Jednak wyższe koszty półproduktów nadal stanowią poważne wyzwanie polityczne. Przedsiębiorstwo stalowe, które zobowiązuje się do osiągnięcia zerowej emisji dwutlenku węgla, znajdzie się w bardzo niekorzystnej sytuacji, jeśli jej konkurenci tego nie zrobią. Nałożenie ceny emisji dwutlenku węgla na sektory przemysłu ciężkiego mogłoby rozwiązać ten problem, ale tylko wtedy, gdy cena ta byłaby stosowana na całym świecie lub w połączeniu z granicznymi taryfami za emisję dwutlenku węgla wobec krajów, które nie chcą ich nakładać.
W żegludze regulacje Międzynarodowej Organizacji Morskiej mogłyby zapewnić, że wszystkie firmy będą działać w harmonii, a wpływ na koszty konsumenckie będzie mały.
Z kolei ceny żywności i preferencje żywieniowe konsumentów to nie małe kwestie. Niewielu z nas kupuje stal bezpośrednio, ale wszyscy kupują żywność, która nawet w krajach bogatych stanowi 6-13% całkowitychwydatkówgospodarstwdomowych i znacznie więcej dla grup o niższych dochodach. Dla konsumentów 10% premii ekologicznej za żywność miałaby większe znaczenie niż nawet 100% premii za stal.
Ponadto w sektorze spożywczym produkcja mięsa jest wysoce emisyjna. Emisje metanu ze zwierząt hodowlanych i obornika mają efekt globalnego ocieplenia większy niż trzy gigaton dwutlenku węgla z produkcji stali, a dodatkowe pięć gigaton CO2 wynika ze zmian w użytkowaniu gruntów, jak przekształcenie lasu w produkcję soi na paszę dla zwierząt.
Tutaj również rozwiązania technologiczne mogą być możliwe, ale inne duże wyzwania nadal pozostają. Konsumenci nie przejmują się specyfiką stali, którą konsumują pośrednio, ale ci, którzy spożywają wołowinę mają zdecydowane opinie o fakturze i smaku steków, czego produkcja mięsa syntetycznego nie jest jeszcze w stanie odtworzyć. I chociaż spada premia ekologiczna za mięso syntetyczne w porównaniu z mięsem zwierzęcym, musi zbliżyć się do zera, aby uniknąć istotnego wpływu na budżet konsumentów.
Mogłoby się to jednak zmienić, gdyby ludzie zdecydowali, że byliby zadowoleni z mniejszej ilości mięsa i bardziej roślinnej diety, która również kosztuje mniej. W takim przypadku żywność mogłaby przypominać transport drogowy, a konsumenci mogliby zyskać na przejściu na zerową emisję dwutlenku węgla zamiast ponosić obciążenia kosztowe.
Z angielskiego przetłumaczyła Marz McNamer