Voedsel, niet staal, is ons grootste klimaatprobleem
LONDEN – De discussies over het klimaatbeleid spitsen zich vaak toe op de vraag wie de kosten zal betalen om tot een koolstofvrije economie te komen, met bijzondere aandacht voor industriële sectoren zoals staal en cement. Maar de totale kosten zijn opvallend laag, en onze grootste uitdaging ligt in het voedselsysteem, niet in industriële producten.
Uit het jongste rapport van het Britse Climate Change Committee blijkt bijvoorbeeld dat het terugdringen van de Britse broeikasgasemissies tot netto nul in 2050 het Britse bbp met slechts 0,5 procent zou doen dalen. Het rapport ʻMaking Mission Possible' van de Energy Transitions Commission heeft het over een vergelijkbare totale kostprijs van 0,5 procent van het mondiale bbp om de emissies van de energie-, bouw-, industriële en vervoerssystemen tegen het midden van de eeuw tot nul terug te brengen.
Deze ramingen liggen ver onder die van oudere studies. In de baanbrekende Stern Review on the Economics of Climate Change, gepubliceerd in 2006, werden de kosten op 1 tot 1,5 procent van het bbp geraamd om een emissiereductie van slechts 80 procent te bereiken.
Deze welkome verandering weerspiegelt de dramatische en onverwachte daling van de kosten voor de belangrijkste technologieën – de elektriciteitskosten voor windenergie op het vasteland zijn in slechts tien jaar tijd met 60 procent gedaald, die voor fotovoltaïsche zonnecellen met ruim 80 procent en die voor batterijen met 85 procent. Deze kosten zijn nu zó laag dat het gebruik van koolstofvrije producten en diensten in veel sectoren de consument beter af zal maken.
[Grafiek]
Zo zullen de toekomstige ʻtotale systeemkosten' voor elektriciteitssystemen die bijna koolstofvrij zijn – inclusief alle opslag en flexibiliteit die nodig zijn voor onvoorspelbare energiebronnen als de wind en de zon – vaak lager zijn dan die voor de huidige systemen op basis van fossiele brandstoffen. En binnen tien jaar zullen consumenten over de hele wereld beter af zijn als ze elektrische auto's aanschaffen, waarbij ze iets minder betalen voor de voertuigen en veel minder voor de elektriciteit waarmee ze worden aangedreven dan voor de diesel en benzine die ze nu kopen.
Subscribe to Project Syndicate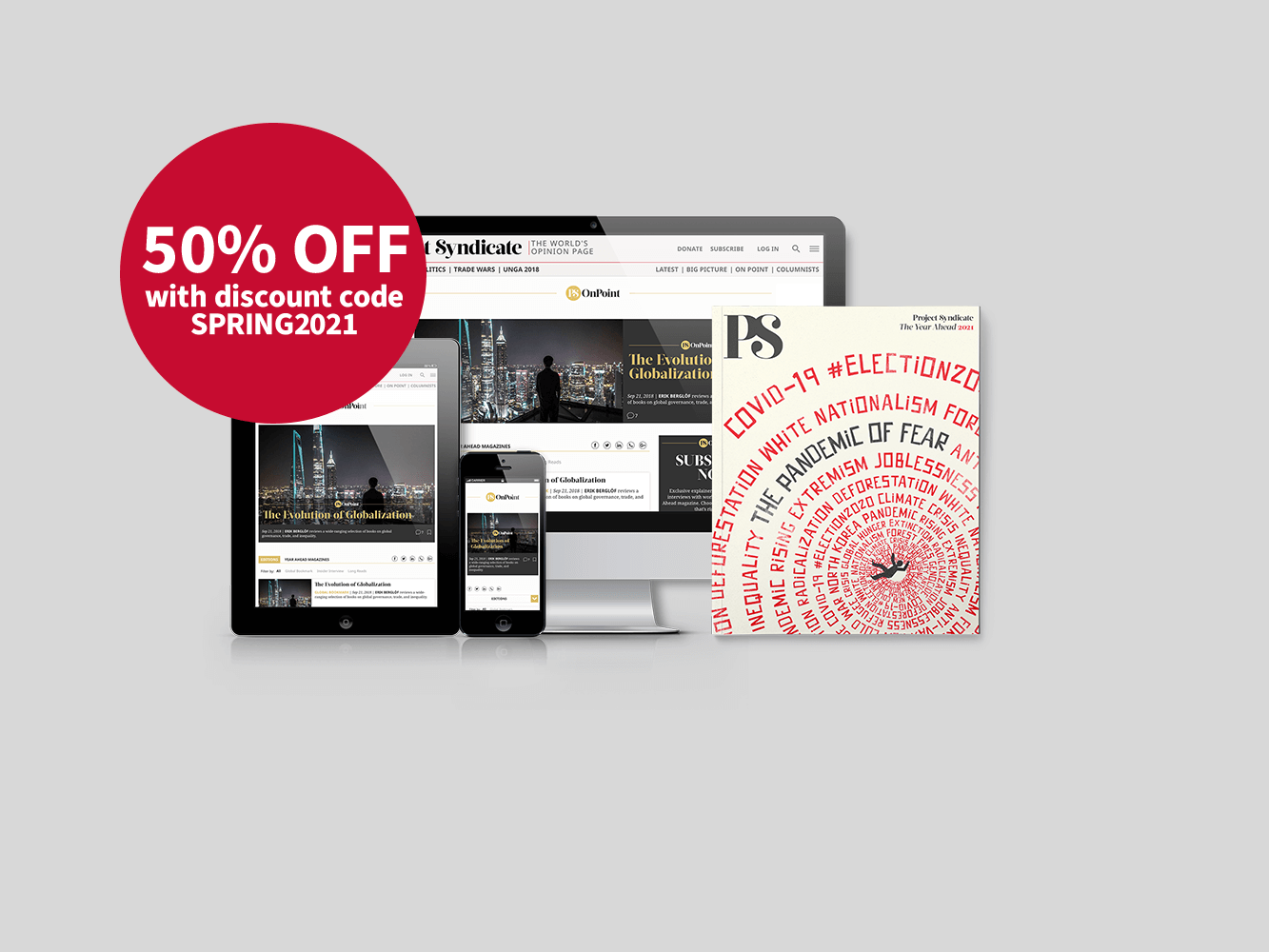 Subscribe to Project Syndicate
Enjoy unlimited access to the ideas and opinions of the world's leading thinkers, including weekly long reads, book reviews, topical collections, and interviews; The Year Ahead annual print magazine; the complete PS archive; and more. All for less than $5 a month.
Maar in sommige sectoren die moeilijk koolstofvrij te maken zijn, zoals de staal-, cement- en scheepvaartsector, zal de decarbonisering van de economie waarschijnlijk aanzienlijke kosten met zich meebrengen. Ruim vóór 2050 zou koolstofvrij staal kunnen worden geproduceerd door waterstof als reductiemiddel te gebruiken in plaats van cokeskolen, of door het afvangen en opslaan van koolstof toe te voegen aan traditionele hoogovens. Maar dat zou de kosten met 25 procent kunnen doen stijgen, of met ongeveer 100 dollar per ton staal. Lange-afstandsschepen zouden kunnen worden aangedreven met ammoniak of methanol, maar de brandstofkosten zouden dan met ruim 100 procent kunnen stijgen, en de vrachttarieven met 50 procent. Zoals Bill Gates het stelt in zijn nieuwe boek How to Avoid a Climate Disaster, hebben we in sommige sectoren te maken met een ʻgroene kostenpremie' ten opzichte van de huidige koolstofuitstotende technologie.
Het is dus van cruciaal belang om onderzoek en ontwikkeling en durfkapitaalinvesteringen te richten op baanbrekende technologieën die deze premie kunnen verlagen. Maar het is ook belangrijk om te erkennen dat zelfs als de ʻgroene premie' blijft bestaan, de kosten van het koolstofvrij maken van deze sectoren zó laag zullen zijn dat de consument er nauwelijks iets van zal merken.
Vraag uzelf eens af hoeveel staal u vorig jaar hebt gekocht. Tenzij u een inkoopmanager bent, is het antwoord waarschijnlijk géén, in directe zin althans. In plaats daarvan kopen consumenten indirect staal dat is verwerkt in de producten en diensten die zij gebruiken – in auto's, in wasmachines, of in gezondheidsdiensten die worden verleend in een ziekenhuis dat met staal is gebouwd. Uit cijfers van de World Steel Association blijkt dat het ʻwerkelijke staalgebruik per hoofd van de bevolking' in Europa en de Verenigde Staten 300-400 kilogram per jaar bedraagt. Dus als de staalprijs met 100 dollar per ton zou stijgen, zouden de consumenten slechts 30-40 dollar slechter af zijn.
Deze onbeduidende kosten weerspiegelen het cruciale verschil tussen de groene premie op intermediaire goederen en de ʻgroene consumentenpremie' op eindproducten. Een stijging van de staalprijs, ook al bedraagt die 25 procent, zal de autoprijzen met nog geen 1 procent doen stijgen. De vrachttarieven voor de scheepvaart zouden met 50 procent kunnen stijgen, maar dat zou de prijs van ingevoerde kleding of voedsel eveneens met een onbeduidend bedrag verhogen.
Maar de hogere kosten voor tussenproducten vormen wel nog steeds een grote beleidsuitdaging. Een staalbedrijf dat een koolstofvrije doelstelling nastreeft, zal zich in een zeer nadelige positie bevinden als zijn concurrenten dat niet doen. Door een koolstofprijs op te leggen aan zware industriële sectoren kan dit probleem worden opgelost, maar alleen als de prijs wereldwijd wordt toegepast of wordt gecombineerd met een koolstofheffing aan de grens tegen landen die niet bereid zijn deze prijs op te leggen.
In de scheepvaart zou regelgeving door de Internationale Maritieme Organisatie ervoor kunnen zorgen dat alle bedrijven in de pas lopen, terwijl de gevolgen voor de kosten voor de consument triviaal zouden zijn.
Daarentegen zijn de voedselprijzen en de voedselvoorkeuren van de consument geen onbelangrijke kwesties. Weinigen van ons kopen staal, maar iedereen koopt voedsel, dat zelfs in rijke landen goed is voor 6 tot 13 procent van de totale uitgaven van de huishoudens, en nog veel méér in het geval van de lagere-inkomensgroepen. Voor consumenten zou een groene premie van 10 procent voor voedsel méér uitmaken dan een premie voor staal, zelfs als die 100 procent zou bedragen.
Binnen de voedingssector is de vleesproductie bovendien zeer emissie-intensief. De methaanemissies van vee en mest hebben een groter effect op de opwarming van de aarde dan de drie gigaton koolstofdioxide van de staalproductie. Nog eens vijf gigaton CO2 is het gevolg van veranderingen in het grondgebruik, zoals wanneer bossen worden gekapt om plaats te maken voor de sojaboonproductie voor veevoer.
Ook hier zijn technologische oplossingen mogelijk, maar blijven er grote uitdagingen bestaan. Consumenten geven niet om het specifieke karakter van het staal dat zij indirect consumeren, maar rundvleeseters hebben sterke meningen over de textuur en smaak van biefstuk, die de productie van synthetisch vlees nog niet kan repliceren. En hoewel de groene premie voor synthetisch vlees ten opzichte van dierlijk vlees aan het dalen is, zal deze bijna nul moeten worden om materiële gevolgen voor het consumentenbudget te vermijden.
Dit zou echter kunnen veranderen als de mensen zouden besluiten dat ze tevreden zouden zijn met minder vlees en meer plantaardige diëten, die ook minder kosten. In dat geval zou voedsel kunnen worden als wegvervoer, waarbij de consument profiteert van de overschakeling naar koolstofvrije voeding in plaats van met een kostenpost te worden geconfronteerd.
Vertaling: Menno Grootveld