De angel van het klimaatrisico zit in de staart
LONDEN – Wetenschappers waarschuwen al lang dat de klimaatverandering de weerpatronen en de levensomstandigheden in de hele wereld negatief zal beïnvloeden. Deze waarschuwingen worden nu een pijnlijke realiteit. Erger nog, het scala aan mogelijke uitkomsten blijkt in toenemende mate ʻfat-tailed' te zijn: extreme weersomstandigheden zoals hittegolven, zware stormen en overstromingen zijn waarschijnlijker dan normale statistische verdelingen zouden voorspellen.
Dit alles belooft weinig goeds voor de toekomstige politieke stabiliteit of economische welvaart. Onze beste hoop is dat de scherpe angel in deze staart ons zal aanzetten tot de nodige maatregelen voordat het nóg erger wordt. Maar zal dat ook gebeuren?
Het publiek is zich er steeds meer van bewust dat de opwarming van de aarde tot wisselvalliger weersomstandigheden leidt. Er zijn dit jaar wereldwijd recordhittegolven geweest, niet alleen in India – waar de temperatuur 49,2° C bereikte – maar ook op plekken als het Verenigd Koninkrijk (40,2°C). Frankrijk en China kampen met de ergste droogte ooit, en door vier opeenvolgende jaren van mislukte regenseizoenen in Oost-Afrika lopen ruim vijftig miljoen mensen het risico van ʻacute voedselonzekerheid.' Ondertussen hebben verwoestende stormen en overstromingen Madagaskar, Australië, de Verenigde Staten, Duitsland, Bangladesh en Zuid-Afrika getroffen.
Deze gebeurtenissen veroorzaken elk jaar honderdduizenden doden en enorme economische en financiële schade, waardoor de volatiliteit van het weer een steeds belangrijkere factor wordt bij de risicobeoordeling. Terwijl temperatuurstijgingen van 0,5°C hier of daar nauwelijks waarneembaar zijn, kunnen droogtes, overstromingen en andere kortdurende weersschommelingen dodelijke verwoestingen aanrichten.
Bovendien kunnen extreme weersomstandigheden veranderingen veroorzaken die veel langer duren dan de onmiddellijke schok en schade, vooral wanneer zij ontwikkelingen versnellen die anders vele jaren zouden hebben geduurd. Wetenschappers maken zich steeds meer zorgen over ʻkantelpunten' – zoals het smelten van de poolijskappen – die ons over drempels van onomkeerbare verandering kunnen brengen. Dat kan leiden tot schadelijke terugkoppelingen tussen onderling verbonden klimaatrisico's, die allemaal doorwerken in de reële economie, met als gevolg wanbetalingen, banenverlies waardoor achtergestelde gemeenschappen onevenredig zwaar worden getroffen, en politieke onrust.
Afgezien van de schade aan de fysieke omgeving kan extreem weer dan ook leiden tot abrupte en soms permanente verschuivingen in de maatschappelijke opvattingen en het overheidsbeleid. Wanneer mensen hun huis, middelen van bestaan of zelfs hun leven beginnen te verliezen, moeten politici wel reageren.
Subscribe to PS Digital Now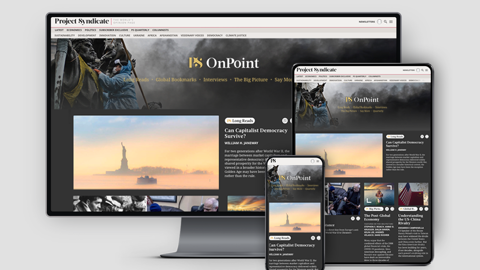 Subscribe to PS Digital Now
Access every new PS commentary, our entire On Point suite of subscriber-exclusive content – including Longer Reads, Insider Interviews, Big Picture/Big Question, and Say More – and the full PS archive.
Hoewel we ons allemaal terdege bewust zijn van extreem weer, vergeten voorspellers verrassend genoeg nog steeds vaak de rol ervan bij het versnellen van structurele veranderingen. Mainstream-klimaatwetenschappers en -economen richten zich meestal op de langetermijneffecten van klimaatverandering door de opwarming van de aarde, waarbij de nadruk ligt op scenario's met een gemiddelde temperatuurstijging wereldwijd van slechts 1,5°C-2°C – de doelstellingen van het klimaatverdrag van Parijs. En zelfs in scenario's met hogere temperaturen wordt aangenomen dat de effecten – bijvoorbeeld op de zeespiegel en de landbouwproductie – zich slechts geleidelijk zullen opstapelen, wat betekent dat de uiteindelijke afrekening nog verscheidene decennia op zich zal laten wachten.
Maar uit een recent artikel – ʻClimate Endgame: Exploring Catastrophic Climate Change Scenarios' – blijkt dat deze conventionele scenarioanalyse de langetermijnrisico's ernstig onderschat, omdat de extremere klimaatresultaten (de fat tails) niet de aandacht krijgen die ze verdienen. Zoals de statisticus Nassim Taleb heeft opgemerkt in de context van de financiële markten, worstelen conventionele modellen met de gevolgen van fat-tail-gebeurtenissen, waardoor een gevaarlijke blinde vlek in de voorspellingen ontstaat.
Hogere temperatuurtrajecten kunnen leiden tot wat de auteurs de ʻvier ruiters' van het klimaat-eindspel noemen: hongersnood en ondervoeding, extreem weer, conflicten en door vectoren overgebrachte ziekten. Er is niet veel fantasie voor nodig om te zien hoe deze apocalyptische voorbodes sociale en politieke chaos kunnen veroorzaken, vooral wanneer ze allemaal samen galopperen – zoals nu al het geval is met de wereldwijde voedselcrisis, een nieuwe oorlog in Europa en de huidige pandemie. Erger nog, het noemen van de tweede ruiter duidt erop dat de meer directe risico's van de klimaatverandering nog steeds worden onderschat. Extreem weer is immers ook een aanjager van de andere drie ruiters, waardoor het misschien wel de belangrijkste is.
Weerschokken veroorzaken leed dat veel meer de aandacht van de samenleving trekt dan abstracte (hoewel niet minder gerechtvaardigde) waarschuwingen voor onheil op de langere termijn. Uit peilingen blijkt dat de steun voor klimaatmaatregelen groter is bij degenen die zelf extreem weer hebben meegemaakt. Hoewel de huidige opleving van de inflatie betekent dat mensen minder enthousiast zijn over maatregelen die hun eigen financiën zouden schaden, verkleint het toenemende aantal rampen de minderheid die sceptisch blijft tegenover klimaatverandering of klimaatbeleid.
Op die manier is de kans veel groter dat de fat tails van het weer – in plaats van de fat tails van de klimaatverandering op de langere termijn – zullen aanzetten tot actie binnen de kortere tijdshorizon die politici en bedrijven bezighoudt. Laten we hopen dat, naarmate de steken van deze staarten steeds normaler en pijnlijker worden, ze ons ertoe zullen aanzetten het beleid voort te zetten dat nodig is om de klimaatpaarden op stal te houden.
Vertaling: Menno Grootveld