V evidenci klimatických rizik se hraje o hodně
NEW YORK – U ekonomů se má za to, že dobře rozumějí riziku. Vždyť rozhodování tváří v tvář nejistotě je každodenní chléb oboru. Přesto v době, kdy se vrší rizika ohrožující reálný svět – geopolitiku, makroekonomii, finance, veřejné zdraví a životní prostředí –, působí mnoho ekonomů bezradným dojmem.
Přestože podniky a investoři mají šanci vydělat spoustu peněz, dokážou-li správně zhodnotit současné rizikové prostředí a náležitě kormidlovat, zdá se, že nikdo nemá dobré vysvětlení, proč jsme tam, kde jsme. To platí zejména u změny klimatu: dnes už je jasné, že se rizika po celou dobu brala systematicky na lehkou váhu, a tedy se nesprávně promítala do cen.
Jedním vysvětlením je, že účastníci trhu neporozuměli velikosti a pravděpodobnosti rizika, protože o věci nesprávně přemýšleli. Klimatická soustava není jako kasino s jasně definovanými výsledky a pravděpodobnostmi. Jak uvedl komentář v časopise Nature v roce 1987, změny uvnitř soustav naší planety mohou přinést všelijaká "nepříjemná překvapení". Je to, jako bychom hráli s balíčky karet, které obsahují neznámý počet žolíků. Nadto je třeba připočíst inherentní konzervatismus vědy. Zejména klimatologové mají tendenci chybovat raději z opatrnosti.
Klasickým příkladem je kvantifikace vzestupu hladin moří. Obecně řečeno, hladiny moří stoupají ze tří příčin: tání polárních ledovců, tání vnitrozemských ledovců a skutečnosti, že teplejší voda zabere víc prostoru. Ve zprávách Mezivládního panelu ke změně klimatu na začátku nultých let ale závěrečná čísla zohledňovala pouze tání ledovců na souši a tepelné rozpínání. Vědci samozřejmě věděli, že globální oteplování vyvolá tání polárního ledu a že by tento efekt mohl být ze všech tří nejvážnější. Jelikož se ale tehdy významně lišily odhady, o kolik tání pólů zrychlí, nebyly do závěrečných čísel promítnuty.
Toto opomenutí je už dlouho napraveno. Teď ale zaostávají ekonomové s kvantifikací hospodářských škod v souvislosti se stoupajícími moři a mnoha dalšími vzájemně provázanými riziky a nejistotami, jež změnu klimatu doprovázejí. Kvantifikace škod souvisejících s klimatem je mravenčí práce; v akademickém prostředí, které ocení spíš nové ideje než cosi, co může působit jako pouhé "účetní" cvičení, se přitom nejedná o práci, která přinese významnější odměnu ani uznání.
Nicméně právě ekonomové už od Simona Kuznetse, "otce" hrubého domácího produktu, patří k předním kritikům ekonomických měřítek, která mají ctižádost reprezentovat celkový blahobyt. HDP má stěžejní význam pro makroekonomickou analýzu, ale nechává stranou mnoho dalších důležitých indikátorů, například takových, které určují zdravotní stav lidí a planety. Stojící lesy a čistý vzduch a voda nemají v účetnictví národního důchodu žádnou hodnotu, jestliže přímo nevstoupí do ekonomiky jako výrobní faktory.
Secure your copy of PS Quarterly: The Year Ahead 2023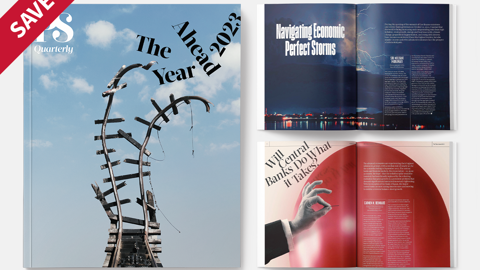 Secure your copy of PS Quarterly: The Year Ahead 2023
Our annual fourth-quarter magazine is here, and available only to Digital Plus and Premium subscribers. Subscribe to Digital Plus today, and save $15.

Iniciativa administrativy amerického prezidenta Joea Bidena naštěstí chce tento nedostatek napravit vypracováním nového souboru "statistik pro environmentálně-ekonomická rozhodnutí". Tato snaha není sice první svého druhu na světě, ale patří k nejambicióznějším. Cílem je doplnit HDP o mnohem komplexnější sadu účtů a pak tuto novou metriku používat jako vodítko pro rozhodování o politikách.
Taková změna má už dlouhé zpoždění. Kdyby se negativní důsledky změny klimatu od počátku započítávaly do národních účtů, nemusela přerůst do problému, jakým je dnes.
To poukazuje na druhý, neméně důležitý důvod toho, proč se klimatická a další rizika nedostatečně promítají do cen. Je jedna věc, když vědci, ekonomové a poučení zástupci veřejnosti připustí, že mnohá rizika a nejistoty se nepromítají do cen; je však něco úplně jiného zavést politiky, které odradí podniky od přesouvání těchto rizik na společnost.
Podle nedávné ankety Sanfranciské federální rezervní banky považují čelní představitelé byznysu za největší klimatické riziko to, že změna klimatu ovlivní "pravidla a regulaci související s naším podnikem". Šéfové firem správně očekávají, že tvůrci politik budou chtít, aby za emise skleníkových plynů a další negativní externality platili a nebylo dovoleno tyto náklady socializovat.
Taková opatření nevyhnutelně připadnou do sféry politiky, ale ekonomové si nesmí plést své politické preference se zdravou politikou. Ti, kdo mají ideologické sklony pohlížet na "volné" trhy jako na vůdčí princip organizace společnosti, musí připustit, že trh může dobře fungovat, jedině pokud nezůstává žádná externalita, která se nezohledňuje a neplatí se za ni.
Tady by mohla pomoci další evidenční iniciativa Bidenovy administrativy. Pravidla navržená Komisí USA pro cenné papíry a burzy (SEC) pro vykazování údajů souvisejících s klimatem by společnosti donutila standardizovat a vykazovat jak dopady jejich provozů na klima, tak rizika, jež změna klimatu představuje pro tyto provozy. Úsilí SEC nepřistupuje k požadavku vůči všem znečišťovatelům, aby za své emise platili; ponechává na investorech, aby se rozhodli, jak s novými informacemi naloží.
Ekonomové musí bránit stěžejní úlohu, již jejich rady sehrávají v tvorbě politik. Politické síly a zájmové skupiny, které u tohoto tématu vyvíjejí tlaky, budou jejich rady překrucovat a samotné rádce pranýřovat. To se však nesmí stát záminkou k nečinnosti. Intelektuální poctivost vyžaduje, aby se ekonomové a tvůrci politik vypořádali s tím, jak nová rizika a nejistoty mohou postihovat a postihují výsledky.
Už shodnout se na tom, co je známé, je dost těžké. Zohlednit těžko ocenitelná rizika a nejistoty, jako jsou klimatické zlomové body, je ještě těžší. Jakmile si ale tato rizika a nejistoty přiznáme, začne být jasné, že potřebujeme včasné politické řešení.
Z angličtiny přeložil David Daduč