¿Qué rumbo tomará la relación entre Estados Unidos y China con Trump?
BEIJING – La sorprendente victoria de Donald Trump en la elección presidencial de los Estados Unidos derribó todas las certezas que definían no sólo la política de aquel país sino también su imagen ante el mundo. Trump debe encarar ahora los pormenores de la gestión de relaciones exteriores de su país, y puede decirse que ninguna es más importante para el mundo como la que mantiene con China. Pero también es la que quedó en terreno más incierto, dado el tenor de la campaña de Trump.
El presidente electo puede complicar las relaciones bilaterales, sobre todo porque su primer año de mandato coincidirá con el 19.º Congreso Nacional del Partido Comunista de China, que se celebrará en la segunda mitad del año entrante. En un mundo ideal, tanto Trump como el presidente chino Xi Jinping querrían mantener estable la relación sinoestadounidense. Pero no será tarea fácil, no sólo por la retórica sinófoba de Trump, sino también por los presentes desacuerdos respecto de los reclamos territoriales chinos en el mar de China meridional y las ambiciones nucleares de Corea del Norte; además, la relación bilateral puede verse afectada por disputas internas en Estados Unidos respecto de temas como el comercio internacional, el valor del dólar y el proteccionismo.
Muchos observadores chinos prevén que Trump tendrá que lidiar con divisiones inéditas en su país. No sólo enfrentará cuestionamientos de los (ahora atónitos) demócratas, sino también de los republicanos que se opusieron a su candidatura, sea abierta o encubiertamente. En estas circunstancias, su primera prioridad tendrá que ser ordenar la situación interna. Pero si confunde eso con la idea de "poner a los Estados Unidos primero", como dijo en campaña, es probable que surjan más tensiones.
Más allá de la política interna, el orden internacional ha sufrido estos últimos años diversas conmociones que cambian profundamente el contexto global de la relación sinoestadounidense. Los prolongados conflictos en Ucrania y Siria insinúan la posibilidad de una nueva guerra fría entre Estados Unidos y Rusia, y la agitación en aquellos países (y en otras partes) es un elemento cada vez más perturbador para las economías nacionales y los esquemas de seguridad.
Siendo las dos principales potencias mundiales, Estados Unidos y China deben hallar el modo de colaborar en estas inestables condiciones. Hoy su vacilante relación muestra a la vez cooperación y un nivel cada vez mayor de competencia. Lógicamente, lo segundo concitó más atención mundial que lo primero.
El presidente Barack Obama ha reforzado la presencia militar estadounidense en el vecindario de China, así como las alianzas de seguridad en Asia, e intervino muy abiertamente en las disputas territoriales en el mar de China meridional. El gobierno chino ve estas acciones (lo mismo que el proyectado Acuerdo Transpacífico de libre comercio entre doce países) como un intento de "contener" a China.
Subscribe to Project Syndicate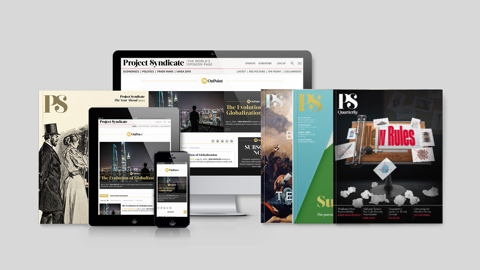 Subscribe to Project Syndicate
Enjoy unlimited access to the ideas and opinions of the world's leading thinkers, including long reads, book reviews, topical collections, short-form analysis and predictions, and exclusive interviews; every new issue of the PS Quarterly magazine (print and digital); the complete PS archive; and more. Subscribe now to PS Premium.
A la par que Estados Unidos rebalancea su estrategia geopolítica en dirección a Asia, China reafirma su presencia global con nuevas iniciativas de seguridad y desarrollo internacional, entre ellas el proyecto "un cinturón, una ruta", que vinculará la economía china con gran parte de Eurasia. Asimismo, el Banco Asiático de Inversión en Infraestructura, liderado por China y al que Estados Unidos considera una herramienta para desafiar el orden internacional, sigue atrayendo miembros potenciales tan distantes como Canadá, que solicitó unirse en agosto.
Esta competencia de suma cero entre Estados Unidos y China aumenta la probabilidad de un conflicto entre ambos países; un punto crucial será el programa norcoreano de armas nucleares. Estados Unidos ya está tomando medidas para evitar que Corea del Norte pueda atacar su territorio o el de Corea del Sur, sobre la base de sistemas mejorados de defensa antimisiles. Puede ocurrir que la nueva administración Trump complemente estas medidas con acciones militares para aumentar la presión sobre China. Pero cualquier intento de llevar tecnología nuclear bélica a Japón o la península coreana, algo que Trump calificó de aceptable durante la campaña, crearía una crisis en el noreste de Asia como no se ha visto desde la Guerra de Corea.
Otro tema de posible conflicto entre Estados Unidos y China es Taiwán. Las relaciones entre la isla y China continental han sido bastante pacíficas desde la Tercera Crisis del Estrecho (1995-1996), cuando el entonces presidente estadounidense Bill Clinton envió un grupo de portaaviones de ataque a la zona. Pero Taiwán sigue siendo un tema muy sensible (y emocional) para China. Si la relación con la isla se deteriorara, otro tanto podría sucederle a la que hay entre China y Estados Unidos.
Lo mejor para el mundo es que la relación sinoestadounidense se mantenga encarrilada, así que los dos países deberían ser más transparentes respecto de sus intereses nacionales. Definir claramente las posiciones permitirá a ambos seguir una política de restricción estratégica y evitar las pasadas tentaciones de apelar a la exhibición de fuerza.
Un conflicto entre Estados Unidos y China podría frustrar la modernización del país asiático y dejar al pueblo chino sin el "sueño chino" que Xi le planteó como meta. Para Estados Unidos, una ruptura diplomática indicaría que China es un "caso perdido", como se pensó que era cuando Mao Zedong derrotó al régimen nacionalista de Chiang Kai-shek (respaldado por Estados Unidos) en 1949. En un sentido más amplio, la hostilidad entre ambos países se sentiría en todo el mundo, y complicaría los intentos internacionales de enfrentar desafíos globales como el cambio climático.
Para evitar algo así en lo inmediato, Estados Unidos y China deben analizar la posibilidad de formar un equipo conjunto que incluya funcionarios experimentados de alto rango y expertos destacados de ambas partes. Este grupo podría trazar un rumbo para la relación bilateral en 2017, identificar conflictos potenciales y recomendar soluciones antes de que las tensiones puedan alcanzar un punto crítico. Un nuevo marco diplomático para la relación bilateral ayudaría a ambos países a evitar confrontaciones estratégicas.
A futuro, Estados Unidos y China necesitan un diálogo más profundo y una visión compartida del orden internacional, para que ningún país se vea en la tentación de formar bloques rivales. Estados Unidos y China también deberían trabajar juntos en pos de una "globalización 2.0", mediante una reforma de las instituciones y normas internacionales que tenga en cuenta las necesidades de los países establecidos y de los emergentes.
Si bien el potencial de conflicto bilateral en los próximos años es alto, también hay margen para mejorar la cooperación. De hecho, dentro de la enorme incertidumbre creada por la victoria de Trump, hoy desde lo estratégico tiene más sentido que nunca forjar una relación nueva, en vista de los cambios en las circunstancias globales, la geopolítica regional y los desafíos internos a los que se enfrentan ambos países.
Trump debe elegir ahora entre cooperación y confrontación como marco para la política estadounidense hacia China. La elección debería ser obvia: colaborar para reformar el orden internacional beneficiará a ambas partes.
Traducción: Esteban Flamini