Pełne Uzupełnienie Zielonego Funduszu Klimatycznego
WASZYNGTON, DC/KAIR - Kiedy nieco ponad dekadę temu utworzono Zielony Fundusz Klimatyczny (GCF), uznano go za potencjalnie użyteczne narzędzie wspierania krajów rozwijających się w przechodzeniu na odporne na zmiany klimatu i niskoemisyjne ścieżki rozwoju. Dziś jest to największy na świecie fundusz dedykowany klimatowi, stanowiący znaczną część środków przeznaczonych na walkę z globalnym ociepleniem. Aby odnieść sukces, musi być odpowiednio finansowany.
Aby kontynuować finansowanie ambitnych działań na rzecz klimatu, GCF będzie potrzebował tradycyjnych płatników, aby zwiększyć swoje zobowiązania i nowych płatników, aby wystąpić podczas drugiej rundy uzupełniania, która jest obecnie w toku. Nie jest przesadą stwierdzenie, że kampania uzupełniania GCF jest testem zaangażowania świata w walkę ze zmianami klimatu; pomyślny wynik pomoże krajom rozwiniętym odbudować zaufanie, pokazując, że rozumieją pilność kryzysu i że mogą wywiązać się ze swoich zobowiązań.
Dwie ostatnie Konferencje Narodów Zjednoczonych w sprawie Zmian Klimatu (COP26 i COP27) pokazały, że przywódcy światowi zdają sobie sprawę ze znaczenia ograniczenia globalnego ocieplenia do 1,5° Celsjusza. Jednak wyzwaniem związanym z realizacją tego celu - podkreślonym podczas zeszłorocznej konferencji COP27 w Sharm El-Sheikh, czerwcowego szczytu na rzecz nowego globalnego paktu finansowego w Paryżu oraz odbywającego się w tym miesiącu Afrykańskiego Szczytu Klimatycznego w Nairobi - jest zapewnienie 2,4 biliona dolarów, których kraje rozwijające się będą potrzebować rocznie do 2030 roku, aby osiągnąć ten cel.
Kraje rozwijające się stoją w obliczu poważnych przeszkód w łagodzeniu zmian klimatycznych i dostosowywaniu się do nich. W ciągu ostatniego roku Stany Zjednoczone i Unia Europejska ogłosiły ogromne dotacje, aby zachęcić do krajowych inwestycji w czystą energię. Polityka ta prawdopodobnie doprowadzi do szybkiego postępu w dziedzinie zielonych technologii. Jednak w połączeniu z rosnącymi stopami procentowymi i kosztami finansowania, utrudnią one również krajom rozwijającym się, które chcą skorzystać z tych innowacji, przyciągnięcie kapitału.
Co więcej, całkowita liczba zielonych obligacji wyemitowanych przez kraje rozwijające się spadła w latach 2020-2022, podczas gdy liczba obligacji wyemitowanych na Zachodzie wzrosła. Powiększająca się przepaść w zakresie odnawialnych źródeł energii między krajami rozwiniętymi a rozwijającymi się wynika ze spowolnienia inwestycji w czystą energię w 2022 r. Zakłócenia w łańcuchu dostaw dodatkowo szkodzą gospodarkom rynków wschodzących.
Wojna na Ukrainie również skomplikowała zieloną transformację, wykolejając plany niektórych krajów dotyczące wycofania energii węglowej i paliw kopalnych. Wiele innych krajów zrewidowało swoje harmonogramy i zobowiązania dotyczące zerowej emisji netto, podczas gdy sektor korporacyjny również obniżył swoje cele. Co ważniejsze, ze względu na rekordowe wzrosty cen żywności, paliw i nawozów (w dużej mierze będące produktem ubocznym wojny), podwyżki stóp procentowych i niezrównoważone zadłużenie, wiele krajów rozwijających się wyczerpało swoje rezerwy walutowe i nie ma przestrzeni fiskalnej na realizację swoich celów klimatycznych.
Subscribe to PS Digital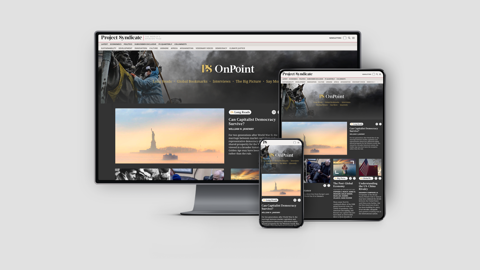 Subscribe to PS Digital
Access every new PS commentary, our entire On Point suite of subscriber-exclusive content – including Longer Reads, Insider Interviews, Big Picture/Big Question, and Say More – and the full PS archive.
Jednocześnie zmiany klimatu powodują coraz bardziej ekstremalne i anomalne zjawiska pogodowe - od cyklonów w Afryce Południowej i Libii po tajfuny w Azji Wschodniej i susze w Ameryce Łacińskiej. Jeśli zjawiska te będą postępować, szacuje się, że do 2050 r. 1,2 mld ludzi może zostać wysiedlonych. Wiele krajów rozwijających się jest zatem coraz bardziej narażonych na klęski żywiołowe związane z klimatem nie z własnej winy i już zaczęło kierować zasoby krajowe na działania adaptacyjne.
Gwałtowny wzrost skali i częstotliwości ekstremalnych zjawisk pogodowych oraz rosnące koszty związane z takimi zdarzeniami wyraźnie kontrastują z powolnym tempem globalnej reakcji. Ta niespójność w połączeniu z poważnym brakiem instrumentów finansowych, które nie generują zadłużenia, zmniejszyła zaufanie krajów rozwijających się do globalnej architektury finansowej. Podczas gdy kraje rozwinięte mogą wydawać miliardy na dotacje rządowe i zachęty do ekologicznej transformacji u siebie, kraje o niskich i średnich dochodach najbardziej cierpią z powodu opóźnień w łagodzeniu skutków zmiany klimatu i adaptacji do niej na całym świecie. Jeszcze bardziej niepokojący jest zalew inwestycji napływających do przemysłu paliw kopalnych w celu rozszerzenia działalności na całym świecie.
Partnerstwa na rzecz Sprawiedliwej Transformacji Energetycznej, uruchomione podczas COP26, trafiły na pierwsze strony gazet dzięki obietnicy przekazania pieniędzy z bogatych krajów do krajów rozwijających się o najwyższych emisjach. Co więcej, COP27 miał podobny wpływ na ustanowienie "funduszu strat i szkód" dla krajów rozwijających się borykających się ze skutkami zmian klimatu, a także oficjalne wezwania do zreformowania międzynarodowych instytucji finansowych i zwiększenia finansowania GCF. Nie przyniosły one jednak oczekiwanych rezultatów, w wyniku czego globalna luka w finansowaniu działań klimatycznych wciąż się powiększa. Ponieważ koszty rosną wykładniczo, kraje rozwijające się tracą nadzieję.
Trend ten nie jest jednak nieodwracalny. Świat rozwinięty i instytucje takie jak GCF mogą przejąć inicjatywę w trzech kluczowych obszarach, aby przywrócić zaufanie krajów rozwijających się i wzmocnić ich odporność na zmiany klimatu. Po pierwsze, kraje rozwinięte muszą znacznie zwiększyć finansowanie GCF - jedynej międzynarodowej instytucji, której jedynym zadaniem jest walka ze zmianami klimatu. GCF może zrobić znacznie więcej, zwłaszcza pomagając w tworzeniu i wdrażaniu krajowych programów i planów adaptacyjnych oraz umożliwiając realizację projektów redukcji emisji.
Na przykład, aby przeskoczyć technologie klimatyczne, kraje rozwijające się potrzebują finansowania w celu przyjęcia skalowalnych strategii adaptacyjnych i łagodzących. Co więcej, inwestycje w transfer technologii mogą przekształcić inne sektory i branże - takie jak rolnictwo - poza walką ze zmianami klimatu.
Dysponując większym kapitałem, GCF może oferować i przyczyniać się do tańszego finansowania dla krajów rozwijających się. W ten sposób mogą one wzmocnić łagodzenie zmian klimatu i adaptację bez zwiększania poziomu zadłużenia, a tym samym przyciągnąć więcej inwestycji. W miarę powszechnego zrozumienia, że finansowanie działań związanych z klimatem jest finansowaniem rozwoju, GCF może odegrać ważną rolę w zwiększaniu liczby konwersji długu na przyrodę i opracowywaniu innych innowacyjnych narzędzi. Obejmuje to współpracę z filantropami i podmiotami z sektora prywatnego w celu zidentyfikowania rozwiązań, przetestowania ich przy niskich kosztach i zapewnienia wskazówek dotyczących skali. GCF może także - poprzez swój program gotowości - pomóc poprawić gromadzenie danych do celów decyzyjnych.
Jeśli chodzi o walkę z globalnym ociepleniem, kraje rozwinięte muszą wypełnić swoje zobowiązania wobec reszty świata. Najlepszym sposobem na to jest wykazanie postępów w finansowaniu GCF w celu wsparcia jego projektów i zdolności programowania. Jak pokazały ostatnie lata, zmiany klimatu nie znają granic, a reagowanie na to egzystencjalne zagrożenie wymaga mobilizacji całego świata. Każde inne rozwiązanie gwarantowałoby porażkę.
Z angielskiego przetłumaczyła Marz McNamer