Bisogna ricostituire integralmente il Green Climate Fund
WASHINGTON, DC/CAIRO – Quando fu istituito poco più di dieci anni fa, il Green Climate Fund (GCF) era considerato uno strumento potenzialmente utile per sostenere i paesi in via di sviluppo a passare a percorsi di sviluppo resilienti ai cambiamenti climatici e a basse emissioni. Oggi è il più grande fondo mondiale dedicato al clima e rappresenta una quota significativa delle ampie riserve di denaro destinate alla lotta al riscaldamento globale. Per far sì che funzioni bene, deve essere adeguatamente finanziato.
Per continuare a finanziare un'azione ambiziosa per il clima, il GCF avrà bisogno che i contribuenti tradizionali aumentino i propri stanziamenti e che si facciano avanti nuovi contribuenti durante il secondo ciclo di ricostituzione, attualmente in corso. Non è esagerato affermare che la campagna di ricostituzione del GCF è una prova dell'impegno mondiale nella lotta al cambiamento climatico; un esito positivo aiuterà i paesi sviluppati a ricostruire la fiducia, dimostrando di comprendere l'urgenza della crisi e di essere in grado di mantenere i propri impegni.
Le due più recenti Conferenze sui cambiamenti climatici delle Nazioni Unite (COP26 e COP27) hanno dimostrato che i leader mondiali riconoscono l'importanza di limitare il riscaldamento globale a 1,5° Celsius. Ma la sfida dell'attuazione – evidenziata alla COP27 dello scorso anno a Sharm El-Sheikh, al vertice per un nuovo patto di finanziamento globale a Parigi a giugno e al vertice africano sul clima svoltosi a Nairobi questo mese – sta fornendo i 2,4 trilioni di dollari di cui i paesi in via di sviluppo avranno bisogno ogni anno entro 2030 per raggiungere questo obiettivo.
Il mondo in via di sviluppo si trova ad affrontare forti difficoltà nel mitigare il cambiamento climatico e adattarsi ad esso. Durante lo scorso anno gli Stati Uniti e l'Unione Europea hanno annunciato massicci sussidi per incentivare gli investimenti nazionali in energia pulita. È probabile che queste politiche portino a rapidi progressi nella tecnologia green. Ma, se abbinate all'aumento dei tassi di interesse e dei costi finanziari, renderanno anche più difficile la possibilità di attrarre capitali proprio per quei paesi in via di sviluppo che cercano di beneficiare di queste innovazioni.
Inoltre, il numero totale di green bond emessi dai paesi in via di sviluppo è diminuito tra il 2020 e il 2022, mentre sono aumentati quelli emessi in Occidente. E il crescente divario in termini di energie rinnovabili tra i paesi sviluppati e quelli in via di sviluppo si aggiunge al rallentamento degli investimenti in energia pulita nel 2022. A danneggiare ulteriormente i mercati emergenti ci sono poi le interruzioni delle filiere produttive.
La guerra in Ucraina ha inoltre complicato la transizione green, facendo deragliare i piani di alcuni paesi che puntano a eliminare gradualmente l'energia prodotta dal carbone e dai combustibili fossili. Molti altri paesi hanno rivisto i tempi e gli impegni per l'azzeramento delle emissioni nette, mentre il settore delle aziende ha rivisto i propri obiettivi al ribasso. Forse ancora più importante, a causa degli aumenti record dei prezzi di cibo, carburante e fertilizzanti (in gran parte un effetto collaterale della guerra), degli aumenti dei tassi di interesse e degli oneri debitori insostenibili, molti paesi in via di sviluppo hanno esaurito le riserve di valuta estera e non hanno lo spazio fiscale necessario per perseguire gli obiettivi climatici.
Introductory Offer: Save 30% on PS Digital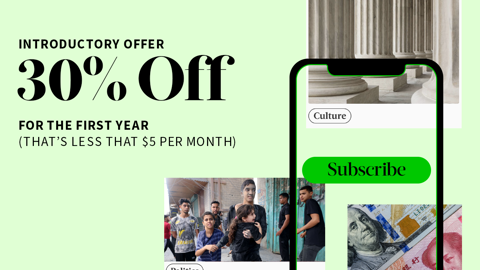 Introductory Offer: Save 30% on PS Digital
Subscribe now to gain greater access to Project Syndicate – including every commentary and our entire On Point suite of subscriber-exclusive content – starting at less than $5 per month.
Allo stesso tempo, il cambiamento climatico sta provocando eventi meteorologici sempre più estremi e anomali, dai cicloni nell'Africa meridionale e in Libia, ai tifoni nell'Asia orientale e alla siccità in America Latina. Se questi eventi continuassero a ritmo sostenuto, si stima che 1,2 miliardi di persone potrebbero essere sfollate entro il 2050. Molti paesi in via di sviluppo sono quindi sempre più vulnerabili ai disastri legati al clima senza alcuna colpa e hanno già iniziato a indirizzare le risorse nazionali verso gli sforzi di adattamento.
L'aumento esponenziale della portata e della frequenza degli eventi meteorologici estremi, e dei costi crescenti associati a tali eventi, sono in netto contrasto con la lentezza della risposta globale. Questa incongruenza, unita a una grave mancanza di strumenti finanziari che non generino debito, ha diminuito la fiducia dei paesi in via di sviluppo nell'architettura finanziaria globale. Mentre il mondo sviluppato può spendere miliardi in sussidi governativi e incentivi per incoraggiare la transizione green a livello nazionale, i paesi a basso e medio reddito soffrono maggiormente per i ritardi nella mitigazione e nell'adattamento climatico a livello globale. Ancora più inquietante è il flusso di investimenti che si riversa nell'industria dei combustibili fossili per espandere le operazioni a livello globale.
Le Just Energy Transition Partnerships, lanciate alla COP26, hanno fatto notizia con la promessa di incanalare denaro dai paesi ricchi ai maggiori emettitori del mondo in via di sviluppo. Inoltre, la COP27 ha avuto un impatto simile con l'istituzione di un "loss and damage fund" per i paesi in via di sviluppo che affrontano gli effetti del cambiamento climatico, nonché con gli appelli ufficiali a riformare le istituzioni finanziarie internazionali e ad aumentare i finanziamenti per il GCF. Ma devono ancora dare risultati e, di conseguenza, il divario globale di finanziamento del clima continua ad ampliarsi. Con l'aumento esponenziale dei costi, il mondo in via di sviluppo sta perdendo la speranza.
Questa tendenza, tuttavia, non è irreversibile. Il mondo sviluppato e istituzioni come il GCF possono prendere l'iniziativa in tre aree chiave per ripristinare la fiducia dei paesi in via di sviluppo e rafforzare la loro resilienza climatica. Per cominciare, i paesi sviluppati devono aumentare in modo significativo i finanziamenti per il GCF – l'unica istituzione internazionale la cui unica responsabilità è combattere il cambiamento climatico. Il GCF può fare molto di più, soprattutto aiutando a costruire e attuare programmi nazionali e piani di adattamento e consentendo la realizzazione di progetti di riduzione delle emissioni.
Per compiere un salto in avanti nel campo delle tecnologie per la transizione climatica, i paesi in via di sviluppo avrebbero, ad esempio, bisogno di finanziamenti per adottare strategie scalabili di adattamento e mitigazione. Inoltre, oltre a combattere il cambiamento climatico, gli investimenti nei trasferimenti tecnologici potrebbero trasformare altri settori e industrie, come l'agricoltura.
Allo stesso modo, con più capitale, il GCF può offrire finanziamenti più economici per i paesi in via di sviluppo, che in questo modo potrebbero rafforzare la mitigazione e l'adattamento climatico senza aumentare i livelli di debito e quindi attrarre maggiori investimenti. Poiché è generalmente riconosciuto che i finanziamenti per il clima sono finanziamenti per lo sviluppo, il GCF potrebbe svolgere un ruolo importante nell'aumentare il numero di "debt-for-nature swap" e nello sviluppo di altri strumenti innovativi. Ciò include la collaborazione con filantropi e attori del settore privato per identificare soluzioni, testarle a basso costo e fornire indicazioni su larga scala. Infine, il GCF può, attraverso il suo programma di preparazione, contribuire a migliorare la raccolta dei dati a fini decisionali.
Quando si tratta di combattere il riscaldamento globale, i paesi sviluppati devono assumersi le proprie responsabilità nei confronti del resto del mondo. Il modo migliore per farlo è mostrare progressi nel finanziamento del GCF per sostenerne la pipeline di progetti e la capacità di programmazione. Come testimoniano gli ultimi anni, il cambiamento climatico non conosce confini e rispondere a questa minaccia esistenziale richiede la mobilitazione del mondo. Un intervento di portata minore si tradurrebbe in una sconfitta.
 
Traduzione di Simona Polverino