Polityka w Kwestii Pandemii Musi Być Polityką Klimatyczną
CALAMBA – Podczas gdy świat jest skoncentrowany na kryzysie COVID-19, zmiany klimatyczne nadal postępują. Konsekwencje są druzgocące i stają się coraz poważniejsze - dotyczy to także samej reakcji na pandemię.
Nie ma wątpliwości, że klęski żywiołowe stają się coraz częstsze i intensywniejsze w wyniku zmiany klimatu. Tylko w tym roku Australia zmagała się z najbardziejniszczycielskimipożaramibuszu w swojej historii. Kraje Afryki Wschodniej walczą z najgorszym od dziesięcioleci wybuchemszarańczypustynnej. Wyspy Salomona, Vanuatu, Fidżi i Tonga zostały uderzone przez cyklontropikalnykategorii 5. Europa znalazła się pod wpływem rekordowejfaliupałów. Mój kraj - Filipiny - stanął w obliczu intensywnychpowodzi, a sezon tajfunów jeszcze się nie zakończył.
Naukowcy ostrzegają, że takie zagrożenia prawdopodobnie skrzyżują się z COVID-19 i reakcją na zdrowie publiczne, w tym przez potęgowanie stresu w systemach opieki zdrowotnej, wyczerpywanie zasobów reagowania kryzysowego i osłabienie możliwości ludzi do dystansu społecznego. Pogłębi je zarówno postępujący kryzys gospodarczy, jak i utrzymujące się od dawna różnice społeczno-gospodarcze, zarówno w obrębie krajów, jak i między regionami.
Niedawny tajfun na Filipinach ilustruje stojące przed nami wyzwania. Silne wiatry i poważne powodzie zmusiły wielu do przerwania kwarantanny i ucieczki do ciasnych centrów ewakuacyjnych, gdzie protokoły dystansowania społecznego są praktycznie niemożliwe do wykonania. Zasady dystansu skomplikowały ratowanie około 200 000 osób zagrożonych powodzią lub osuwiskami. Liczba osób potrzebujących pomocy, już znaczna na początku kryzysu, jeszcze wzrosła. Oczekuje się, że szpitale i skąpe zasoby zostaną jeszcze bardziej przytłoczone przez wzrost liczby pacjentów z chorobami zakaźnymi, które prawdopodobnie będą się rozmnażać wraz z postępem zmian klimatycznych, takich jak dengaileptospiroza.
Z pewnością COVID-19 do pewnego stopnia ograniczył nasz wpływ na środowisko. W ciągu ostatnich trzech miesięcy prywatne samochody były zaparkowane, fabryki ograniczyły działalność, a elektrownie przestały spalać węgiel. W rezultacie emisje dwutlenku węgla drastyczniespadły - nawet powróciły do poziomów z 2010 roku. Zanieczyszczenie powietrza w miastach uległorozproszeniu, a wiele osób w wielkich miastach znanych ze smogu może znów oglądać błękitne niebo oraz doniesienia o dzikich zwierzętach wędrujących po pustych ulicach miast.
Takie wydarzenia podsyciły narrację, że pandemia daje Matce Ziemi bardzo potrzebną przerwę. Ale nawet jeśli to prawda, wytchnienie będzie krótkie i niewiele wpłynie na zmianę naszej długoterminowej sytuacji klimatycznej.
Introductory Offer: Save 30% on PS Digital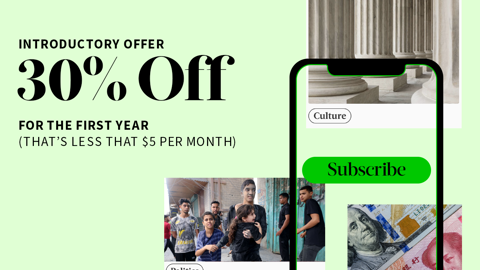 Introductory Offer: Save 30% on PS Digital
Subscribe now to gain greater access to Project Syndicate – including every commentary and our entire On Point suite of subscriber-exclusive content – starting at less than $5 per month.
Ci sami badacze, którzy zgłosili, że zakaz wyjścia z powodu COVID-19 spowodował spadek emisji, poinformowali również, że po złagodzeniu blokad emisjenatychmiastwzrosły. Przewidują, że pandemia zmniejszy całkowite emisje w 2020 roku o co najwyżej 13% i tylko wtedy, gdy na całym świecie będą obowiązywały ograniczenia do końca roku. Kiedy wrócimy do "normalności" sprzed pandemii, emisje też się zwiększą.
Zakazy wyjścia, które nieproporcjonalnie uderzają w najbiedniejszych i najbardziej bezbronnych nie są dobrym rozwiązaniem. Pandemia paraliżuje gospodarki, pogłębia nierówności i kończy (lub wywraca) życie ludzi. Nie można tego uważać za szansę dla planety na "oddychanie" lub ukryte błogosławieństwo dla środowiska. Z pewnością nie jest to automatyczna droga do zdrowej i sprawiedliwej dekarbonizacji.
Ale to nie znaczy, że pandemia nie może przyspieszyć postępu. Zapewnienie zdrowszej, bardziej zrównoważonej i sprawiedliwszej przyszłości - pozbawionej coraz większej liczby kryzysów zdrowotnych i innych katastrof - można osiągnąć jedynie poprzez stopniową, zamierzoną i planowaną dekarbonizację oraz budowanie odporności sprzyjającej włączeniu społecznemu. W tym przypadku plany naprawy po COVID-19 i pakiety bodźców gospodarczych proponowane przez rządy, przedsiębiorstwa i organizacje międzynarodowe są dobrym miejscem do rozpoczęcia.
Pandemia ujawniła, jak bardzo nieprzygotowane na wstrząsy i stres we wszelkich formach są nasze systemy opieki zdrowotnej, czy jest to krótkoterminowy wzrost liczby zakażeń COVID-19, czy też długoterminowe konsekwencje zdrowotne ze względu na zmiany klimatu. Ponieważ rządy inwestują w modernizację i wzmacnianie systemów opieki zdrowotnej, muszą uwzględniać cele związane z przystosowaniem się do klimatu i łagodzeniem zmiany klimatu.
To samo dotyczy inwestycji, zarówno publicznych, jak i prywatnych, do zwiększania odporności. Globalne władze ds. zdrowia oraz obrońcy środowiska argumentują, że tylko wtedy, gdy przywódcy i decydenci zapewnią, że wszystkie aspekty powrotu do zdrowia po COVID-19 są "zdrowe i zielone," ta "nowa normalność" po pandemii może ochronić planetę i jej mieszkańców.
Ponieważ zarówno pandemia jak i zmiana klimatu to wyzwania globalne, bez względu na granice polityczne niezbędna jest współpraca międzynarodowa. Konferencja Narodów Zjednoczonych w sprawie zmian klimatycznych (COP26), która miała odbyć się w Szkocji w listopadzie tego roku, zostałaprzełożonana 2021 r. Nie można jednak pozwolić, aby to utrudniło postęp.
Opóźnienie powinno zostać potraktowane jako okazja dla przywódców do odrobienia pracy domowej przed konferencją, gdzie kwestie zdrowotne są umieszczone w centrum negocjacji klimatycznych. W porozumieniu klimatycznym z Paryża z 2015 r. słowo "zdrowie" wymieniono tylko raz - w preambule. COP26 musi zaowocować bardziej ambitnym planem łączącym wymogi klimatyczne i zdrowotne.
"Spłaszcz krzywą" było mantrą wczesnej odpowiedzi na COVID-19. Aby uniknąć przytłoczania systemów opieki zdrowotnej i dać czas na zwiększenie ich możliwości, populacje musiały podjąć działania w celu spowolnienia rozprzestrzeniania się wirusa. Powinniśmy dziś zastosować tę samą logikę do działań na rzecz klimatu, spłaszczając krzywą emisji gazów cieplarnianych i szerszego śladu ekologiczny, aby zyskać czas na budowę zrównoważonych systemów.
Różnica polega oczywiście na tym, że w przeciwieństwie do opieki zdrowotnej, progów planety nie można zmienić. To my musimy się dostosować. Pandemia nas nie uratuje, ale może być katalizatorem, którego potrzebowaliśmy, aby się uratować.
Z angielskiego przetłumaczyła Marz McNamer