Sprawiedliwsze i Bardziej Ekologiczne Budowanie
GENEWA – Podobnie jak rolnicy planujący zbiory w następnym sezonie, musimy teraz zasiać ziarno przyszłościpopandemii. Oznacza to umieszczenie równości płci i zrównoważonego rozwoju w centrum ożywienia i promowania rozwoju poprzez "dobryhandel."
Najpoważniejszym wyzwaniem są nierówności ekonomiczne - nie tylko pomiędzy krajami, ale również wewnątrz nich. COVID-19 ujawnił głębię nierówności ze względu na płeć - kobiety najbardziej cierpią z powodu skutków ekonomicznych pandemii. Badania przeprowadzone przez International Trade Center pokazują, że prawie 65% małychfirmprowadzonychprzezkobiety w 120 krajach zostało silnie dotkniętych kryzysem (w porównaniu z nieco ponad połową firm kierowanych przez mężczyzn). Najbardziej ucierpiały sektory zatrudniające głównie kobiety - w tym handel detaliczny, hotelarstwo, turystyka oraz rzemieślnicza i lekka produkcja.
Ponadto przyspieszona cyfryzacja i zmieniające się konfiguracje łańcuchów dostaw oznaczają, że kobiety-przedsiębiorcy na całym świecie - ale zwłaszcza w krajach rozwijających się - napotykają dodatkowe przeszkody, od dostępu do informacji i zasobów po budowanie umiejętności i sieci.
W niedawnymkomentarzu w Financial Times Linda Scott z Saïd Business School na Uniwersytecie Oksfordzkim wezwała do zakończenia "męskiego monopolu" w handlu międzynarodowym. Argumentowała, że gdyby kobiety stały się istotnymi czynnikami ożywienia gospodarczego, "powstałaby kaskada korzyści, a cierpienia zostałyby znacznie ograniczone." Pomyślne zmierzenie się z tym wyzwaniem pozwoliłoby kobietom-przedsiębiorcom znaleźć się w nowych globalnych łańcuchach wartości, pomagając im sprostać nowoczesnym standardom produktów i skorzystać z rosnących możliwości handlu elektronicznego.
Ożywienie po pandemii również musi być trwałe i zrównoważone - a biznes na to reaguje. W zeszłym miesiącu ponad 20 wiodących firm - od Adidasa po Unilever - zzadowoleniemprzyjęło inicjatywę Unii Europejskiej dotyczącą wprowadzenia nowych wiążących standardów promujących zrównoważony rozwój, a ponad 1000 dyrektorówgeneralnych podpisało oświadczenie ONZ wzywające do wznowienia globalnej współpracy.
Decydenci również w coraz większym stopniu wiążą ożywieniepopandemiiCOVIDzdziałaniaminarzeczklimatu - jak ilustruje to warunkowe wsparcie dla AirFrance i Renault przez rząd francuski. Na niedawnym Zgromadzeniu Ogólnym ONZ, Chiny ogłosiły zamiar uzyskania neutralności pod względem emisjidwutlenkuwęglaprzed 2060 r. i wezwały wszystkie kraje do "osiągnięcia zielonego ożywienia światowej gospodarki w erze po COVID."
Subscribe to PS Digital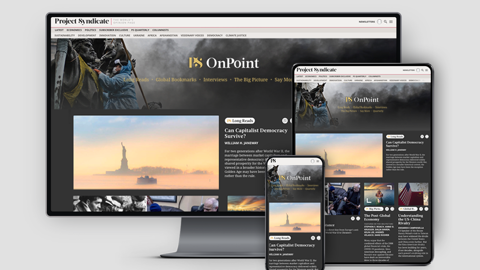 Subscribe to PS Digital
Access every new PS commentary, our entire On Point suite of subscriber-exclusive content – including Longer Reads, Insider Interviews, Big Picture/Big Question, and Say More – and the full PS archive.
Przywódcy Europy, AmerykiŁacińskiej, KaraibówiPacyfiku umieszczają łagodzenie zmian klimatycznych i rozwój sprzyjający włączeniu społecznemu w centrum swoich planów odbudowy po pandemii. Niektórzy, na przykład premier Nowej Zelandii JacindaArdern, obiecali powiązać swoje reakcje na COVID-19 zdziałaniaminarzeczklimatu. Wersje nowych, zielonych ofert zyskująnapopularności na całym świecie.
We wrześniu przewodnicząca Komisji Europejskiej Ursula von der Leyen przedstawiłaplany ograniczenia emisji gazów cieplarnianych w UE o 55% do 2030 r. Francja przyjęła wcześniej plannaprawy o wartości 100 mld euro (117,6 mld dolarów), w tym 30 mld euro na wsparcie zielonegoprzejścia.
Nastrój się zmienia. Świat szuka sposobów na zmiany w kierunku dobrego handlu - czystszego, sprawiedliwszego i bardziej odpornego na wstrząsy. Jednak nowe programy nie mogą pomijać wsparcia dla mikro, małych i średnich przedsiębiorstw - wielu z nich prowadzonych przez kobiety lub zatrudniających kobiety - które uczestniczą w globalnych łańcuchach wartości i napędzają lokalną gospodarkę.
Na przykład proponowany przez UE mechanizmdostosowaniagranicemisjidwutlenkuwęgla - który von der Leyen podkreśliła w swoim orędziu o stanie Unii - wzbudzi obawywkrajachrozwijającychsię. Boston Consulting Group uważa, że taki system oznaczałby, że "firmy spoza Europy, które były pod niewielką presją regulacyjną, aby mapować, raportować i kontrolować swoje emisje, musiałyby szybko zbudować te zdolności i nadrobić zaległości, aby pozostać konkurencyjnymi w Europie."
W rezultacie na przykład europejska firma papiernicza, która może sobie poradzić z mechanizmem dostosowania granic, może uzyskać przewagę konkurencyjną nad firmą azjatycką lub afrykańską z tego samego sektora, która obecnie eksportuje do Europy. Społeczność międzynarodowa musi rozwinąć szeroką wiedzę na temat tego, jak budować czystszy, bardziej równy świat i współpracować z partnerami z sektora publicznego i prywatnego w celu osiągnięcia wspólnych celów.
Jeśli chodzi o łańcuchy wartości, małe i średnie przedsiębiorstwa same naciskają na branże, aby stawiały czoła wyzwaniom związanym z przestrzeganiem przepisów społecznych i środowiskowych, oraz zmniejszały "zmęczenie audytem." Inicjatywy takie jak ProgramKonwergencjiSocjalnejiZawodowej, który służy sektorowi odzieży i obuwia, mogą być wspierane przez skromne fundusze i prowadzone przez neutralną organizację non-profit. Mogą zapewniać wydajne, skalowalne i zrównoważone oceny społeczne w różnych branżach i wzdłuż łańcuchów wartości oraz dostarczać wiarygodne i porównywalne dane. Model ten uwalnia zasoby dla firm w celu poprawy warunków pracy i procesów i mógłby w szerokim zakresie nadawać się do systemów zgodności po COVID w krajach rozwijających się.
Jeśli chodzi o równość płci, rosnąca liczba korporacji - takich jak UPS, MasterCard, Visa, Procter & Gamble i eBay - wspiera przedsiębiorczość kobiet poprzez programy różnorodności łańcucha dostaw, doradztwo, programy budowania potencjału i ukierunkowane usługi. Inicjatywy te rozwinęły się, wykorzystując wiedzę specjalistyczną i sieci organizacji międzynarodowych i lokalnych instytucji, wykorzystując zasoby, których często brakuje rządom, i które mogą być wdrażane w elastyczny i rynkowy sposób.
Wiele nierówności ujawnionych przez COVID-19 jest coraz trudniejszych do zignorowania. Mamy wspaniałą okazję, aby odważnie się odbudować i postawić równość płci, odpowiedzialność społeczną oraz ochronę środowiska w centrum naszych planów. Dzięki celowemu i strategicznemu skupieniu się na tych kwestiach przyszłość, którą siejemy, może być obfitsza niż przeszłość.
Z angielskiego przetłumaczyła Marz McNamer