Wie moet voor de klimaatverandering betalen?
SHARM EL-SHEIKH – Als er één kwestie is die dit jaar centraal staat op de conferentie van de Verenigde Naties over klimaatverandering (COP27), dan is het wel geld. Afgevaardigden, klimaatactivisten en het snel groeiende aantal deelnemers uit de particuliere sector bespreken wie voor de klimaatverandering moet betalen en hoe.
De focus op geld is hard nodig. Hoewel de jaarlijkse klimaatbesprekingen uiteindelijk gaan over het verminderen van de broeikasgasvervuiling, vergt de transitie naar een netto-nul-economie een enorme financiering, net als de aanpassing aan een wereld van stijgende gemiddelde temperaturen en zeespiegels, steeds vaker voorkomende en hevigere extreme weersomstandigheden en alle andere dure gevolgen van de verbranding van fossiele brandstoffen.
Sinds COP15 in Kopenhagen in 2009 is een belangrijk cijfer in dit debat ʻhonderd miljard dollar.' Dat is het bedrag dat de geavanceerde economieën van de wereld beloofden tegen 2020 jaarlijks aan de ontwikkelingslanden te zullen verstrekken. Maar het was nooit duidelijk of dit doel alleen betrekking had op overheidsgeld, of dat het ook een mix van overheids- en particuliere geldstromen kon omvatten. Terwijl de meeste landen in het Mondiale Zuiden het interpreteerden als een toezegging van overheidsmiddelen, gaven de meeste landen in het Mondiale Noorden de voorkeur aan de ruimere definitie. Als men deze laatste opvatting volgt, was de rijke wereld volgens een breed geciteerd onderzoek van het Climate Policy Initiative al in 2011 op weg om jaarlijks 97 miljard dollar aan klimaatfinanciering te verstrekken.
En toch zullen dertien jaar na de belofte van 2009 weinigen de fout maken publieke en private financiering met elkaar te verwarren, terwijl iedereen erkent dat de wereldwijde energietransitie geen miljarden maar biljoenen dollars per jaar zal vergen. Voorafgaand aan de COP26-besprekingen in Glasgow vorig jaar concludeerde Mark Carney, de speciale VN-gezant voor klimaatactie en financiën, dat de komende drie decennia minstens honderd biljoen dollar aan externe financiering ʻnodig zal zijn voor het streven naar duurzame energie, wil het effectief zijn.' En internationale instanties, adviesbureaus en banken zijn het eens over dit cijfer. Grote hoeveelheden particuliere uitgaven zullen moeten worden verlegd van investeringen in fossiele brandstoffen naar koolstofarme infrastructuur, energie en vervoer.
Maar dat ontslaat de regeringen niet van hun verantwoordelijkheid. Overheidsmiddelen zijn de hefboom om particulier geld in het vereiste tempo en op de vereiste schaal de juiste richting op te laten bewegen. De Inflation Reduction Act, de Bipartisan Infrastructure Law en de CHIPS and Science Act die de Verenigde Staten onlangs hebben aangenomen, zijn goede voorbeelden van deze hefboom in actie. Het idee is dat ongeveer vijfhonderd miljard dollar aan overheidsinvesteringen vele honderden miljarden meer aan particuliere geldstromen zullen losmaken. Maar hoewel deze bedragen (en soortgelijke beleidsmaatregelen elders) een wereldwijde race om schone energie op gang zouden kunnen brengen, zullen alle overheidsinvesteringen en de meeste particuliere investeringen in eigen land worden gedaan. Daardoor blijft het Mondiale Zuiden met een lege dop achter.
Het mondiale beeld vertoont een vergelijkbaar patroon. Aangezien de jaarlijkse directe buitenlandse investeringen veel groter zijn dan de ontwikkelingshulp, zal veel van het geld om de uitstoot van kooldioxide, methaan en andere broeikasgassen terug te dringen uit particuliere bronnen komen, ongeacht wat de regeringen overeenkomen te doen. Het vrijmaken van deze middelen zal wat klimaatonderhandelaars ʻcreatieve' oplossingen noemen vereisen, wat betekent: ʻWe weten dat er veel meer geld nodig is, maar wij kunnen niet degenen zijn die dat geld verstrekken.'
Subscribe to PS Digital Now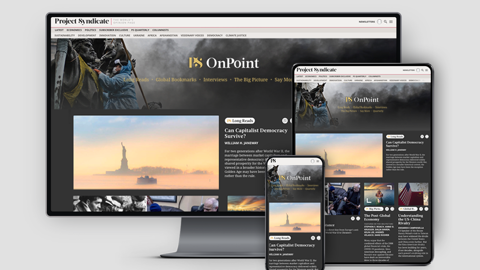 Subscribe to PS Digital Now
Access every new PS commentary, our entire On Point suite of subscriber-exclusive content – including Longer Reads, Insider Interviews, Big Picture/Big Question, and Say More – and the full PS archive.
Daarom kwam John Kerry, de Amerikaanse klimaatgezant, naar COP27 met een voorstel om koolstofkredieten te gebruiken om ten minste een deel van het financieringstekort op te vullen. Volgens deze aanpak zouden rijke landen en bedrijven niet alleen krediet krijgen voor het terugdringen van hun eigen vervuiling, maar ook voor het betalen van anderen om dat te doen.
Het idee is niet nieuw. De VS stelden een soortgelijk systeem voor in de aanloop naar COP3 in Kyoto in 1997. Destijds verzette een groot deel van de rest van de wereld, waaronder de Europese Unie, zich tegen het plan. Ironisch genoeg heeft de EU nu 's werelds grootste koolstofmarkt, terwijl de VS, afgezien van Californië en een dozijn noordoostelijke staten, dat niet heeft. Op nationaal niveau is het nog steeds politiek onmogelijk om vervuilers te laten betalen voor hun koolstofvervuiling. Daarom heeft de regering van president Joe Biden zich in plaats daarvan gericht op het uitgeven van geld om de energietransitie in eigen land te bevorderen, en stelt Kerry een vrijwillig koolstofkredietsysteem voor.
Koolstofkredieten, vooral vrijwillige, zijn geen substituut voor betekenisvolle inspanningen van bedrijven en landen om hun eigen vervuiling terug te dringen. In de eerste plaats hebben koolstofkredietsystemen veel problemen van zichzelf. De Californische koolstofmarkt verhandelt jaarlijks voor miljarden aan kredieten, maar heeft ook voor ongeveer vierhonderd miljoen dollar aan kennelijk frauduleuze boscompensaties in zijn systeem toegelaten. Als de verplichte markt van Californië al zoveel moeite heeft met de naleving, stel je dan eens voor welke problemen een vrijwillig wereldwijd systeem zou opleveren.
De VS en andere rijke, grote vervuilers hebben nog steeds de verantwoordelijkheid om op veel grotere schaal directe steun te verlenen dan zij nu doen. Dat geldt zowel voor onvoorwaardelijke hulp om de arme landen te helpen de klimaatverandering het hoofd te bieden, als voor financiering om hen te helpen hun eigen vervuiling terug te dringen. Duitsland en Oostenrijk verdienen lof omdat zij het voortouw hebben genomen met beloften van respectievelijk 170 miljoen euro en vijftig miljoen euro steun voor de meest kwetsbare landen. En een nieuwe verbintenis van de VS, de EU en Duitsland om vijfhonderd miljoen dollar te investeren in hernieuwbare energie in Egypte is een goede stap (ook al lijkt het gas dat op deze manier vrijkomt bestemd voor uitvoer naar de EU). Maar aangezien al deze bedragen in de miljoenen lopen, en niet in de miljarden, schieten ze nog steeds tekort.
Het idee om miljarden aan broodnodige hulpstromen te koppelen aan particuliere geldstromen van biljoenen heeft duidelijk zin. Het is een absolute prioriteit dat overheden helpen biljoenen aan particuliere investeringen naar het Mondiale Zuiden te laten stromen. ʻCreatieve' oplossingen moeten erop gericht zijn leningen en investeringen minder riskant te maken voor particuliere investeerders, waarbij rijke landen en multilaterale fondsen kredietgaranties en andere waarborgen bieden om de risico's te helpen verminderen.
Ook koolstofkredieten kunnen een rol spelen bij het opschalen van de broodnodige investeringen, op voorwaarde dat vrijwillige koolstofkredieten alleen worden gezien als een opstapje om vervuilers te laten betalen om hun eigen vervuiling terug te dringen. Uiteindelijk gaat het erom de wereldwijde revolutie voor schone energie meer vaart te geven. Als rijke bedrijven mogen opscheppen over hun groene geloofsbrieven en daardoor meer schone energie in het Mondiale Zuiden helpen financieren, is dat geen slechte zaak. Vaak is de beste manier om ervoor te zorgen dat het nodige werk wordt gedaan, je niet al te druk te maken over de vraag wie er met de eer gaat strijken.
Vertaling: Menno Grootveld