Kdo zaplatí za změnu klimatu?
ŠARM AŠ-ŠAJCH – Existuje-li jedno téma, které se stalo středobodem letošní Konference OSN o změně klimatu (COP27), jsou to peníze. Delegáti, klimatičtí aktivisté a prudce rostoucí počet účastníků z řad soukromého sektoru diskutují o tom, kdo by měl za změnu klimatu platit a jak.
Zaostřit pozornost na peníze bylo namístě už dřív. Každoroční klimatické rozhovory jsou sice v posledku o snižování skleníkových škodlivin, ale přechod na čistě nulovou ekonomiku vyžaduje masivní financování a stejně tak je bude vyžadovat adaptace na rostoucí průměrné teploty i hladiny moří, čím dál častější a prudší extrémní počasí a všechny další nákladné důsledky spalování fosilních paliv.
Už od COP15 v Kodani roku 2009 je klíčovým číslem v této debatě "sto miliard dolarů". Právě tolik vyspělé ekonomiky světa slíbily do roku 2020 každoročně poskytnout rozvojovým zemím. Nikdy však nebylo jasné, jestli se tento cíl vztahuje jen na veřejné peníze, anebo jestli by mohl zahrnovat mix veřejných a soukromých toků. Zatímco většina globálního Jihu si jej vykládala jako příslib veřejných peněz, většina globálního Severu dávala přednost širší definici. Když člověk přijme druhý z náhledů, byly bohaté země podle široce citované studie od Climate Policy Initiative na cestě k poskytování ročního klimatického financování ve výši 97 miliard dolarů ročně už v roce 2011.
Přesto by 13 let po závazku z roku 2009 málokdo udělal tu chybu, že by směšoval veřejné a soukromé financování, a zároveň všichni připouštějí, že globální energetická transformace bude vyžadovat nikoli miliardy, ale biliony dolarů ročně. Mark Carney, zvláštní vyslanec OSN pro klimatické úsilí a financování, došel před loňskými rozhovory na COP26 v Glasgow k závěru, že "zapotřebí pro snažení v oblasti udržitelné energetiky během příštích tří dekád, má-li být účinné," bude nejméně sto bilionů dolarů externího financování. V řadách mezinárodních orgánů, poradenských firem a bank přitom kolem tohoto čísla dochází k podstatné konvergenci. Bude nezbytné přesměrovat obrovské objemy soukromých výdajů za investice do fosilních paliv do nízkouhlíkové infrastruktury, energetiky a dopravy.
To ale neznamená, že vlády jsou z obliga. Veřejné prostředky jsou pákou, která nezbytným tempem a v nezbytném rozsahu mění směřování soukromých peněz. Dobrými příklady uplatnění této páky v praxi jsou ve Spojených státech nedávno schválené zákony o snižování inflace, o infrastruktuře podporované oběma politickými stranami a o čipech a vědě. Záměrem je, aby zhruba 500 miliard dolarů vládních investic povzbudilo dalších mnoho set miliard soukromých toků. Avšak přestože by tyto sumy (a podobné politiky jinde) mohly nastartovat globální závody na poli čisté energetiky, veškeré veřejné investice a většina těch soukromých se uskuteční na domácí půdě. Globální Jih tak dál zůstává potřebný.
Celosvětový obrázek zapadá do podobného kadlubu. Jelikož je rozvojová pomoc oproti ročním přímým zahraničním investicím trpaslík, většina peněz na snižování škodlivých emisí oxidu uhličitého, metanu a dalších skleníkových plynů bude pocházet ze soukromých zdrojů, ať už se vlády dohodnou na jakémkoli postupu. Uvolnění těchto finančních prostředků bude vyžadovat něco, čemu klimatičtí vyjednavači říkají "kreativní" řešení, což znamená: "Víme, že je zapotřebí mnohem víc peněz, ale my je poskytnout nedokážeme."
Subscribe to PS Digital Now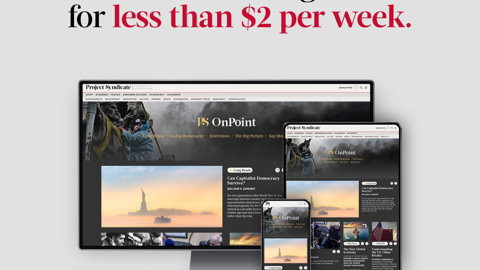 Subscribe to PS Digital Now
Access every new PS commentary, our entire On Point suite of subscriber-exclusive content – including Longer Reads, Insider Interviews, Big Picture/Big Question, and Say More – and the full PS archive.
John Kerry, klimatický vyslanec USA, proto na COP27 přijel s návrhem alespoň částečně vyplnit díry ve financování využitím uhlíkových kreditů. Při takovém přístupu by bohaté země a společnosti dostaly za zásluhu určité kredity nejen při snížení vlastního příspěvku ke znečištění, ale i při poskytnutí úplaty jiným, aby tak učinili.
Není to nová myšlenka. Spojené státy podobný systém navrhly už před COP3 konanou v Kjótu roku 1997. Velká část ostatního světa, včetně Evropské unie, se tehdy postavila proti plánu. Přesto má dnes paradoxně právě EU největší trh s uhlíkem na světě, kdežto USA, kromě Kalifornie a tuctu států na severovýchodě, žádný nemají. Dodnes je politicky nemožné na národní úrovni přimět znečišťovatele, aby za své uhlíkaté škodliviny platili. Právě proto se administrativa prezidenta Joea Bidena raději zaměřuje na výdaje na pomoc s energetickou transformací na domácí půdě a právě proto Kerry navrhuje dobrovolný systém uhlíkových kreditů.
Uhlíkové kredity, zejména dobrovolné, nemohou nahradit smysluplné snahy firem a zemí osekat své vlastní škodlivé emise. V prvé řadě mají systémy uhlíkových kreditů spoustu vlastních problémů. Kalifornský trh s uhlíkem obchoduje každoročně s kredity v hodnotě miliard, ale vpustil do svého systému také patrně podvodné lesní kompenzace za zhruba 400 milionů dolarů. Jestliže takto silně se souladem s pravidly zápasí mandatorní trh v Kalifornii, představte si, jaké problémy by sužovaly dobrovolný globální systém.
Je zodpovědností Spojených států a dalších bohatých velkých znečišťovatelů vysolit přímou pomoc v mnohem větším rozsahu, než v jakém ji v současnosti poskytují. To platí jak pro bezpodmínečnou podporu na pomoc chudým přestát změnu klimatu, tak pro financování, které jim pomůže snižovat jejich vlastní škodlivé emise. Německo a Rakousko si zaslouží uznání za to, že jdou v čele zteče, neboť přislíbily 170 milionů eur, respektive 50 milionů eur na pomoc nejzranitelnějším zemím. Dobrým krokem je též nový závazek USA, EU a Německa investovat 500 milionů dolarů do obnovitelných zdrojů v Egyptě (třebaže takto uvolněný plyn má být patrně vyvážen do EU). Avšak vzhledem k tomu, že všechny tyto sumy se pohybují v milionech, stále míjejí terč o několik řádů.
Zjevně je něco na myšlence zapřáhnout miliardy tolik potřebné pomoci k soukromým finančním tokům v bilionech. První na pořadu dne vlád je pomoci nasměrovat soukromé investice v bilionových výších na globální Jih. "Kreativní" řešení by se měla zaměřit na snižování rizikovosti půjček a investic pro soukromé investory, kdy bohaté vlády a multilaterální fondy poskytnou záruky za půjčky a další ujištění, která pomohou omezit suverénní úvěrová a další rizika.
Uhlíkové kredity by rovněž mohly sehrát určitou úlohu při pomoci s rozšiřováním naléhavě potřebných investic, budou-li dobrovolné uhlíkové kredity nahlíženy jen jako odrazový můstek k docílení toho, aby za své emise platili znečišťovatelé. V posledku skutečně záleží na roztáčení pohonu globální revoluce čisté energie. Jestliže to, že dáme bohatým firmám možnost chlubit se svým zeleným renomé, bude znamenat, že na globálním Jihu zafinancují víc čisté energie, není to nic špatného. Nejlepším způsobem, jak zajistit, aby byla odvedena potřebná práce, je často nestarat se příliš o to, kdo si připíše zásluhy.
Z angličtiny přeložil David Daduč