Jsme kvůli globálnímu oteplování hladovější?
PRAHA – Každoroční data víc než deset let ukazovala, že celosvětového hladovění ubývá. To se však změnilo: podle nejnovějších údajů Organizace OSN pro výživu a zemědělství (FAO) v roce 2016 hlad postihoval 815 milionů lidí, o 38 milionů víc než v roce 2015, a podvýživa ohrožuje miliony.
Výzkum mého think tanku Kodaňský konsensus už dlouho pomáhá se zaměřováním pozornosti a zdrojů na nejúčinnější reakce na podvýživu, jak celosvětově, tak v zemích jako Haiti a Bangladéš. Bohužel existují znepokojivé signály, že globální reakce se možná ubírá špatným směrem.
FAO dává nárůst hladovění za vinu šíření násilných konfliktů a "šokům souvisejícím s klimatem", což znamená konkrétní extrémní události jako povodně a sucha.
Jenže v tiskové zprávě FAO se "šoky související s klimatem" mění na "změnu klimatu". Samotná zpráva obojí bez důkazu spojuje, ale komuniké FAO jde ještě dál a stroze deklaruje: "Hlad ve světě opět na vzestupu, v důsledku konfliktů a změny klimatu."
Posun od přiřknutí viny "šokům souvisejícím s klimatem" k obvinění "změny klimatu" se může zdát nepatrný. Oba výrazy se týkají počasí. Tento malý rozdíl ale znamená hodně, zejména co se týče nejdůležitější otázky: jak pomoci k lepšímu nasycení světa? Být hr a zbrkle dát dnešní krize za vinu změně klimatu sice přitáhne pozornost, ale nutí nás to zaměřit se na nejnákladnější a nejméně efektivní reakce.
Nejlepší důkaz předložil panel OSN pro změnu klimatu (IPCC), který jasně doložil, že nedošlo k žádnému celkovému nárůstu such. Zatímco některé části světa zažívají četnější a horší sucha, jiné zažívají méně častá a slabší sucha. Komplexní studie v časopise Nature ukazuje, že výskyt všech kategorií sucha, od "neobvyklé suchosti" po "mimořádné sucho", se od roku 1982 mírně snížil. Co se týče záplav, IPCC je ještě příkřejší: na globální úrovni má "nízkou míru jistoty", zda změna klimatu způsobuje více či méně záplav.
Subscribe to PS Digital Now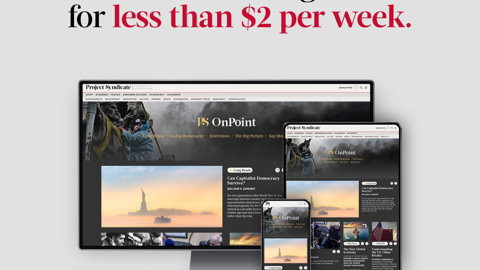 Subscribe to PS Digital Now
Access every new PS commentary, our entire On Point suite of subscriber-exclusive content – including Longer Reads, Insider Interviews, Big Picture/Big Question, and Say More – and the full PS archive.
IPCC nám říká, že je pravděpodobné, že některé části světa do konce století postihnou horší sucha. A předpovídá, třebaže s nižší jistotou, že v některých místech by mohly být častější záplavy.
Potírat hladovění prostřednictvím klimatických politik je odsouzeno k nezdaru. Všechna realistická snížení emisí uhlíku budou nákladná a do konce století prakticky nebudou mít na klima vliv. Pařížská klimatická dohoda, i kdyby se do roku 2030 plně realizovala, přinese podle OSN jen 1 % úbytků potřebných k zajištění toho, aby teplota nevzrostla o víc než 2°C. Přitom by stála nejméně bilion dolarů ročně – což je neuvěřitelně drahý způsob jak s možným nárůstem záplav a such neudělat do konce století nic smysluplného.
Dobře míněné politiky boje proti globálnímu oteplování by dokonce velmi snadno mohly hladovění zhoršit. Bohaté země se přiklonily k biopalivům – energii získávané z rostlin – ve snaze snížit svou závislost na fosilních palivech. Přínos pro klima je ale zanedbatelný: podle Mezinárodního institutu pro udržitelný rozvoj zhruba 90 % "ušetřeného" oxidu uhličitého nahradí vliv odlesňování, hnojení a používání fosilních paliv při výrobě biopaliv. Evropská biopaliva v roce 2013 využívala tolik půdy, kolik by stačilo k nakrmení sto milionů lidí, a program Spojených států ještě víc. Dotace do biopaliv přispěly k rostoucím cenám potravin a jejich rychlý růst se podařilo zkrotit až tehdy, když modely ukázaly, že do roku 2020 by mohlo hladovět dalších až 135 milionů lidí. To ale znamená, že dnešní hladovění přibližně 30 milionů lidí lze pravděpodobně připsat na vrub těmto špatným politikám.
Klimatické politiky navíc odklánějí prostředky od opatření, která přímo potlačují hladovění. Naše priority se zdají pokřivené, když klimatické politiky slibující nepatrný vliv na teplotu budou stát bilion dolarů ročně, kdežto rozpočet Světového potravinového programu je 169krát nižší, 5,9 miliardy dolarů.
Existují účinné způsoby jak vyrábět víc potravin. Jedním z nejlepších, jak ukázal výzkum Kodaňského konsenzu, je vzít vážně investice do výzkumu a vývoje s cílem zvýšit zemědělskou produktivitu. Zelená revoluce díky zavlažování, hnojivům, pesticidům a šlechtění rostlin zvedla světovou produkci obilí v letech 1950 až 1984 o neuvěřitelných 250 %, zvýšila kalorický příjem nejchudších lidí světa a odvrátila závažné hladomory. Na tomto pokroku musíme stavět.
Investice do zemědělského výzkumu a vývoje ve výši dalších 88 miliard dolarů během příštích 32 let by posílily výnosy o dalších 0,4 procentního bodu ročně, což by mohlo zachránit 79 milionů lidí před hladověním a zabránit pěti milionům případů dětské podvýživy. Hodnota takového pokroku by dosáhla téměř tří bilionů dolarů v sociálních přínosech, z čehož vyplývá obrovská návratnost 34 dolarů na každý vynaložený dolar.
Takové posílení růstu zemědělské produktivity do konce století by bylo mnohem větší než narušení zemědělské produktivity, jež naznačují i ty nejhorší scénáře důsledků globálního oteplování. A mělo by to ještě další výhody: Světová banka zjistila, že růst produktivity v zemědělství může být co do snižování chudoby až čtyřikrát účinnější než růst produktivity v jiných sektorech.
Jsme na rozcestí. Po dosažení dramatických pokroků v boji proti hladovění a hladomorům nám hrozí riziko sklouzávání zpět, vinou špatně promyšlených rozhodnutí. V sázce je příliš, než abychom si mohli dovolit vybrat špatné politické přístupy.
Z angličtiny přeložil David Daduč