De uitfasering van fossiele brandstoffen is een mythe
BRUSSEL – Hoe de wereld energie verbruikt is voor onze opwarmende planeet een heet hangijzer, en de angst voor vervuiling en uitputting van natuurlijke hulpbronnen hebben een virtuele wapenwedloop op het gebied van energie-efficiënte strategieën gecreëerd. Van de Europese Unie tot China beloven economieën om hun energie-intensiteit te reduceren door middel van technologische innovaties en wetswijzingen.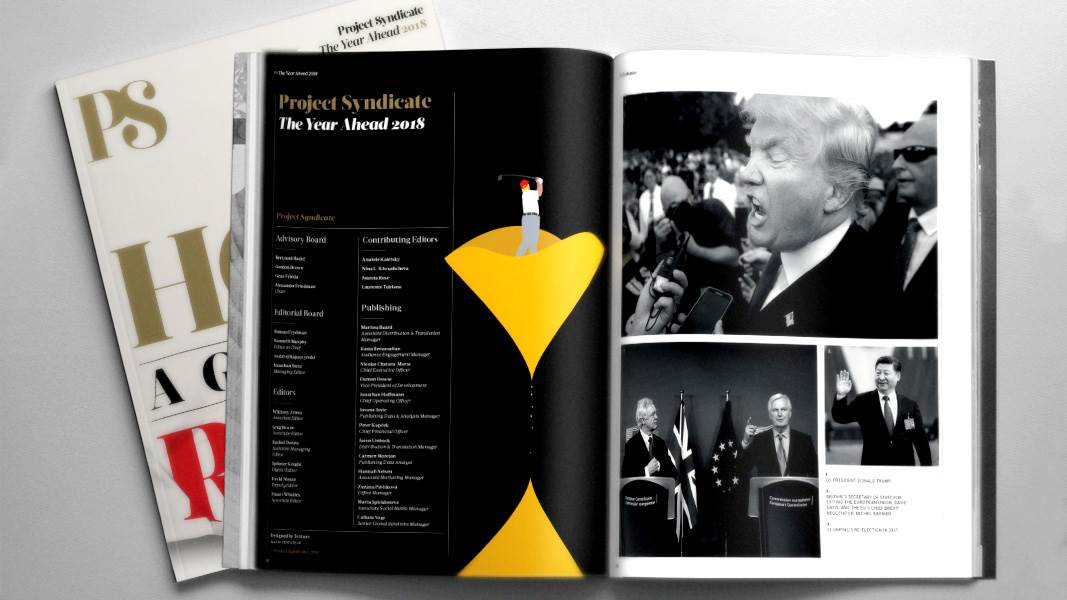 The Year Ahead 2018
The world's leading thinkers and policymakers examine what's come apart in the past year, and anticipate what will define the year ahead.
Toch voorspelt het Internationaal Energie Agentschap dat de consumentenvraag naar energie tot minstens 2040 zal blijven groeien. Dus hoe kunnen beleidsmakers terwijl de wereldwijde behoefte aan energie groeit het aanbod blijven garanderen?
Ronduit gezegd hoeft de wereld zich wat reserves betreft geen enkele zorgen te maken. Na 40 jaar lang energietekorten te hebben gevreesd hebben we nu een tijdperk van overvloed betreden. Het zijn valse narratieven waar we beducht voor moeten zijn, niet schaarse hulpbronnen.
De bron van deze gedachtegang is de Club van Rome, een mondiale denktank die in de jaren zeventig energie onrust veroorzaakte met absurde profetieën afgeleid van dubieuze modellen. Als toegewijde volgers van Thomas Malthus en Paul Ehrlich betoogde de club dat slechte dingen voortkomen uit exponentiele groei, en goede uit lineaire groei. Dit idee voedde de voorspelling dat de wereld tegen 2000 zonder olie zou komen te zitten.
Door dit nonsens dogma over te nemen stelden ontwikkelde landen autoritaire leiders met veel fossiele hulpbronnen, zoals Moammar al-Khadaffi in Libië en Ayatollah Ruhollah Khomeini in Iran, in staat om hun oliereserves te gebruiken als gereedschappen om het Westen tegen te werken – en dan vooral in zijn steun voor Israël. Dit droeg bij aan de oliecrises van de jaren zeventig en versterkte de foutieve perceptie dat de koolwaterstofreserves zelfs nog kleiner waren dan gedacht en grotendeels beperkt tot het Midden-Oosten.
Snelle vooruitgang in de technologie, vooral op het gebied van exploratie en het vermogen om koolwaterstoffen op nieuwe plekken te winnen, weerlegde dit soort narratieven uiteindelijk. De huidige energie 'crisis' wordt niet veroorzaakt door tekorten, maar door de angst voor vervuiling.
Maar deze angst heeft onze exploratiegewoonten niet vertraagd. In tegendeel, politiek beleid en internationale wetten zoals het VN-Verdrag inzake het recht van de zee zijn aangenomen om winning mogelijk te maken. Neem bijvoorbeeld het Rovuma-gasveld voor de kust van Mozambique. Op dit moment bereidt een consortium van internationale firma's uit onder andere Italië en China ontginning voor, en staat één van de armste landen van Afrika op het punt om hier enorme inkomsten uit te genereren.
Overeenkomstig zit Israël, waarvan ooit gedacht werd dat het de enige plek in het Midden-Oosten zonder koolwaterstoffen was, op 800 miljard kubieke meter gas voor de kust, meer dan 130 jaar de huidige gasconsumptie van het land. Ooit een netto energie-importeur staat Israël nu de zeer reële uitdaging te wachten zijn gasovervloed te weten exporteren.
Maar wellicht de grootste door technologie aangedreven revolutie op de wereldwijde energiemarkten de afgelopen jaren komt voort uit de schaliegas en -olieproductie in de Verenigde Staten. Met 8,8 miljoen vaten per dag is de Amerikaanse olieproductie nu groter dan die van Irak en Iran samen. Amerikaans schaliegas gaat naar Azië, Zuid-Amerika, en delen van Europa. Deze markt werden lang beheerst door Qatar, Rusland, en Australië, maar nu heeft de mondiale industrie voor liquefied natural gas (LNG), net zoals de oliemarkt, een periode van overproductie bereikt.
Samen genomen hebben deze ontwikkelingen bijgedragen aan lagere energieprijzen, en de macht van de OPEC verminderd. Bovendien is, omdat LNG vanwege milieuredenen de voorkeur heeft van de transportsector (en vooral van de vracht- en kustvaart), de mogelijkheid om olie als geopolitiek wapen te gebruiken verdwenen. Iran wilde zo wanhopig zijn olie-exporten opvoeren dat het overeenkwam zijn atoomprogramma op te geven (het is hierbij treffend dat het woord 'olie' 65 maal in het Iraanse atoomakkoord voorkomt).
Wind- en zonne-energie worden vaak gepresenteerd als alternatieven voor olie en gas, maar ze kunnen niet concurreren met traditionele bronnen van elektriciteitsopwekking. Als ze dat wel konden zou er geen reden voor de EU zijn om de productie van hernieuwbare energie door middel van wetgeving te ondersteunen. Bovendien komt, terwijl wind- en zonne-energie elektriciteit genereren, de grootste energievraag voort uit verwarming. In de EU bijvoorbeeld representeert elektriciteit slechts 22% van de totale energievraag, terwijl verwarming en koeling 45% representeren; transport is verantwoordelijk voor de resterende 33%.
Al deze factoren helpen te verklaren waarom fossiele brandstoffen, die momenteel aan meer dan 80% van de energiebehoefte van de planeet voldoen, voor de afzienbare toekomst de ruggengraat van de mondiale energieproductie zullen blijven. Dit is waarschijnlijk onwelkom nieuws voor degenen die een onmiddellijke uitfasering van koolwaterstoffen door willen drukken. Maar misschien kan het feit dat technologische innovatie tevens een sleutelrol zal spelen in het verminderen van de negatieve impact op de lucht- en waterkwaliteit enige troost bieden.
Binnen het mondiale debat over klimaatverandering is het begrijpelijk dat ontwikkelde economieën significante winsten in energie-efficiency beloven. Maar alhoewel de EU toegewijd lijkt de CO2-uitstoot terug te brengen lijken andere ondertekenaars van het klimaatakkoord van Parijs van 2015 minder resoluut. Het zou geen verrassing zijn als de meeste van de ondertekenaars de komende jaren in feite hun energieconsumptie zouden vergroten, en zich zouden wenden tot fossiele brandstoffen omdat ze zich geen andere optie kunnen veroorloven.
Het energiebeleid zal voor de geavanceerde economieën nog vele jaren hoog op de agenda staan. Maar terwijl landen eraan werken om de garantie van het aanbod in balans te brengen met milieudoelen, moeten ze zich er ook op toeleggen de feiten op een rijtje te zetten.
Vertaling Melle Trap