Mýtus o utlumování fosilních paliv
BRUSEL – Otázka, jakým způsobem svět využívá energii, je pro oteplující se planetu horkým tématem a strach ze znečištění a z nedostatku zdrojů vyvolal v oblasti strategií energetické účinnosti faktické "závody ve zbrojení". Ekonomiky od Evropské unie po Čínu slibují snížit svou energetickou náročnost za pomoci technologických inovací a legislativních změn.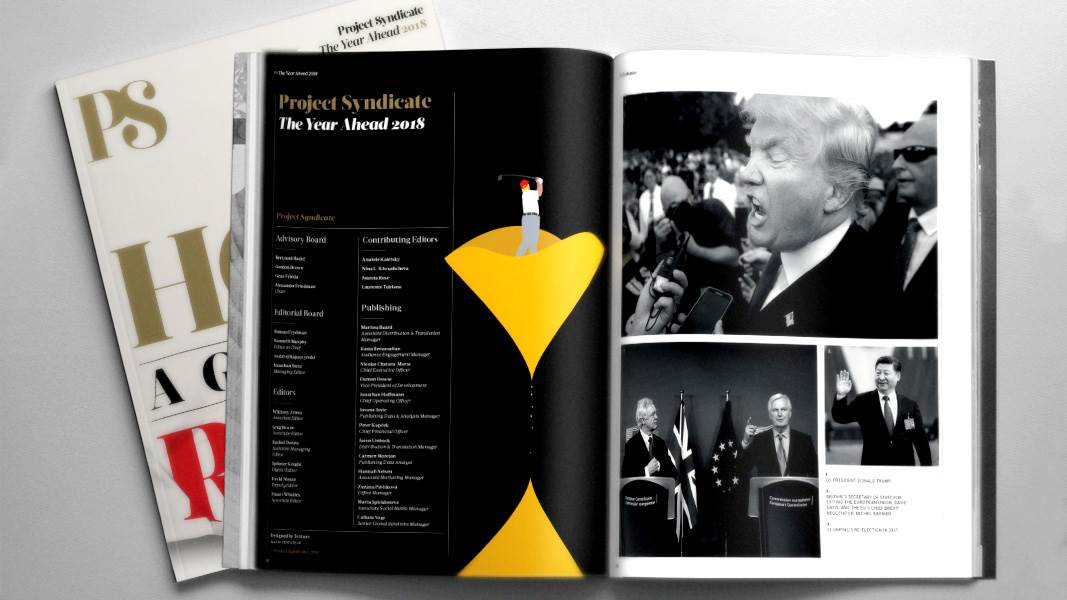 The Year Ahead 2018
The world's leading thinkers and policymakers examine what's come apart in the past year, and anticipate what will define the year ahead.
Navzdory těmto slibům však Mezinárodní energetická agentura předpovídá vzestup spotřebitelské poptávky po energii nejméně do roku 2040. Jak tedy mohou politici garantovat dodávky v době, kdy světové energetické potřeby rostou?
Pokud jde o zásoby, pak se svět hrubě řečeno nemá čeho bát. Po 40 letech obav z výpadků energie jsme vstoupili do éry hojnosti. Potřebujeme se zabezpečit proti falešným interpretacím, nikoliv proti nedostatku zdrojů.
Příčinou této interpretace je Římský klub, globální mozkový trust, který v 70. letech rozdmýchal energetickou úzkost svými absurdními proroctvími odvozenými z pochybných modelů. Členové klubu jakožto oddaní stoupenci Thomase Malthuse a Paula Ehrlicha tvrdili, že exponenciální růst přináší věci zlé, zatímco lineární růst dobré. Z této představy se vyvinula předpověď, že do roku 2000 dojde světu ropa.
Rozvinuté země toto nesmyslné dogma přijaly, a tím umožnily autoritářským vůdcům v zemích bohatých na zdroje, jako byli Muammar Kaddáfí v Libyi nebo ajatolláh Rúholláh Chomejní v Íránu, nakládat se svými zásobami ropy jako s nástrojem odporu vůči Západu – a zejména vůči jeho podpoře Izraele. To přispělo k ropným šokům v 70. letech a posílilo to mylný pocit, že zásoby uhlovodíků jsou ještě omezenější a nacházejí se převážně na Blízkém východě.
Rychlé technologické pokroky, zejména v oblasti průzkumu a schopnosti těžit uhlovodíky na nových místech, nakonec postavily podobné interpretace na hlavu. Dnešní energetická "krize" nepramení z nedostatku, nýbrž ze strachu ze znečištění.
Tento strach však nezpomalil naše zvyklosti na poli průzkumu. Právě naopak: politika a mezinárodní právo, například Úmluva OSN o mořském právu, se adaptují tak, aby umožňovaly nové objevy. Vezměme si například ložisko plynu Rovuma u pobřeží Mozambiku. Dnes tam připravuje těžbu konsorcium mezinárodních firem z různých zemí, jako jsou Itálie a Čína, což bude pro jeden z nejchudších států v Africe znamenat obrovský přínos.
Podobně i Izrael, který byl kdysi pokládán za jediné místo na Blízkém východě bez uhlovodíkových zásob, sedí na 800 miliardách krychlových metrů příbřežních zásob plynu, což je více než 130násobek současné roční spotřeby plynu v zemi. Izrael, jenž byl kdysi čistým dovozcem energie, tak dnes stojí před velmi reálnou výzvou spojenou s vývozem své plynové bonanzy.
Zřejmě největší technologiemi tažená změna na globálních energetických trzích však nastala s počátkem těžby břidlicového plynu a ropy ve Spojených státech. Americká ropná produkce dnes dosahuje 8,8 milionu barelů denně a je vyšší než produkce Iráku a Íránu dohromady. Americký břidlicový plyn se dodává do Asie, Latinské Ameriky i některých částí Evropy. Tyto trhy byly dlouho obsazené Katarem, Ruskem a Austrálií, avšak globální sektor zkapalněného zemního plynu (LNG) dnes podobně jako ropný trh vstoupil do éry nadprodukce.
Celkově vzato přispívá tento vývoj k nižším cenám energie a oslabuje OPEC. Protože navíc dopravní sektor (zejména železniční a námořní přepravci) upřednostňuje z ekologických důvodů LNG, schopnost používat ropu jako geopolitickou zbraň prakticky vymizela. Írán se tak zoufale snažil zvýšit vývoz ropy, že souhlasil s ukončením svého jaderného programu (skutečnost, že v jaderné dohodě s Íránem se slovo "ropa" vyskytuje 65krát, je do očí bijící).
Větrná a sluneční energie bývají často prezentovány jako alternativy k ropě a plynu, avšak tradičním zdrojům výroby elektřiny nemohou konkurovat. Kdyby ano, neměla by EU důvod podporovat výrobu obnovitelné energie prostřednictvím legislativy. Zatímco navíc větrné a sluneční technologie vyrábějí elektřinu, největší část energetické poptávky tvoří vytápění. Například v EU představuje elektřina pouze 22% konečné energetické poptávky, zatímco vytápění a chlazení představuje 45%; zbývajících 33% připadá na dopravu.
Všechny tyto faktory pomáhají vysvětlit, proč fosilní paliva, která v současnosti pokrývají přes 80% světových energetických potřeb, zůstanou v dohledné budoucnosti páteří globální energetické produkce. Pro ty, kdo prosazují okamžitý útlum uhlovodíků, to možná nebude vítaná zpráva. Útěchou by jim však mohla být skutečnost, že technologické inovace sehrají klíčovou roli také při snižování negativních dopadů spalování uhlovodíků na kvalitu ovzduší a vody.
Vzhledem ke globální diskusi o klimatických změnách je pochopitelné, že rozvinuté země slibují podstatné zvýšení energetické účinnosti. Zatímco však EU je možná odhodlaná snížit emise CO2, jiní signatáři pařížské klimatické dohody z roku 2015 nemusí být tak rezolutní. Nebylo by nijak překvapivé, kdyby většina signatářů svou spotřebu energie v nadcházejících letech zvýšila a znovu se upnula k fosilním palivům, protože si jinou možnost nemůže dovolit.
Energetická politika zůstane v agendě rozvinutých ekonomik ještě mnoho příštích let. Pokud se však státy snaží nalézt rovnováhu mezi bezpečností dodávek a ekologickými cíli, musí si nejprve ujasnit fakta.
Z angličtiny přeložil Jiří Kobělka.