Chińska Droga do Zerowego Netto
PEKIN – Chiny dążą do powstrzymania wzrostu emisji dwutlenku węgla przed 2030 r. i osiągnięcia neutralności węglowej przed 2060 r. Jeśli to się powiedzie, za mniej niż 40 lat kraj ten nie będzie już największym emitentem CO2 na świecie.
Chiny nie są jedynym - choć są największym - krajem, który zadeklarował zamiar osiągnięcia zerowej emisji CO2 netto w tym czasie; ponad 120 krajów dyskutuje o osiągnięciu tego celu jeszcze wcześniej, do 2050 roku. W rzeczywistości zapowiedź prezydenta Xi Jinpinga o zobowiązaniu Chin do 2060 r. na niedawnym Zgromadzeniu Ogólnym ONZ była podwójnie znacząca, biorąc pod uwagę, że porozumienie klimatyczne z Paryża z 2015 r. jest kwestionowane przez przywódców głównych rządów i podważane poprzez bezczynność w innych krajach, częściowo z powodu pandemii COVID-19.
Ale czy ambicja Chin jest wiarygodna? Chociaż Xi nie wyjaśnił w swoim przemówieniu, w jaki sposób zostanie osiągnięty cel zerowej emisji dwutlenku węgla, Chiny mają doświadczenie w realizacji głównych inicjatyw w obszarach takich jak efektywnośćenergetyczna, odnawialneźródłaenergii, redukcja zanieczyszczenia i walka z ubóstwem. Jednak zobowiązanie Xi do neutralności węglowej ma zupełnie inną skalę i musi zostać wypełnione w innym kontekście globalnym.
Niedawny raport Grupy Trzydziestu - międzynarodowego stowarzyszenia wiodących światowych myślicieli - ma na celu pomóc krajom w przyspieszeniu ich przejścia do gospodarki zerowej netto. Grupa G30 podkreśla, że osiągnięcie neutralności pod względem emisji dwutlenku węgla wymaga szerokiej współpracy pomiędzy rządami a sektorem prywatnym, której podstawą jest polityka publiczna. Odwołując się do ostatnich innowacji w polityce fiskalnej i monetarnej, w raporcie argumentuje się, że skuteczna komunikacja i tak zwane "wytyczne naprzód" mogą uczynić ramy polityki bardziej przewidywalnymi.
W szczególności raport wzywa rządy do stopniowego wycofywania jawnych i niejawnych dotacji na paliwa kopalne oraz opowiada się za podatkami dostosowawczymi na granicach, aby uniemożliwić krajom i firmom uwzględnianie kosztów emisji dwutlenku węgla w ich cenach. Chociaż nie jest jasne, jak szeroko stosowane będą te opłaty, część dochodów powinna trafiać do krajów o niskich dochodach, aby pomóc im uzyskać dostęp do możliwości oferowanych przez przejście na neutralność węglową. Tworzenie miejsc pracy wynikające z zielonego i zrównoważonego wzrostu również musi przynosić korzyści.
Ponadto korporacje muszą mieć jasne plany zielonej transformacji i muszą regularnie publikować raporty z postępów podlegające ciągłym przeglądom przez radę danej korporacji. Potrzebne są znaczące inwestycje, aby wzmocnić zdolność instytucji finansowych do oceny wpływu inwestycji na klimat i przesunięcia zasobów od tych, którzy się ociągają do przedsiębiorstw przodujących w dziedzinie transformacji niskoemisyjnej. Zarówno w firmach finansowych, jak i niefinansowych zachęty muszą odzwierciedlać cel zerowego netto.
Subscribe to PS Digital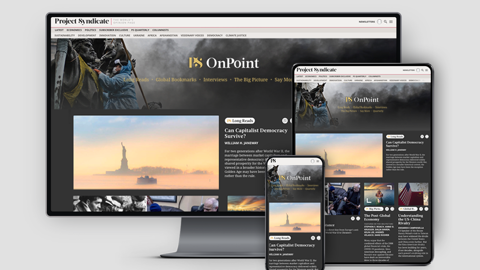 Subscribe to PS Digital
Access every new PS commentary, our entire On Point suite of subscriber-exclusive content – including Longer Reads, Insider Interviews, Big Picture/Big Question, and Say More – and the full PS archive.
Zarządzanie jest krytyczne. Jak sugerują G30 i inni, rządy muszą zapewnić niezależne przeglądy polis poprzez ustanowienie takich mechanizmów, jak rady ds. emisji dwutlenku węgla, wzorowane na radach fiskalnych i monetarnych. Podobnie specjalne komitety zarządu mogą zapewnić, że decyzje kredytowe i inwestycyjne sektora prywatnego odpowiednio uwzględniają ryzyko klimatyczne. Przejrzystość w odniesieniu do tych zagrożeń zachęci do wzajemnej weryfikacji i pozwoli rynkom zidentyfikować liderów i tych, którzy odstają od normy. Bieżące prace nad opracowaniem odpowiednich standardów rachunkowości powinny przyczynić się do podniesienia jakości, a tym samym wartości ujawnień.
Firmy przodujące będą ponosić koszty zanim konkurenci wprowadzą ceny emisji dwutlenku węgla i ceny alternatywnych źródeł paliw spadną. Ale korzyści są większe. Wielu inwestorów instytucjonalnych już teraz odczuwa presję, aby uwzględnić klimat i inne cele w zakresie zrównoważonego rozwoju w swoich kryteriach inwestycyjnych, podczas gdy organy regulacyjne w coraz większym stopniu uwzględniają ryzyko związane ze zmianą klimatu. Na tych trendach mogą skorzystać przodujący w tej dziedzinie.
Ta sama zasada dotyczy państw. Z biegiem czasu presja ze strony innych krajów, aby osiągnąć zerową emisję netto CO2 wzrośnie, a strategie w poszczególnych krajach będą musiały się do tego dostosować. Osoby dokonujące wczesnych zmian mogą rozłożyć swoje zmiany na dłuższy okres i uniknąć kosztów uciążliwych zmian wprowadzanych w ostatniej chwili. Ale wszystkie podmioty gospodarcze muszą działać razem, a rządy będą potrzebować wsparcia sektora prywatnego w tej transformacji. Każdy dzień zwłoki będzie powiększał ostateczny zasób "osieroconych aktywów," gdy ceny uprawnień do emisji zostaną w pełni skorygowane.
Wielostronne banki rozwoju (MDB) powinny stać na czele tych zmian. Wiele z nich daje już przykład. Niedawne oświadczenie prezesa Asian Infrastructure Investment Bank, JinLiqun, że nie będzie rozważał projektów związanych z energetyką węglową, było ważnym sygnałem w regionie, w którym emisja CO2 wciąż rośnie. Bank wyznaczył również cel osiągnięcia lub przekroczenia 50% udziału finansowania klimatycznego w swoich inwestycjach do 2025 r. Wszystkie MDB mogą jeszcze bardziej wykorzystać swój wspólny kapitał i siłę, aby zmniejszyć ryzyko, zapewnić wykorzystanie najnowocześniejszych technologii ekologicznych i przyspieszyć zmianę polityki w kierunku łagodzenia zmiany klimatu i przystosowania się do niej.
Nadal nie znamy najbardziej opłacalnej i sprawiedliwej drogi prowadzącej do gospodarki o zerowej emisji dwutlenku węgla, ale nie brakuje potencjalnych rozwiązań. Xi zapoczątkował jedną z najważniejszych inicjatyw politycznych ostatnich 40 lat. Jego podejście odzwierciedla kluczową cechę chińskich reform od lat 70-tych XX wieku: ogłosić śmiałą wizję, a następnie wymyślić, jak ją zrealizować poprzez zorganizowane eksperymenty i ostrożne iteracje - lub, jak powiedział słynny Deng Xiaoping, "przekroczenie rzeki, czując kamienie."
Lecz, jak doskonale zdają sobie z tego sprawę przywódcy Chin, zmiany klimatu już zalewają chińskie rzeki i wyrywają kamienie, podczas gdy inne kraje, w tym Stany Zjednoczone, walczą z historycznymi pożarami i to podczas pandemii. Aby zmniejszyć ryzyko dalszych spustoszeń, nie ma alternatywy: Chiny i cały świat muszą pilnie dokonać przejścia na neutralność węglową.
Z angielskiego przetłumaczyła Marz McNamer