Het is tijd de klimaatmarkt te ontketenen
WASHINGTON, DC – De vooruitgang in de strijd tegen de klimaatverandering verloopt al geruime tijd in een slakkengangetje, en de kosten van het uitblijven van maatregelen worden steeds duidelijker zichtbaar. Er gaat nauwelijks een week voorbij zonder natuurramp of een of andere extreme weersomstandigheid, waardoor het leven en de bestaansmiddelen van kwetsbare bevolkingsgroepen in de ontwikkelingslanden weggevaagd worden. Tot de meest recente verschrikkingen behoren verwoestende overstromingen in India als gevolg van het smelten van gletsjers, en de golf van orkanen van categorie 4 die Honduras in november trof.
Met een koolstofvoetafdruk per hoofd van de bevolking die vier- tot vijfmaal zo groot is als die van het gemiddelde lage- of middeninkomensland, dragen de Verenigde Staten grote verantwoordelijkheid voor deze tragedies. Gelukkig lijkt 2021 het jaar te worden waarin de VS eindelijk zinvolle klimaatmaatregelen zullen gaan nemen, dankzij een nieuwe ontwikkeling in de mondiale financiële sector. U hoort het goed: Big Finance is groen aan het worden, nu grote institutionele beleggers op zoek zijn naar veilige, langetermijnrendementen op de wereldmarkten.
Naast vele andere positieve ontwikkelingen heeft ExxonMobil, onder druk van Blackrock, 's werelds grootste vermogensbeheerder, onlangs zo'n 20 miljard dollar van zijn fossiele-brandstofbezittingen afgeschreven. Het New York State Common Retirement-fonds, dat ruim  200 miljard dollar onder beheer heeft, heeft aangekondigd te zullen desinvesteren in bedrijven die fossiele brandstoffen blijven gebruiken. En, zoals The Economist onlangs opmerkte, is het aandeel van energiebedrijven in de S&P 500 gedaald van 10 procent in 2011 naar 3 procent nu, wat niet alleen de gevolgen van de pandemie weerspiegelt, maar ook de ʻgrieven van beleggers, die verder gaan dan COVID-19.'
Verzekeringsmarkten laten fossiele brandstoffen links liggen. Al in 2019 trokken verzekeraars, goed voor 37 procent van de wereldwijde bezittingen van de sector, zich terug uit beleggingen in steenkool, omdat ze de sector steeds ʻminder goed verzekerbaar' achtten. En afgelopen december maakte Lloyd's, 's werelds grootste verzekeringsmarkt, bekend binnen een jaar geen nieuwe dekking meer te zullen afgeven voor steenkool- en andere vuile energieprojecten.
En in de auto-industrie winnen elektrische voertuigen (EV's) steeds meer terrein. Zo kondigde BMW onlangs aan dat het de komende twee jaar 250.000 EV's meer zal gaan bouwen dan aanvankelijk het plan was. GM (dat zich ertoe verbonden heeft om tegen 2040 koolstofneutraal te zijn) en Ford zullen dit jaar allebei hun nieuwe EV-modellen uitbrengen, net als verschillende start-ups.
Hoewel er nog steeds grote meningsverschillen bestaan tussen de leiders uit het bedrijfsleven en de toezichthouders, is de weerstand tegen strengere klimaatnormen aan het wegsmelten, en tonen velen in de privésector zich bereid om samen te werken met de regering van de Amerikaanse president Joe Biden.
Subscribe to PS Digital Now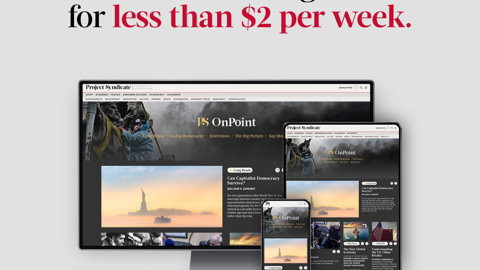 Subscribe to PS Digital Now
Access every new PS commentary, our entire On Point suite of subscriber-exclusive content – including Longer Reads, Insider Interviews, Big Picture/Big Question, and Say More – and the full PS archive.
Waar is deze golf van financiële vergroening aan te danken? Een deel van de eer gaat zeker naar journalist en klimaatactivist Bill McKibben, mede-oprichter van 350.org. McKibben bracht jaren geleden de bal aan het rollen door studenten op te roepen de fondsen van hun universiteiten ertoe aan te zetten af te zien van het beleggen in fossiele brandstoffen. Deze aanpak kostte tijd, maar naarmate de productiekosten van schone energie daalden en de beweging om verantwoord te beleggen aan kracht won, werd het voor universiteitsbesturen makkelijker om de eisen van de studenten te verzoenen met een respectabel marktrendement.
Vorig jaar nog sloten de universiteit van Michigan, de George Washington-universiteit, de Cornell-universiteit en de universiteit van Cambridge zich aan bij de groeiende groep van wetenschappelijke instellingen die ermee instemmen om hun beleggingen in emissie-intensieve energiebronnen te beperken. En ruim de helft van alle universiteiten in het Verenigd Koninkrijk heeft al dergelijke toezeggingen gedaan.
Waar McKibben de basis heeft gelegd, heeft de voormalige gouverneur van de Bank of England, Mark Carney, zich ontpopt als een belangrijke denker op het beleidsfront. In 2015, toen hij nog bij de BOE zat, drong hij er bij de financiële toezichthouders op aan om bedrijven aan te moedigen gegevens over de koolstofintensiteit van hun bezittingen te publiceren, met als argument dat dergelijke informatie de vraag naar nog meer gegevens zou doen toenemen en de markt uiteindelijk veerkrachtiger zou maken. Het Verenigd Koninkrijken de Europese Unie  voeren nu allebei hun eigen klimaatrapportage-eisen voor bedrijven in. En in de VS overweegt minister van Financiën Janet Yellen een reeks stresstests voor klimaatrisico's voor grote financiële instellingen.
Natuurlijk reageren financiële markten uiteindelijk op de verwachte koersen en rendementen, die sterk worden beïnvloed door het overheidsbeleid (zoals subsidies voor groene energie en normen voor brandstofefficiëntie). En het overheidsbeleid moet op zijn beurt de houding van het publiek weerspiegelen. Het is daarom simplistisch om te zeggen dat de financiële sector uit zichzelf wel groen zal worden. Volgens YouGov staat klimaatverandering nu bovenaan de prioriteitenlijst van de Amerikaanse kiezers (vlak na de gezondheidszorg en de economie), terwijl dat vijf jaar geleden nog helemaal niet het geval was.
De vraag voor de regering Biden is hoe dit momentum kan worden benut. Om te beginnen zou Brian Deese, de nieuwe directeur van de Nationale Economische Raad van het Witte Huis (die voorheen verantwoordelijk was voor duurzaam beleggen bij Blackrock) om de tafel moeten gaan zitten met Gary Gensler, het nieuwe hoofd van de Securities and Exchange Commission. Het is tijd dat de VS het voorbeeld van het Verenigd Koninkrijk en de EU gaat volgen door beursgenoteerde bedrijven te verplichten gestandaardiseerde informatie over hun klimaatrisico's te publiceren. Gensler heeft de reputatie een assertieve toezichthouder te zijn. Zodra zijn benoeming is goedgekeurd, zal hij met een Democratische meerderheid onder de SEC-commissarissen gemachtigd zijn om actie te ondernemen.
Bovendien zou de verplichte openbaarmaking van klimaatrisico's waarschijnlijk op brede steun kunnen rekenen binnen de financiële sector, die de voorkeur geeft aan een gelijk speelveld voor alle partijen. Vorige maand nog hebben elf groepen uit de sector een gezamenlijke beleidsagenda opgesteld die onder meer standaardisering van de klimaatinformatie omvat. Zelden zijn er in de VS zulke grote mogelijkheden geweest voor de invoering van klimaatbeleid.
De sterren staan nu zó gunstig dat 2021 een jaar kan worden waarin belangrijke actie op het gebied van klimaatverandering wordt ondernomen. Een alomvattende impuls van de SEC zou de curve nog verder kunnen ombuigen in de richting van een duurzamere toekomst.
Vertaling: Menno Grootveld