Wyzwolenie Rynku Klimatycznego
WASZYNGTON, DC - Postęp w walce ze zmianami klimatycznymi od dawna idzie w ślimaczym tempie, a koszty bezczynności są coraz bardziej widoczne. Nie ma tygodnia bez klęski żywiołowej lub ekstremalnego zdarzenia pogodowego, które niszczą życie i źródła utrzymania wrażliwych populacji w krajach rozwijających się. Wśród ostatnich nieszczęść jest niszczycielskapowódź w Indiach spowodowana topnieniem lodowca oraz fala huraganów kategorii 4, którenawiedziłyHonduraswlistopadzie.
Stany Zjednoczone - gdzie ślad węglowy na mieszkańca jest 4-5 razywiększy niż w przeciętnym kraju o niskim lub średnim dochodzie - są głęboko zaangażowane w te tragedie. Na szczęście rok 2021 zapowiada się na rok, w którym w końcu działania klimatyczne zostaną tam przedsięwzięte, co jest wynikiem spowolnienia w globalnej branży finansowej. Dokładnie tak jest: Big Finance zaczęła działać ekologicznie, ponieważ główni inwestorzy instytucjonalni poszukują bezpiecznych, długoterminowych zwrotów na rynkach globalnych.
Wśród wielu innych pozytywnych wydarzeń, ExxonMobil, pod naciskiem Blackrock, największegonaświeciemenedżerazarządzającegoaktywami, niedawno odpisał około 20 miliardów dolarów swoich aktywów w paliwach kopalnych. Fundusz emerytalny stanu Nowy Jork - zarządzający ponad 200 miliardamidolarów - ogłosił, że wycofuje się z firm paliw kopalnych. Jak The Economist niedawno zauważył: udział firm energetycznych w indeksie S&P 500 spadł z 10% w 2011 r. do 3% obecnie, co odzwierciedla nie tylko skutki pandemii, ale także "zastrzeżenia inwestorów wykraczające poza COVID-19."
Rynki ubezpieczeniowe także odchodzą od paliw kopalnych. Już w 2019 roku ubezpieczyciele reprezentujący 37% globalnych aktywów branży wycofywalisię z inwestycji węglowych, uznając branżę za coraz bardziej "nieubezpieczalną." W grudniu ubiegłego roku Lloyd's - największy na świecie rynek ubezpieczeń - ogłosił, że w ciągu roku zaprzestanie wydawania nowych ubezpieczeń dotyczących węgla i innych projektów związanych z zanieczyszczoną energią.
Wreszcie, w branży motoryzacyjnej, pojazdy elektryczne (EVs) nabierają rozpędu. Na przykład BMW niedawno ogłosiło, że w ciągu najbliższych dwóch lat wyprodukuje 250 000 więcej pojazdów elektrycznych, niż pierwotnie planowano. GM (który zobowiązałsię do neutralności pod względem emisji dwutlenku węgla do 2040 r.) i Ford wypuszczą w tym roku nowe modele pojazdów elektrycznych, podobnie jak kilka innych start-upów.
Chociaż nadal istnieje wiele podziałów między liderami branży a organami regulacyjnymi, historyczny opór wobec silniejszych standardów klimatycznych topnieje, a wielu przedstawicieli sektora prywatnego wyrażachęć współpracy z administracją prezydenta USA Joe Bidena.
Subscribe to PS Digital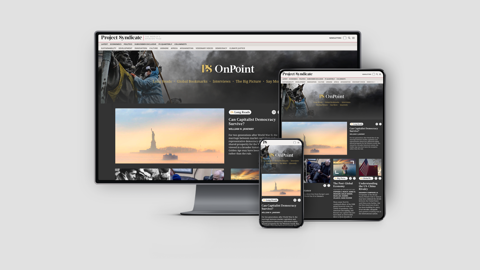 Subscribe to PS Digital
Access every new PS commentary, our entire On Point suite of subscriber-exclusive content – including Longer Reads, Insider Interviews, Big Picture/Big Question, and Say More – and the full PS archive.
Skąd wzięła się ta fala "zazieleniania" finansowego? Część zasługi z pewnością należy się dziennikarzowi i działaczowi na rzecz klimatu BillowiMcKibbenowi, współzałożycielowi 350.org. McKibben zaczął działalność przed laty, wzywając studentów uniwersyteckich, aby przekierowali fundusze kapitałowe swoich szkół na pozbycie się paliw kopalnych. Podejście to wymagało czasu, ale gdy spadły koszty produkcji czystej energii, a ruch inwestycyjny ESG (środowisko, społeczeństwo i zarządzanie) nabrał rozpędu, radom uniwersytetów łatwiej było pogodzić wymagania studentów z przyzwoitymi zwrotami rynkowymi.
W zeszłym roku University of Michigan, George Washington University, Cornell University i University of Cambridge dołączyły do rosnącego grona instytucji akademickich, które zgadzająsię na ograniczenie inwestycji w energochłonne źródła energii. Ponadpołowa wszystkich uniwersytetów w Wielkiej Brytanii podjęła już takie zobowiązania.
Tam, gdzie McKibben budował u podstaw, były prezes Banku Anglii Mark Carney wyłonił się jako kluczowy myśliciel na froncie politycznym. W 2015 roku, będąc jeszcze w BOE, naciskał na organy nadzoru finansowego, aby zachęcały firmy do publikowania danych dotyczących intensywności emisji dwutlenku węgla ich aktywów, argumentując, że takie informacje wygenerują popyt na jeszcze więcej ujawnień i ostatecznie wzmocnią odporność rynku. Teraz WielkaBrytania i UniaEuropejska wdrażają własne wymagania dotyczące raportowania zmian klimatycznych dla firm. Natomiast w Stanach Zjednoczonych sekretarz skarbu Janet Yellen rozważa przeprowadzenie serii testów warunków skrajnych dla zagrożeń klimatycznych dla głównych instytucji finansowych.
Oczywiście rynki finansowe ostatecznie reagują na oczekiwane ceny i zwroty, na które znaczący wpływ ma polityka publiczna (jak dotacje na zieloną energię i standardy efektywności paliwowej). Z kolei polityka publiczna powinna odzwierciedlać postawy społeczne. Dlatego też stwierdzenie, że branża finansowa sama w sobie staje się ekologiczna, jest uproszczeniem. Według YouGov, zmiany klimatyczne są obecnie głównymproblemem dla wyborców w USA (zaraz za opieką zdrowotną i gospodarką), podczas gdy pięć lat temu zajęło to niskie miejsce na liście priorytetów.
Pytanie do administracji Bidena brzmi, jak wykorzystać ten moment. Na początek Brian Deese, nowy dyrektor Narodowej Rady Gospodarczej Białego Domu (który wcześniej nadzorował zrównoważone inwestowanie w Blackrock) powinien spotkać się z Garym Genslerem, nowym szefem Komisji Papierów Wartościowych i Giełd. Nadeszła chwila, aby Stany Zjednoczone poszły za Wielką Brytanią i UE, wymagając od spółek notowanych na giełdzie publikowania standardowych informacji na temat ich ekspozycji na klimat. Gensler mareputację asertywnego regulatora. Gdy zostanie zatwierdzony, będzie upoważniony do podjęcia działań z większością demokratyczną wśród komisarzy SEC.
Ponadto obowiązkowe ujawnianie zagrożeń klimatycznych prawdopodobnie spotkałoby się z szerokim poparciem w branży finansowej, która woli równe szanse dla wszystkich konkurentów. W zeszłym miesiącu 11 grup branżowych opublikowało wspólny program polityczny, który obejmuje standaryzację ujawnień dotyczących klimatu. Stanach Zjednoczone zwykle nie były tak otwarte na politykę klimatyczną.
Wygląda na to, że 2021 będzie rokiem znaczących działań w zakresie zmian klimatu. Wszechstronny nacisk ze strony SEC zmieni krzywą jeszcze bardziej w kierunku zrównoważonej przyszłości.
Z angielskiego przetłumaczyła Marz McNamer