Trhy si nepřipouštějí jaderné riziko
NEW YORK – Finanční trhy, zdá se, nepromítají do cen úplný rozsah rizik ruské invaze na Ukrajinu. Absence jakékoli významné negativní reakce na trzích s akciemi, korporátním dluhem a suverénním dluhem v Evropě, Spojených státech, Kanadě a Japonsku by stěží dávala smysl, i kdyby šance, že se situace vyhrotí do otevřeného střetu mezi NATO a Ruskem, byla nulová. Není to přitom jediné reálné riziko; hrozí rovněž, že dojde k jadernému konfliktu.
Za předpokladu, že se konflikt nerozšíří, jsou pravděpodobné krátkodobé ekonomické a finanční účinky války Vladimira Putina mimo Ukrajinu a Rusko značné, ale zvladatelné. Škody vyvolané negativním nabídkovým šokem by se projevily hlavně působením vyšších komoditních cen, zejména ropy a plynu, pšenice, hliníku a strategických surovin, jako je palladium a neon.
Už v případě takového "ohraničeného konvenčního konfliktu" se v důsledku nedostatku fosilních paliv, ztráty exportních trhů a občasných kyberútoků ještě zvýrazní stagflační působení vzestupu komoditních cen v Evropě. Celosvětově pak utrpí střednědobý a dlouhodobý potenciální výstup, vzhledem k novému rozštěpení na obchodní a finanční soustavu soustředěnou kolem Číny a Ruska na jedné straně a kolem USA, Evropy a Japonska na straně druhé. Nadto potenciální výstup ještě stlačí defenzivní realokace investic a dalších prostředků, které se budou vyhýbat riziku, jelikož vlády a korporace budou usilovat o posílení odolnosti dodavatelských řetězců.
Globální trhy s aktivy nepromítly do cen ani tento nejméně negativní scénář. Kdyby ale rusko-ukrajinská válka eskalovala a proměnila se ve válku Rusko-NATO, hrozilo by vážné riziko jaderného konfliktu. Jistou cestou k takové eskalaci by bylo, kdyby NATO nad Ukrajinou vyhlásilo bezletovou zónu, jak naléhavě žádá ukrajinská vláda.
Ač NATO a západní vlády uvalily na Rusko hospodářské a finanční sankce a poskytly Ukrajině protitankové zbraně, drony, přenosné rakety země-vzduch a munici, tyto formy podpory nepředstavují akt války. Vymáhání bezletové zóny by však znamenalo sestřelování ruských cílů. Kdyby NATO podniklo takový krok, začala by být širší válka neodvratná.
I kdyby širší konflikt zůstal konvenční, vyústil by v regionální lidskou a ekonomickou kalamitu. Riziko nukleární konfrontace – za použití taktických i strategických jaderných zbraní – by bylo vyšší než kdykoli jindy od studené války. Území i občané všech členských států NATO by byli v existenčním ohrožení.
Subscribe to PS Digital Now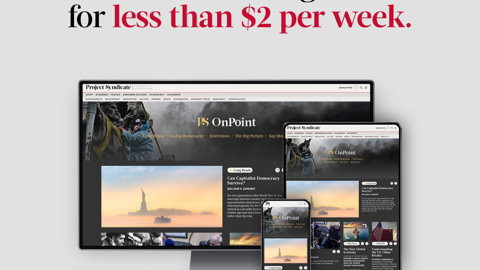 Subscribe to PS Digital Now
Access every new PS commentary, our entire On Point suite of subscriber-exclusive content – including Longer Reads, Insider Interviews, Big Picture/Big Question, and Say More – and the full PS archive.
NATO prozatím výzvy ke zřízení bezletové zóny rovnou odmítlo. Také v reakci na Putinovo řinčení jaderným arzenálem dosud projevuje zdrženlivost. Putin 27. února 2022 uvedl ruské nukleární síly do vysoké pohotovosti v reakci na západní sankce a na to, co označil za "agresivní výroky" mocností NATO. Bělorusko téhož dne odstoupilo od svého nejaderného statusu – čímž připustilo ruské jaderné zbraně na svém území. Tato eskalace následovala krátce po rozsáhlých ruských strategických jaderných manévrech z 19. února a po Putinově televizním projevu, v němž 24. února oznámil invazi a zdůraznil, že Rusko je stále jedním z nejmocnějších jaderně vyzbrojených států.
Přestože jsou takové výroky pravděpodobně jen zuřivé štěkání, nelze je jednoduše přehlížet. Vždyť dochází k nehodám, a kdykoli se nukleárním arzenálem máchá, riziko neúmyslného jaderného neštěstí roste. Navíc třebaže racionální aktér by se tváří v tvář vzájemně zaručenému zničení nikdy k jaderné síle neuchýlil, o spolehlivosti této záruky lze pochybovat. Kromě toho se racionality může nedostávat právě tam, kde by jí bylo nejvíc zapotřebí. Někteří pozorovatelézpochybnili, zdali Putin zůstává plně způsobilý, a spekulují, že izolace během pandemie u něj posílila paranoi.
Hodiny posledního soudu od ledna 2020 ukazují sto vteřin před půlnocí, což znamená, že Bulletin atomových vědců se domnívá, že lidstvo je k člověkem způsobené apokalypse blíž než kdykoli dřív od spuštění hodin v roce 1947. Hodnocení vychází zejména z nukleárních rizik, změny klimatu a disruptivních technologií. K výročnímu nastavení hodin došlo letos 20. ledna. Kdyby se místo toho uskutečnilo 1. března, ručičky by se nepochybně posunuly blíž k půlnoci a armagedonu.
Riziko jaderné války se teď zdá nejvyšší od kubánské raketové krize v říjnu 1962 nebo přinejmenším od cvičení NATO pod názvem Able Archer v roce 1983, kdy si členové politbyra a ozbrojených sil Sovětského svazu tyto manévry vyložili jako zástěrku opravdového prvního jaderného úderu a zahájili přípravy na nukleární válku. Vliv kubánské raketové krize na americké akciové trhy byl malý: došlo ke zhruba 7% poklesu S&P 500, který z větší části odezněl, když sovětský vůdce Nikita Chruščov ustoupil. O incidentu během cvičení Able Archer se veřejnost dozvěděla až v roce 2015, takže trhy nelze vinit z toho, že na něj nereagovaly.
Dnes máloco dokládá, že by si trhy sílícího rizika jaderného střetu alespoň všimly. Tomu se říká zavírání očí.
Z angličtiny přeložil David Daduč