Jak Naprawić Niesprawiedliwości Kryzysu Wodnego w Afryce
JOHANNESBURG – Wyobraź sobie kryzys we własnym domu, miejscu pracy lub społeczności. Nie byłeś jego przyczyną, ani nie odniosłeś z niego korzyści. A jednak ponosisz ciężar konsekwencji, podczas gdy ci, którzy go stworzyli i czerpią z niego korzyści, nadal pogarszają problem. Dla Afryki taka rażąca niesprawiedliwość jest aż nazbyt realna.
Chociaż Afryka odpowiada tylko za 4% światowych emisji gazów cieplarnianych rocznie, należy do regionów najbardziej narażonych na zmiany i zmienność klimatu. Zakłócenia klimatyczne i kryzysy już teraz poważnie zagrażają dobrobytowi ludzi i rozwojowi gospodarczemu, a zakłócenia związane z wodą stanowią jedno z najpoważniejszych zagrożeń.
Raport Międzyrządowego Zespołu ds. Zmian Klimatu z 2021 r. potwierdził, że globalne ocieplenie nasila i przyspiesza obieg wody. Zmiana klimatu nie tylko będzie nadal napędzać niszczycielskie opady deszczu i powodzie, ale także spowoduje częstsze i ekstremalne susze na wielu obszarach. Oznacza to ograniczony dostęp do wody pitnej w regionie, w którym co trzecia osoba już dziś boryka się z niedoborem wody na co dzień. Oznacza to również większe braki, niedożywienie, a nawet głód.
Już wystąpił pierwszy głód spowodowany zmianami klimatycznymi. W zeszłym roku, po najgorszej suszy od czterech dekad, Madagaskar stanął w obliczu kryzysu żywnościowego, który spowodował poważny głód u 1,3 miliona osób, a dziesiątki tysięcy cierpiały z powodu zagrażających życiu warunków. Ale trudna sytuacja mieszkańców Madagaskaru wzbudziła niewiele uwagi w międzynarodowych mediach.
Madagaskar nie jest wyjątkiem. W Rogu Afryki susza niszczy uprawy i zwierzęta gospodarskie w Kenii, Somalii i Etiopii. Kiedy ludzie nie mają dostępu do swoich podstawowych potrzeb w domu, często zaczynają migrować w poszukiwaniu lepszych warunków, potencjalnie pogłębiając niepewność ekonomiczną i polityczną oraz zagrażając przyszłemu dobrobytowi. To już się wydarzyło w Angoli, gdzie uporczywa susza zmusza tysiące ludzi do szukania schronienia w sąsiedniej Namibii.
Jednak podczas gdy ci, którzy najmniej skorzystali na działaniach, które przyczyniły się do zmiany klimatu, mogą stracić domy, zdrowie i środki do życia, ci, którzy ponoszą największą odpowiedzialność za tą sytuację, nie zapewniają wystarczających funduszy, aby umożliwić Afryce przystosowanie się. W 2009 roku bogate kraje zobowiązały się zmobilizować 100 miliardów dolarów rocznie do 2020 roku, aby pomóc krajom rozwijającym się w radzeniu sobie ze zmianami klimatycznymi. Jednak okazało się to niewystarczające, a lwią część środków przeznaczono na łagodzenie skutków, a nie na pilnie potrzebne środki adaptacyjne. Podczas gdy rządy afrykańskie oszacowały, że potrzebują 7,4 miliarda dolarów rocznie do 2020 roku, Afryka otrzymywała mniej niż 5,5 miliarda dolarów (około 5 dolarów na osobę) rocznie w latach 2014-2018, a finansowanie adaptacji wyniosło zaledwie 16,5 miliarda dolarów – zaledwie połowę sumy przeznaczonej na łagodzenie.
Subscribe to PS Digital Now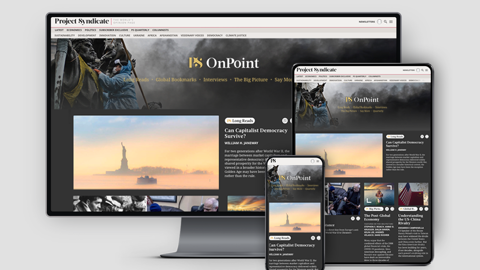 Subscribe to PS Digital Now
Access every new PS commentary, our entire On Point suite of subscriber-exclusive content – including Longer Reads, Insider Interviews, Big Picture/Big Question, and Say More – and the full PS archive.
Potrzeby finansowe Afryki są teraz znacznie większe i szybko rosną. W najnowszym raporcie Programu Narodów Zjednoczonych ds. Ochrony Środowiska na temat luki w adaptacji (Adaptation Gap Report) szacuje się, że adaptacja w krajach rozwijających się będzie kosztować około 70 miliardów dolarów rocznie, przy czym koszty mogą wzrosnąć do 140-300 miliardów dolarów w 2030 r. i 280-500 miliardów dolarów w 2050 r.
Konferencja ONZ w sprawie zmian klimatu w Glasgow w listopadzie ubiegłego roku dała Afryce powód do nadziei, ponieważ rozwinięte gospodarki zobowiązały się co najmniej podwoić swoje wspólne finansowanie adaptacji dla krajów rozwijających się w porównaniu z poziomem z 2019 r. do 2025 r. Ale nawet jeśli wypełnią te zobowiązania – nie ma pewności – trzeba zrobić więcej, aby zapewnić bezpieczeństwo wodne w Afryce.
Afrykański Bank Rozwoju (AfDB) szacuje, że na zaspokojenie potrzeb związanych z wodą na kontynencie będzie potrzebne rocznie 64 miliardy dolarów. Jednak w obecnej chwili tylko 10-19 miliardów dolarów zostaje zainwestowane w infrastrukturę wodną w Afryce każdego roku.
Aby wypełnić tę lukę, przywódcy Unii Afrykańskiej (UA) przyjęli w zeszłym roku Program Inwestycji w Wodę Afryki Kontynentalnej (AIP), koncentrujący się na przyspieszeniu inwestycji w odporną na zmiany klimatu regionalną, transgraniczną i krajową infrastrukturę wodną, taką jak tamy, systemy nawadniające, systemy informacji zarządczej i urządzenia sanitarne. AIP szacuje, że do 2030 r. będzie w stanie pozyskać około 30 miliardów dolarów inwestycji w tych obszarach, tworząc co najmniej pięć milionów miejsc pracy.
Ponadto Afrykańska Rada Ministrów ds. Wody zwołała wspólnie Panel Wysokiego Szczebla ds. Inwestycji w Wodę wraz z Programem Rozwoju ONZ, UNICEF, Agencją Rozwoju UA, AfDB, Globalnym Centrum ds. Adaptacji i Globalnym Partnerstwem na rzecz Wody. (GWP). Na spotkaniu inauguracyjnym we wrześniu zeszłego roku panel przyjął plan działania dotyczący mobilizacji międzynarodowego finansowania inwestycji wodnych i przyspieszenia polityki w celu osiągnięcia Celów Zrównoważonego Rozwoju ONZ-tu.
Tak zwana inicjatywa WASH (Water, Sanitation and Hygiene), realizowana przez Południowoafrykańską Wspólnotę Rozwoju przy wsparciu GWP, również przyczynia się do realizacji ważnych celów związanych z wodą. Instalując urządzenia do mycia rąk na przejściach granicznych w całym regionie, inicjatywa pomoże powstrzymać przenoszenie chorób zakaźnych, ułatwiając w ten sposób handel wewnątrz regionu i działalność gospodarczą, a ostatecznie przyczyni się do realizacji afrykańskiej kontynentalnej strefy wolnego handlu.
Jednak - podobnie jak w przypadku wszystkich tych inicjatyw - sukces zależy w dużej mierze od finansowania. Dlatego kraje afrykańskie i ich międzynarodowi partnerzy opracowali kartę wyników inwestycji wodnych, podejście oparte na danych, które poprzez śledzenie postępów pomoże utrzymać presję na decydentów.
Afryka nie spowodowała kryzysu klimatycznego, ale afrykańscy przywódcy podejmują inicjatywę w opracowywaniu strategii radzenia sobie z nim, w tym jego wpływu na bezpieczeństwo wodne i warunki sanitarne kontynentu. Pytanie brzmi, czy ci, którzy są najbardziej odpowiedzialni za zmiany klimatu przyczynia się finansowo do rozwiązania problemu, zanim będzie za późno.
Z angielskiego przetłumaczyła Marz McNamer